Ref Watch: Dermot Gallagher's verdict on Dele Alli's foul on Kevin De Bruyne
Last Updated: 18/12/17 2:04pm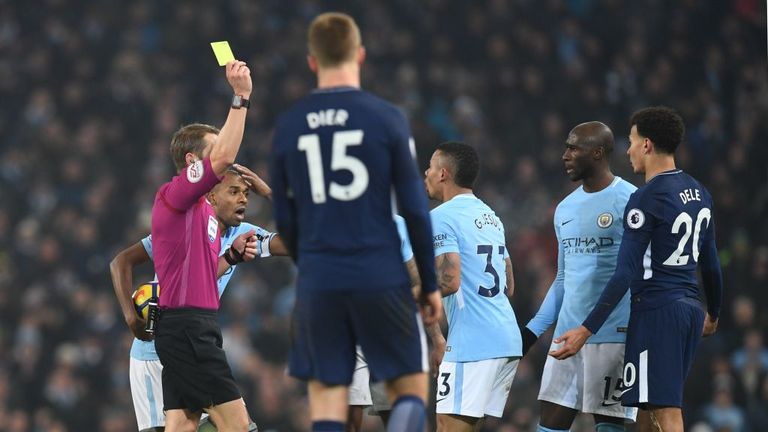 Should Dele Alli have seen red for his challenge on Kevin De Bruyne? Were West Brom unfortunate to not be awarded a penalty against Manchester United? Dermot Gallagher has his say in this week's Ref Watch.
Manchester City extended their winning sequence in the Premier League to 16 games after thrashing Spurs 4-1 on Saturday but the game was not without controversy.
Read on to see Dermot's verdict on three contentious incidents at the Etihad and elsewhere in the Premier League this weekend and whether or not they were handled properly by the officials...
Incident: Dele Alli appeared to stamp on Kevin De Bruyne's ankle and was cautioned for the challenge.
Dermot's verdict: Red card.
Dermot says: This is a red card. Somebody said to me he touches the ball first but the fact that he touches it or not makes no difference whatsoever.
He's just got a little nick on it and we've always said because you play the ball it doesn't negate a foul but if you look at this it is a dangerous tackle. It seriously endangers the safety of De Bruyne. It is not a nice challenge and for me it is a definite sending off.
Incident: Harry Kane brought down his England colleague Raheem Sterling with a studs-up lunge and was booked.
Dermot's verdict: Red card.
Dermot says: I don't think he could have complained if he had been given a red card. His foot is high enough and he's gone across with his studs.
In fairness to the referee, I don't think he sees exactly what happens, he's trying to get out of the way because the ball has come towards him and he's looking over his shoulder so he only sees part of it but I think it is a red card.
Incident: Nicolas Otamendi caught Harry Kane in the face with a high boot.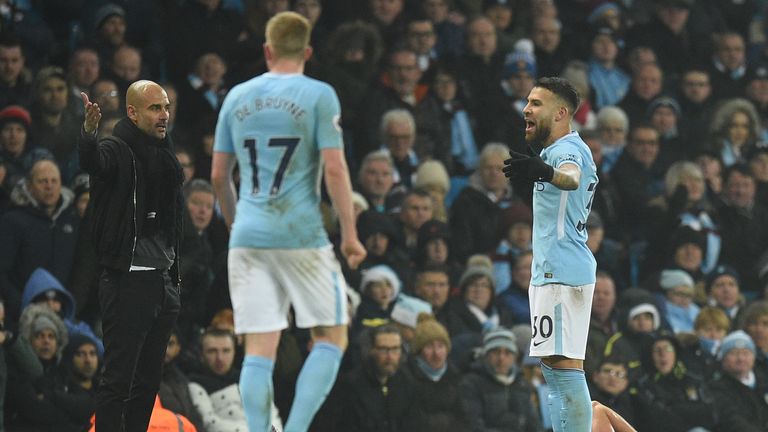 Dermot's verdict: Correct decision.
Dermot says: This is an easy decision for me. It's 100 per cent not a red card. It's a high boot, he's gone for the ball and it is reckless but he hasn't gone for the player.
There is no intent or malice behind it. He hasn't caught him with his studs, it's just a reckless challenge and I think a yellow card is fair.
Incident: James McClean went down inside the penalty area after a coming together with Ashley Young but no penalty was given.
Dermot's verdict: Correct decision.
Dermot says: I never really considered this to be a penalty. I was watching the game live and it shocked me earlier when somebody said to me 'is this a penalty?' I think the referee sees it as a shoulder to shoulder with the goalkeeper coming out.
If you look at James McClean he just gets up and it doesn't seem to cross his mind either. I don't think it is a penalty, it is a shoulder to shoulder. I would have been shocked to see a penalty given for that.
Incident: Dejan Lovren scored Liverpool's second goal of the game but Bournemouth felt that the ball had gone out of play before Roberto Firmino crossed the ball to the defender.
Dermot's verdict: Correct decision

Dermot says: It's a fantastic spot. Every credit to Scott Ledger [the assistant referee], it's hard enough to spot the ball going at speed when it hits the ground but when it's in the air you've got nothing to gauge it on so it's a great spot by him.
Incident: Wilfred Ndidi was given his second yellow card for simulation after going to ground inside Crystal Palace's penalty area.
Dermot's verdict: Correct decision.
Dermot says: The first is a foul, there's no doubt about it, he catches Loftus-Cheek there. It's a reckless foul and there is no need to make it. Danny Simpson is coming in and he has made no attempt to play the ball.
Great spot by Martin Atkinson, an absolutely fantastic spot because this really is a tough decision for the referee. What you've got to decide as a referee is a) is this simulation? Which it is and b) are you absolutely sure? Because it isn't just a yellow card, it's a red card.
Incident: Troy Deeney was given a straight red card after fouling Collin Quaner from behind.
Dermot's verdict: Correct decision.
Dermot says: This deserved a red. Seriously I'm not joking and defending the referee here! He has just thrown himself into the challenge and I think actually he even expects a red card for this.
The speed of it, he's out of control and there is no concern for the player that he has made the tackle on. He has no grounds for argument there.