How do Manchester City compare with the Arsenal Invincibles from 2003/04?
Last Updated: 19/12/17 4:06pm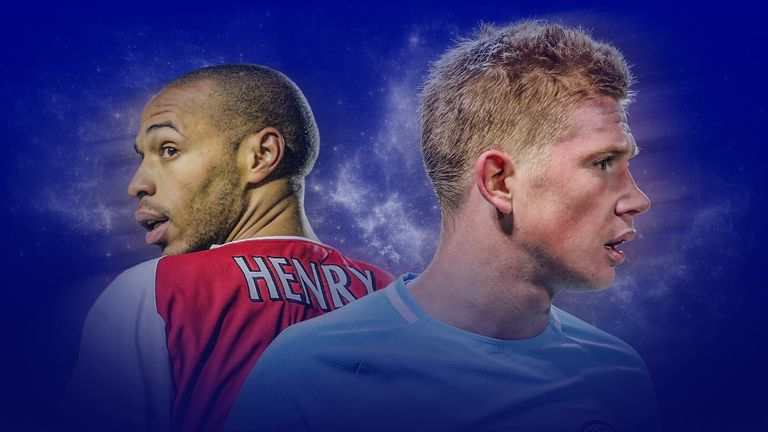 Manchester City are one game shy of making it halfway through the Premier League season undefeated - but how do they compare with Arsenal's Invincibles of 2003/04?
Pep Guardiola's side extended the all-time record win streak to 16 games with a 4-1 win over Tottenham on Saturday and look set to smash a plethora of records this season.
City have only dropped points in a 1-1 draw against Everton in August, when Kyle Walker was sent off in the first half, and are on course to smash additional Premier League records for games won, points won and goals scored.
But can they stay undefeated? Only two teams have gone an entire season undefeated in England since the Football League was founded 129 years ago: Preston North End in 1888/89, during a 22-game season, and Arsenal in 2003/04.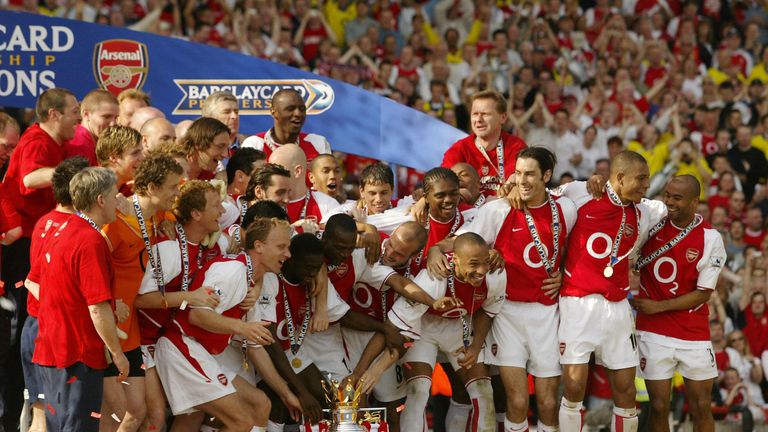 Are City on course to become the third English team to claim the prestigious 'Invincibles' title and how do their stats compare with the Gunners' title-winning side from 14 years ago?
LINE-UP
In 2003, Wenger typically set his team up in a 4-4-2, deploying attacking full-backs Ashley Cole and Lauren behind the pace and trickery of Freddie Ljungberg and Robert Pires.
In midfield, the Gunners lined up with two central midfielders in Patrick Vieira and Gilberto, while Thierry Henry led the line ahead of veteran Dennis Bergkamp. Vieira and Bergkamp were the only two regular starters to have won the Premier League with Arsenal in 1997/98 as well.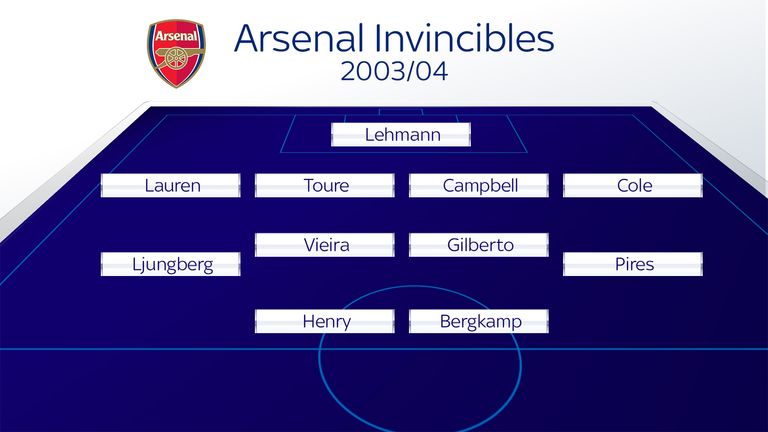 This term, City have generally used a 4-3-3 formation and, like the Arsenal Invincibles, use attacking full-backs in Kyle Walker and Fabian Delph (who is covering for the injured Benjamin Mendy), with few players from their title-winning side of 2013/14 remaining at the club.
Like the 2003/04 Arsenal side, City offer pace in abundance down the flanks, with Raheem Sterling and Leroy Sane ahead of more centrally positioned playmakers Kevin De Bruyne and David Silva.
The biggest difference between the two sides is how Pep Guardiola's side have a more attacking edge - using the single holding midfielder, Fernandinho, compared with Vieira and Gilberto at Arsenal.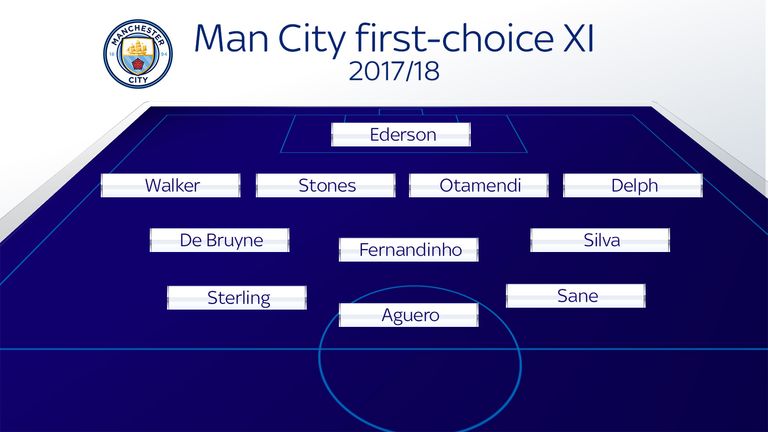 RESULTS AND GOALS
City top the Premier League with an 11-point lead on 52 points, 10 points more than Arsenal had collected after matchday 18 in 2003.
The Gunners had won 12 games but drawn six at this stage and occupied runners-up spot - one point behind Manchester United.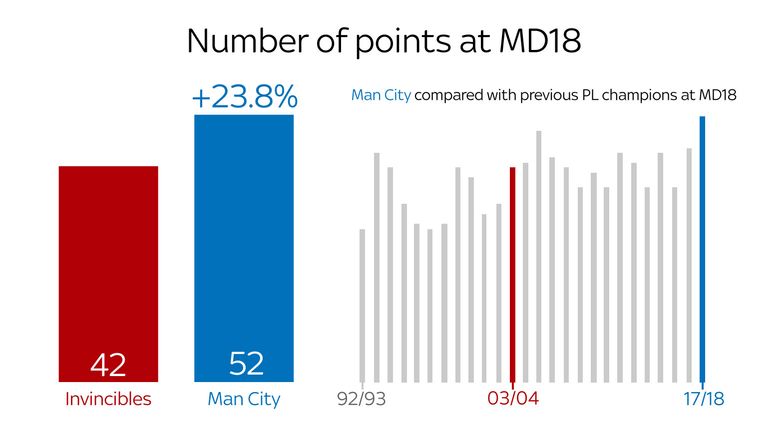 In addition to collecting more points and wins to date, City's more attacking line-up is reflected by the number of goals they've scored.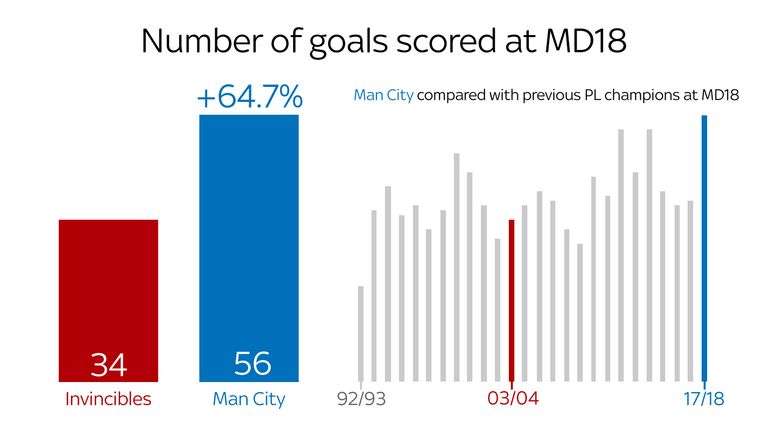 Guardiola's side have hit 56 goals from 141 shots on target, compared with Arsenal's 34 from 105 at the same stage in 2003. In fact, City's current goal haul is greater than any Premier League champion after matchday 18.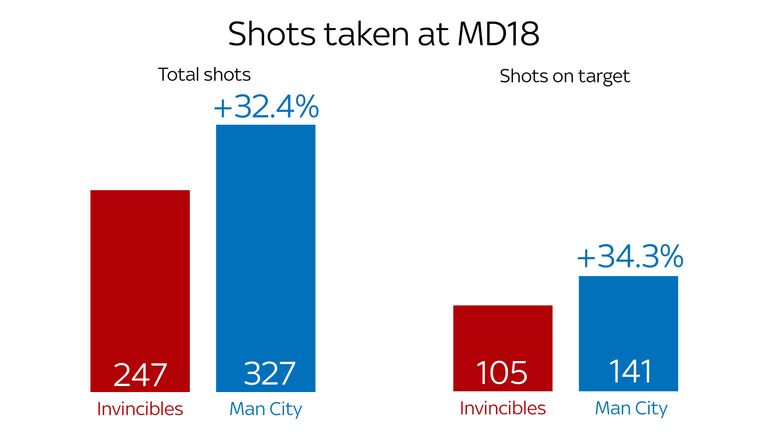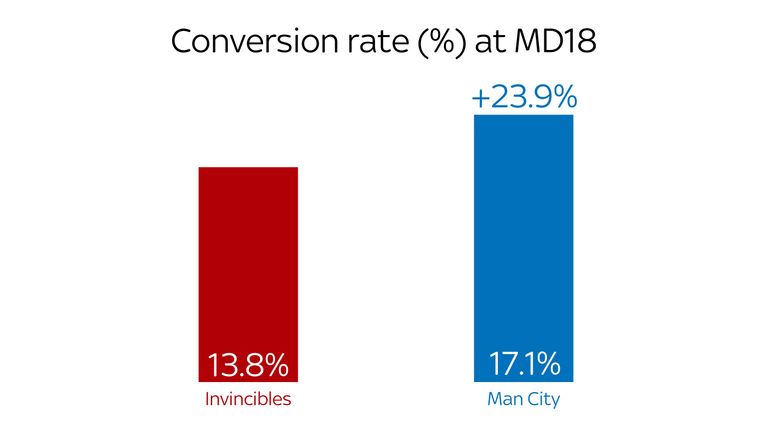 DEFENCE
Despite City's attacking impetus, goalkeeper Ederson has faced a league-low 37 shots on target in the Premier League and only conceded 12 goals - a joint league low with Manchester United and Burnley this term.
Goals conceded is the only statistic where the Invincibles match City at this stage in the season. Jens Lehmann had also conceded just 12 goals at this point in 2003.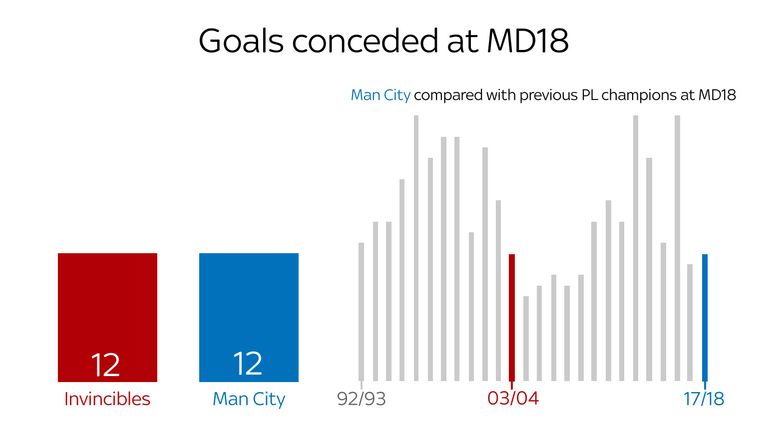 Lehamnn had faced considerably more shots, though, with Arsenal allowing 51 on target after 18 games. So, despite only playing one holding midfielder, Guardiola's side have conceded fewer chances than Wenger's Invincibles 14 years ago.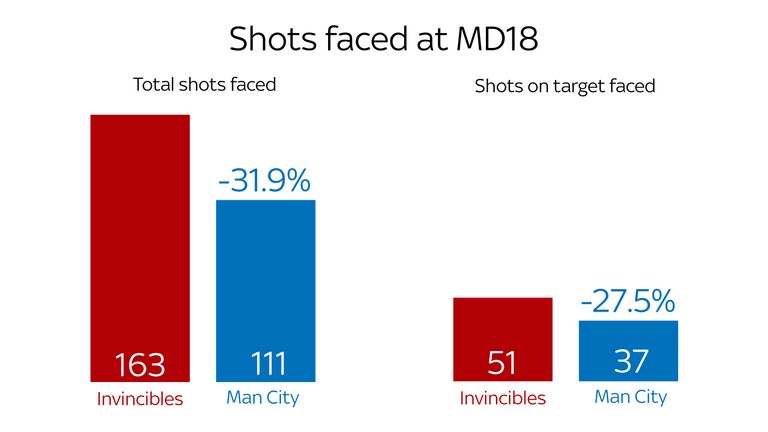 Interestingly, six Premier League champions have conceded fewer goals at this stage during their respective title-winning campaigns, with Chelsea shipping only eight after matchday 18 in 2004/05.
Can City become the third English side to end the league season undefeated? The stats suggest City are outperforming Arsenal's title-winning side in almost every department to date but will need to maintain those levels during the decisive second half of the season.