Man City's Leroy Sane could be out for a month, says Pep Guardiola
Cardiff defender Joe Bennett issues apology and says he mistimed his tackle
By Husmukh Kerai
Last Updated: 29/01/18 10:23am
Manchester City winger Leroy Sane could be out for up to a month after suffering an ankle injury in the 2-0 FA Cup win over Cardiff City.
Sane was brought down by Joe Bennett - who was booked for the challenge and later sent off - just before half-time as the Germany international was in full sprint racing towards goal.
The 22-year-old appeared to injure his left ankle with manager Pep Guardiola replacing him at the interval with Sergio Aguero.
Guardiola says Sane could face up to a month on the sidelines.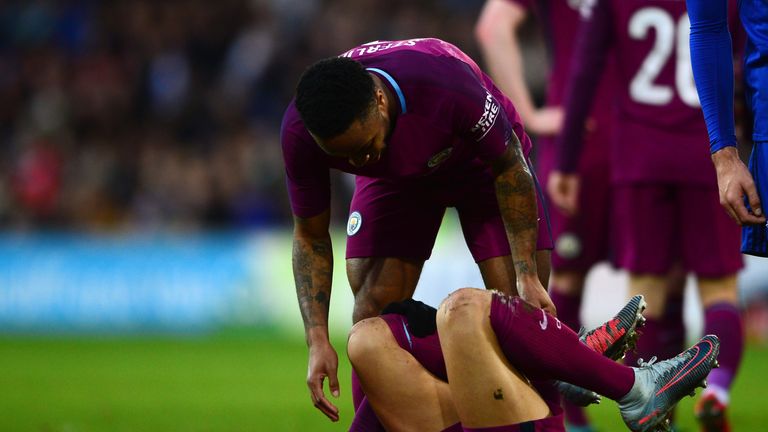 Speaking in his post-match press conference, Guardiola said: "He will be out for a while, minimum two to three weeks or a month. We will see on Monday exactly."
Later on Sunday evening, Bennett apologised on social media for his actions.
He tweeted: "I just want to apologise to Leroy Sane for my tackle. I tried to stop the counter attack and completely mistimed my attempt.
"I didn't mean to catch him like I did. I hope it's nothing serious and he recovers quickly."
1. Just want to apologise to Leroy Sané for my tackle today. I tried to stop the counter attack and completely mistimed my attempt.

— Joe Bennett (@JoeBennett27) January 28, 2018
Guardiola says referees have to do more to protect all players, who he described as 'artists', from persistent fouling.
He said: "I have said many times, all the referees have to do is protect the players - not just the Manchester City players, all players.
"It's not because one player is more brave to kick. The only thing the referees can do is to protect the players. It kept happening.
"So for the football in general and the players - because they are the artists - we need to take care of them. I've said it many times but they need to protect them."