Soccer Saturday pundits struggle to sympathise with Riyad Mahrez's situation
Last Updated: 09/02/18 6:09am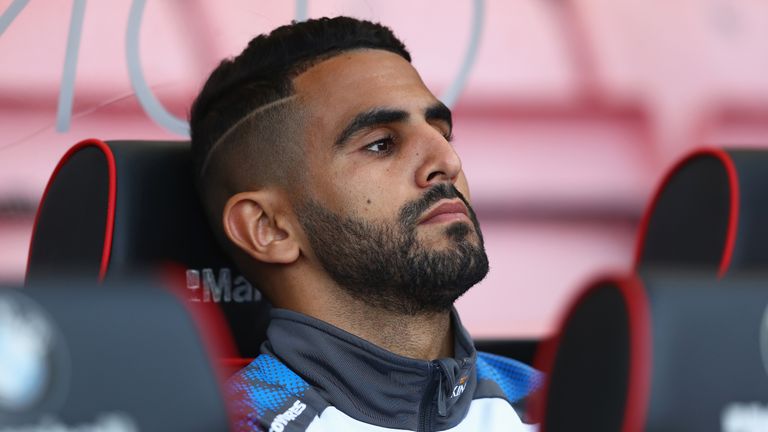 We asked the Soccer Saturday pundits what they make of Riyad Mahrez's situation as the winger remains absent from Leicester training.
The former PFA Player of the Year was unsettled by a deadline-day bid from Manchester City, handing in a transfer request to try to force the move.
However, the clubs failed to agree on the winger's valuation, with City's player-plus-cash offer worth an estimated £60m falling well short of the Foxes' £90m demands.
Mahrez has reacted by missing training for five days and is not available for Saturday's clash between the two clubs, live on Sky Sports Premier League at 5.30pm.
We asked the Soccer Saturday pundits for their views on his situation and it is safe to say they are struggling to sympathise with the player...
Phil Thompson
I've got absolutely no sympathy for him. It has been handled very poorly by him and his agent.
I don't understand why he had to hand in a transfer request. Surely if Manchester City wanted him then they would have gone about it the right way and agreed a deal earlier. I know these opportunities come along once in a while but he's taken bad advice in handing in that request and staying away from training.
He was willing to take the new contract so he should honour that, especially with the size of the wage he's on, so he needs to get himself back and apologise. The players will wind him up but it will be over and done with in a week, and then it will be how the fans take him back.
The club have got to punish him and the PFA have got to back the club. He's in breach of contract and if it was the other way round they would come down on the club.
Claude Puel has probably dealt with these situations before and he needs to get him playing back at his level, which is possible because he did a similar thing last season.
I wouldn't be surprised if he's back in training on Monday morning.
Paul Merson
I did have sympathy with Mahrez, but I don't now. Since the window's shut, you can understand a couple of days to get your head together and sort yourself out, but this is getting ridiculous now.
I don't know what the club should do, that's up to them, they should have taken £65m in my opinion, and now they're struggling.
He's got to come back, no one's going to take him if he doesn't come back. This isn't normal. Players get the hump, don't get me wrong, they think 'I should have got a move', but Philippe Coutinho thought that and he was going to the dream of all dreams in Barcelona. He came back, performed and got his move. You've got to come back, there's nothing he can do now, nothing. He's only making it worse now, whatever happens.
I don't know how the club will be when he comes back, but I don't at the moment see how they'll get the player they had. If I was his friend, or advising him, I'd say get back and go and play the best sport in the world that you're getting paid very handsomely for.
Charlie Nicholas
I do have sympathy for him but only in the sense that he must look at Coutinho and Alexis Sanchez who kept their heads down while the clubs work out an agreement, but it hasn't happened for him.
The sympathy is that Leicester shouldn't be asking £90m for him.
However, to stay away so long is totally wrong. One or two days maybe, but get yourself back into training and take the stick you'll get from the lads, get over your guilt and embarrassment.
What really annoyed me was his so-called friend saying Riyad won't be coming back to training because he was depressed, which was the wrong terminology.
He's been in this position before but if he doesn't sort himself out then who will be interested in paying the money for him? Because clubs will be looking at him and aware that he's completely downed tools because he didn't get his own way.
Matt Le Tissier
I've got no sympathy whatsoever. He signed a contract so get on with your job until your employers get an offer at a time when they can actually sort out a replacement.
It is a brilliant tactic from Manchester City to unsettle the best player before they play them. If they really wanted him then why did they leave it so late?
I'd hope he can get his head back together and do what he is paid very handsomely to do after taking the money to extend his contract.
I would say his behaviour detracts from his worth but Southampton ended up getting more from Virgil van Dijk after he basically refused to train with the team as well, so in this crazy market I'm not sure it makes any difference.