Thierry Henry delivers his Carabao Cup final verdict as Manchester City beat Arsenal
Last Updated: 26/02/18 5:05pm
Thierry Henry offers his verdict on Manchester City's 3-0 Carabao Cup final victory over Arsenal at Wembley on Sunday.
First up, Henry - speaking on Premier League Daily - discussed Carabao Cup winners City, who claimed their first trophy of the Pep Guardiola era…
I don't think Manchester City played particularly well, but they didn't have to. There wasn't much of an opposition, although in the first half, it was pretty even. In the first 10 minutes, Arsenal was kind of okay, they had that opportunity, but overall City deserved to win.
When people say the future looks bright, that's what I would say about Man City. They do have money, they do have a good manager, it looks like they're going to win almost everything this year. They can attract players with that - having Pep as a coach will attract players.
They're going to win the league, we don't know about the Champions League - let's not get ahead of ourselves - but it looks like the future is bright. Anyone else should be worried about what's happening there, and it looks like it's the start of a dynasty.
Is it going to happen? It remains to be seen. I've known Pep for a while, he won't let complacency get into that. I see them being very good for a very long time. How the others are going to try and stop them doing that, I don't know. Next year is another year so you never know what can happen, but if you're thinking about it right now, it looks scary.
There is nothing set in stone. Last year they didn't win anything and people were having a go at them, about the philosophy of Pep and his identity and how he likes to play football. This year suddenly he's again the best manager in the world, 'Ah, his philosophy is amazing, his identity is amazing, we've never seen that before'.
So things can change in a moment. We saw Leicester win it, we saw a great Chelsea last year and this year they're struggling a little bit, a lot more in the league, so things can happen. We know that in the game. When you start to think about what they put in motion, it's very difficult to see them falling. But like I said, that's why we love the game, because there's always a possibility of someone else coming in and doing the same thing. But right now, it's very difficult to see how someone can stop City at this moment.
Henry then moved onto Arsenal, considering what lies ahead for his former side after the League Cup eluded Arsene Wenger once more…
It's very difficult. You can lose games, you can lose finals - I lost finals - but it's how you lose them. When you look at the two first goals, they were goals that you can avoid, it wasn't that difficult to avoid.
Obviously they did concede them, and when you look at it you find yourself 2-0 down to Man City, when they didn't really open you up. Gary Neville was talking about them walking, but it's not easy when you're 2-0 down against a team like that, because you don't know what to do, you want to go but they play through you.
Yes, you can go and have a go and bite. I've seen better teams than Arsenal, at times, I can name United playing against Barcelona at Wembley in the final in 2011, it looked like United gave up.
But when you play against a team like Barcelona and they're 3-1 up, and they pass the ball around you, and when you want to go up they go through you, you think it could be four or five, you don't know what to do, you're lost.
But it's like I said before, City were not that great on the day, but Arsenal still couldn't do anything about it.
So it's a very difficult one. Arsene had never won this one before, I'm sure he and the team went in with massive expectations on winning it. The league is not going so well, so it would have been amazing to win the Carabao Cup and then hopefully backing that up with winning the Europa League, I know I'm getting far ahead there. That's what I would have called a great season, that's what Man United did last year. They couldn't get in another way in the Champions League, so they made it a priority to win what they could realistically win, and they did.
It looks like for Arsenal, top four is going to be difficult, although they are playing City on Thursday and can close the gap back to five points, but it's not exactly what you would have expected of Arsenal and not the response that you would have expected from last year.
But we all know that it's difficult. Tottenham is doing what Tottenham has been doing recently, Man United, City, Liverpool, so it's obviously difficult for Arsenal to make top four. So you would have liked Arsenal to have done something on Sunday, I would have liked that, because I think they were a tiny bit more under pressure than Man City, because City are now looking like they could do the 'small treble', but hey, they deserved it, but as an Arsenal fan it was difficult to take yesterday.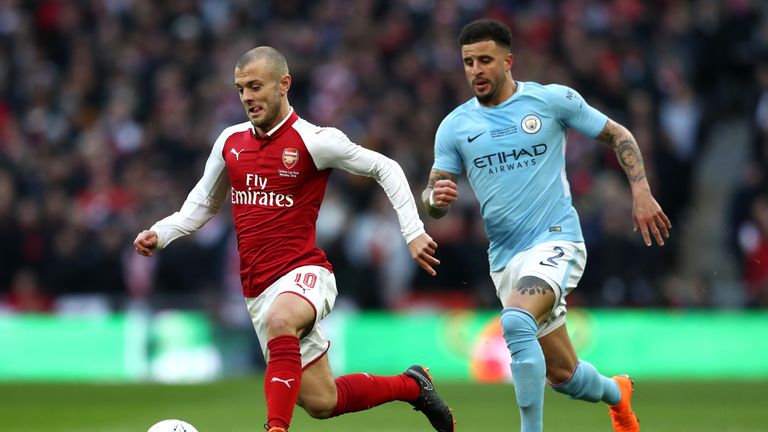 The problem that Arsenal have, as a team, is consistency. You need to be consistent - we've seen them beating Chelsea, doing well at home and giving us good games, but then, consistency is not always there. You need to be consistent. You need to have good games away from home. Losing at Bournemouth, Swansea. You want to be excited after games when they play well against good teams, but you tend to kind of calm yourself down because you don't know what's going to happen next. That's the story of everybody involved at Arsenal, especially the fans, because you cannot brag about the win as you're thinking, 'hang on a minute, maybe next week we might be in trouble'.
When I meet Arsenal fans, it's often, 'Why are we not winning the league?' But the Tottenham fans can say that too, United haven't won in a while, for Liverpool it's 28 years. So it's not for everyone, that's why you need to be consistent, and ruthless, especially away from home.