Football Commentator & Columnist
Martin Tyler's stats and facts: Most own goals and goals from substitutes
Last Updated: 27/02/18 11:35am
Who has the most own goals in a season? Who has scored most from outside the box? Martin Tyler has the stats...
Sky Sports commentator Martin Tyler has the answers to those questions and more.
Got a question for Martin? Tweet @SkySportsPL with #TylersTeasers and do not forget to have a go at his latest teaser themed around players to have played for Chelsea and Manchester City.
Martin's starting stats: A goal kick assist
The opening goal of the Carabao Cup final from Sergio Aguero has set tongues wagging as to whether Sergio Aguero pushed Shkodran Mustafi and should have been penalised. Not only did referee Craig Pawson decide there was no foul, but also it was the first VAR goal in a major domestic final in England - and the video assistant referee, Neil Swarbrick, also agreed with the man in the middle at Wembley.
What was never an issue was offside - because the ball was delivered towards Aguero from a goal kick. The laws of the game state quite clearly that you cannot be offside form a goal kick. In my long commentary career, I have seen plenty of goals scored following goalkeeper's clearances in open play but I am struggling to remember - at this level of the game - a goal kick assist. If any of you can recall a previous occasion in a major match, I would love to hear from you in the comments box at the bottom of this page.
On the subject of the goal, it was Aguero's fifth game in a row against Arsenal in which he has scored and his 199th in all competitions for Manchester City. Please tune in on Thursday to see whether those stats will be extended. Standing in Aguero's way is likely to be a recalled Petr Cech, who remains on 199 clean sheets. It should be quite a battle.
To draw a line under the Carabao Cup final, the 3-0 victory was Manchester City's biggest margin of success in a cup final and Arsenal's worst defeat.
Own no!
Lewis Dunk scored another own goal at the weekend: how many is that now this season and is it a record? Mike, Dorset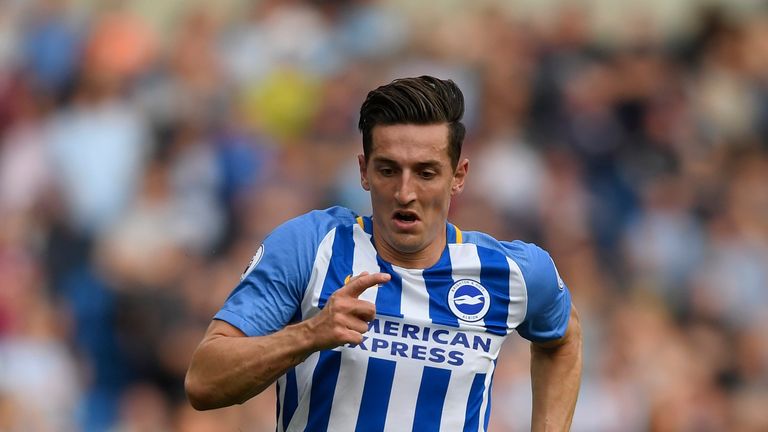 MARTIN SAYS: Lewis Dunk's unfortunate deflection into his own net against Swansea was his fourth own goal of the season although he wouldn't have felt too embarrassed as Brighton recorded a 4-1 win over their relegation rivals.
This follows on from his own goals against Manchester United, Manchester City and Liverpool earlier this season.
Most own goals in one PL season
| | | |
| --- | --- | --- |
| Player | Season | Own goals |
| Lewis Dunk | 2017/18 | 4 |
| Martin Skrtel | 2013/14 | 4 |
| Scott Dann | 2011/12 | 3 |
| Jos Hooiveld | 2012/13 | 3 |
| John Pantsil | 2010/11 | 3 |
| Andreas Jakobsson | 2004/05 | 3 |
By netting his fourth goal in the wrong net this season, he has now equalled the record of number of own goals scored in a single season, which is held by Martin Skrtel, who set the record during the 2013/14 season at Liverpool when he scored own goals in matches against Hull, West Ham, Swansea and Newcastle.
Four players have scored three own goals in one season: Scott Dann (Blackburn), Jose Hooiveld (Southampton), Andreas Jakobsson (Southampton) and John Paintsil (Fulham).
Considering this is Dunk's first season in the Premier League if he continues his current ratio of own goals per season then Richard Dunne's all-time Premier League own-goal record of 10 goals could be under threat!
All-time Premier League own goal scorers
| | |
| --- | --- |
| Player | No. own goals |
| Richard Dunne | 10 |
| Jamie Carragher | 7 |
| Martin Skrtel | 7 |
| Frank Sinclair | 6 |
| Wes Brown | 6 |
| Ryan Shawcross | 6 |
| Phil Jagielka | 6 |
Having seen Brighton several times this season, I must say Dunk is an excellent member of this team and his wholly committed style of defending has produced numerous vital blocks and tackles as well as the unfortunate own goals.
Long-range regulars
I read that 64% of Xherdan Shaqiri's goals have come from outside the area. Has anyone got a better record than that? Michael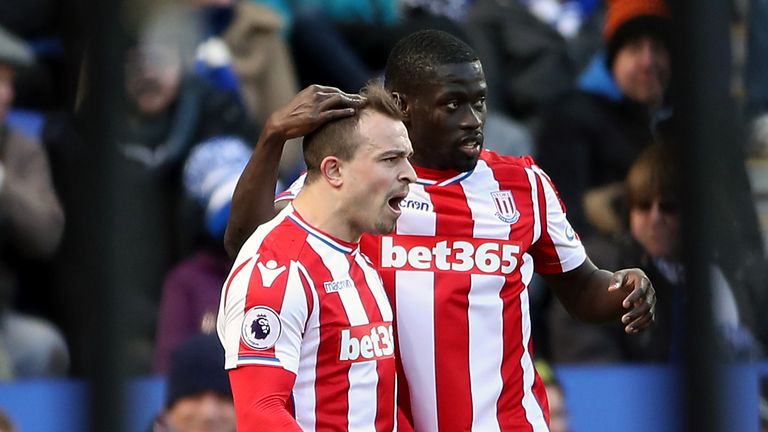 MARTIN SAYS: Indeed, nine of Xherdan Shaqiri's 14 Premier League goals have come from outside the box (64%), including another fine goal in the 1-1 draw against Leicester on Saturday.
We asked Opta to look at players to have scored 10 Premier League goals and tell us the player with the highest percentage from outside the area.
Incredibly, former Blackburn midfielder Tugay scored nine of his 10 Premier League goals (90%) from outside the area.
He is swiftly followed by Tom Huddlestone, who has netted 12 goals and 10 of these have come from outside the box (83%).
Thomas Hitzlsperger - who played for Aston Villa, West Ham and Everton - also scored 10 goals when playing in the Premier League with eight of these being from long range (80%).
Overall, however, Frank Lampard has the most amount of goals from outside the box in Premier League history, with 41 of the former Chelsea and Man City midfielder's 177 league goals having come from distance (23%).
Back from behind
Which team has earned most points from losing positions this season? Is it Bournemouth? Grace, Bournemouth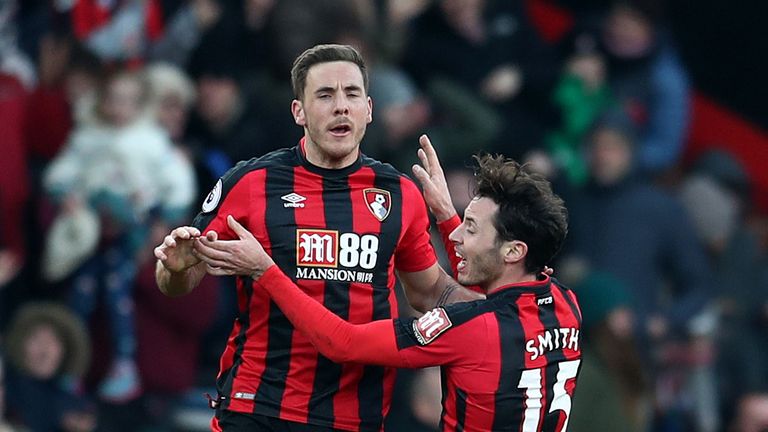 MARTIN SAYS: Yes it is Bournemouth, alongside Everton. Both sides have won 13 points from losing positions this term with Bournemouth coming from 2-0 down to draw with Newcastle on Saturday.
Arsenal and Crystal Palace have picked up 12, while Manchester City are also in double figures for winning points after coming from behind with 10.
PL teams dropping/gaining points
| | | |
| --- | --- | --- |
| Team | Points lost when ahead | Points won when behind |
| Arsenal | 15 | 12 |
| Bournemouth | 14 | 13 |
| Brighton | 11 | 2 |
| Burnley | 6 | 4 |
| Chelsea | 5 | 8 |
| Crystal Palace | 8 | 12 |
| Everton | 5 | 13 |
| Huddersfield | 7 | 1 |
| Leicester | 17 | 7 |
| Liverpool | 12 | 6 |
| Man City | 2 | 10 |
| Man Utd | 4 | 9 |
| Newcastle | 17 | 6 |
| Southampton | 13 | 7 |
| Stoke | 12 | 8 |
| Swansea | 11 | 8 |
| Tottenham | 2 | 5 |
| Watford | 16 | 9 |
| West Brom | 18 | 1 |
| West Ham | 14 | 7 |
In contrast, West Brom have lost the most points from winning positions this season so far - dropping 18 points - and have also won the joint-fewest points when being behind as well, picking up just one point along with Huddersfield.
Leicester and Newcastle are not far behind for dropping points when being ahead (17), while Watford (16) and Arsenal (15) also have also regularly let winning positions slip.
Highest-scoring substitutes
How many goals have subs now scored for Man Utd in the league this season? Jack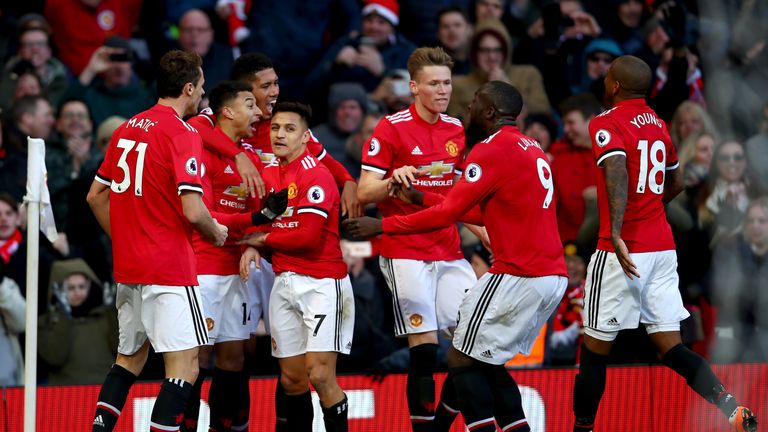 MARTIN SAYS: Jesse Lingard's winner against Chelsea on Super Sunday was the 10th goal scored by a United substitute in the Premier League this season, and that is one more than rivals Man City have managed.
Three of those 10 strikes have been scored by Lingard, although Anthony Martial is actually United's top scorer off the bench this campaign with four goals.
Making up the numbers are Marcus Rashford (2), who has recently found himself warming the bench more often than not, and another player used to being a sub of late, Marouane Fellaini (1).
And overall, that means United's subs have now contributed a healthy 18 per cent of their 53 league goals so far this campaign.
Highest-scoring subs
| | |
| --- | --- |
| Premier League 2017/18 | Sub goals |
| Man Utd | 10 |
| Man City | 9 |
| Arsenal | 6 |
| Everton | 6 |
| Chelsea/Stoke/Watford/West Ham | 5 |