Jamie Redknapp sat down with Manchester City forward Leroy Sane for a wide-ranging chat ahead of the Premier League leaders' clash with Chelsea at the Etihad on Super Sunday.
The duo discuss everything from Pep Guardiola's influence, the 22-year-old's seemingly telepathic relationship with Kevin De Bruyne, the differences between the Premier League and the Bundesliga, how he relaxes away from the game, who his heroes are and his best position.


Meanwhile, this weekend's must-see encounter with the champions - live on Sky Sports Premier League on Sunday afternoon - is also on the agenda, before the Germany international looks ahead to this summer's World Cup.
In-form Sane
Redknapp: Twelve goals this season and lots of assists, are you in the form of your life?
Sane: Yes of course, this has been the best season of my career. I have improved a lot, even from last season, with this coach. And I am really enjoying it and having so much fun playing and training with my team-mates. I am kind of lucky to be here!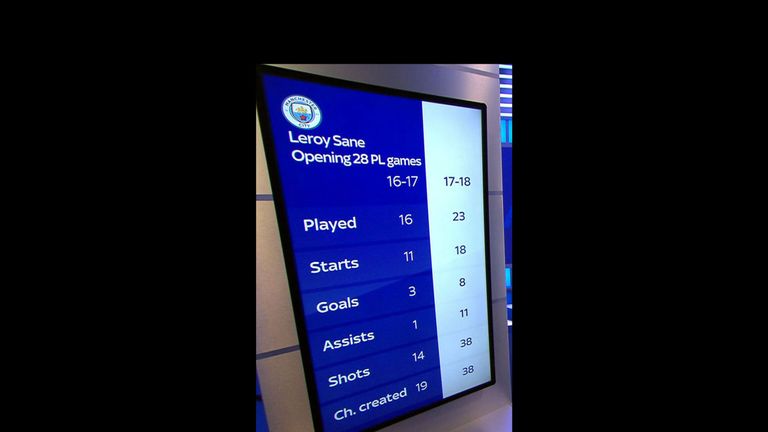 Guardiola's influence
Redknapp: How has Guardiola taken your game to the next level?
Sane: As soon as I arrived here he was criticising me straight away! He showed me where I can improve and every time I made a mistake he would say, 'You have to do it like this!' And when I tried to do it, I could see it helped me. Before you come here you hear that he is a good coach and then you come here and you really see how he works and you feel it. And you realise, 'Wow he can really help me.' He makes the game easier for you to keep the ball, to see where your team-mates are, what you can do with them and how you can help them. And you can see that everybody wants the ball and to help…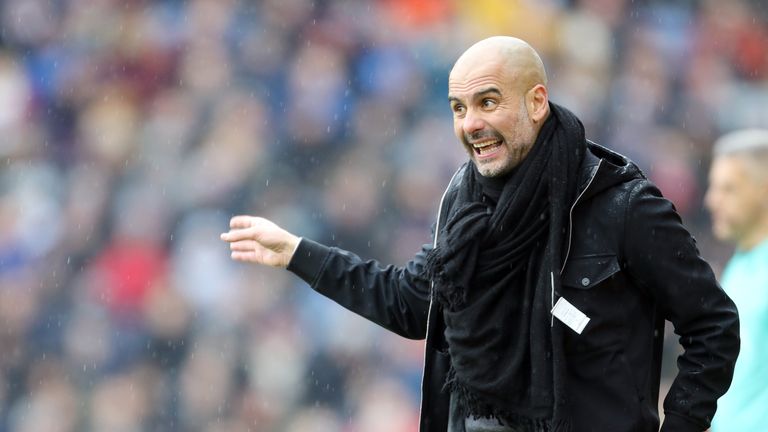 Having a Pep talk
Redknapp: Guardiola told me to ask you about 'the simple things?!'
Sane: I hear this every training session, every game, all the time! For him, he just wants us to do the simple things, like a pass over two metres. So just be focused on not making an easy mistake and losing the ball and then the other team makes a counter-attack and scores. They are like stupid mistakes and this is what he wants me - and the other players - to improve. Even I can improve, which is kind of funny!
'Kevin, here, here!'
Redknapp: You seem to have a telepathic relationship with De Bruyne?
Sane: Kevin is a fantastic player and everyone knows and can see that. He also really enjoys playing football and the way he plays is fantastic - the assists and some of the passes he plays….. I just run into the space and say, 'Kevin, here, here!' Sometimes he is not even looking at me and he still passes the ball. And that is why I always say that when Kevin has the ball, something is going to happen. So, we as strikers have to be ready and give him a choice of where to play the ball. And even if the space is really tight and you think the ball cannot go through, you still must expect that he will find a way to play the ball through.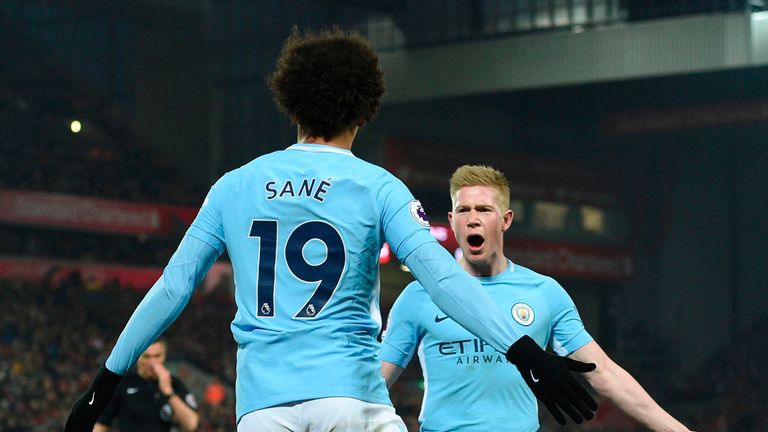 Scoring or assisting….
Redknapp: Do you get more enjoyment from creating than scoring a goal?
Sane: Yes, especially when you give a good pass, or after dribbling past someone and then passing for someone to score. And sometimes you have to give an assist for someone to score a goal and that is a really good feeling.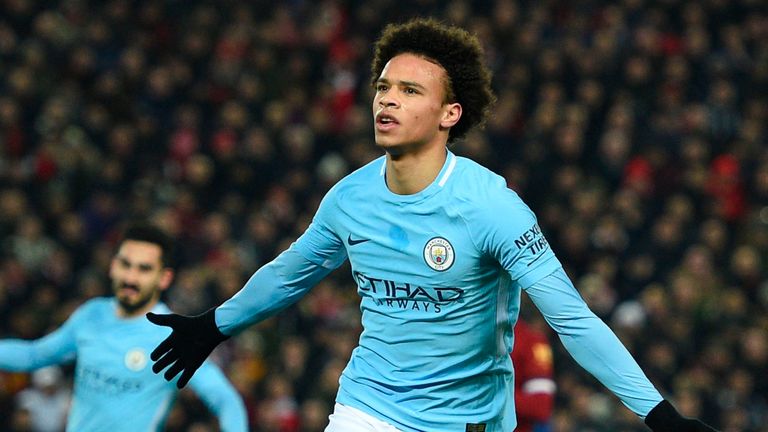 Great expectations
Redknapp: Is the Premier League everything you expected?
Sane: Yes, it is a really tough league, but so much fun. The games are so crazy and quick and it is so exciting to watch the big games. And you never know what is going to happen, even if they play against smaller clubs you have to expect everything. So I am really enjoying playing in this league.
No place like home?
Redknapp: What are the differences between the Premier League and the Bundesliga?
Sane: It is 100 per cent more physical here than in the Bundesliga, while it is quicker here. It is also kind of a bit boring in that you know it is Bayern Munich who is always winning the league! In the Premier League, anything can happen, whereas it is only Borussia Dortmund challenging Bayern. And they play carefully, they do not try and play good and aggressively at the front, to score goals and to play dangerously with risks. So this was what was really saying to me the Premier League is so exciting for me and this is what I tried to look for and even how I like to play.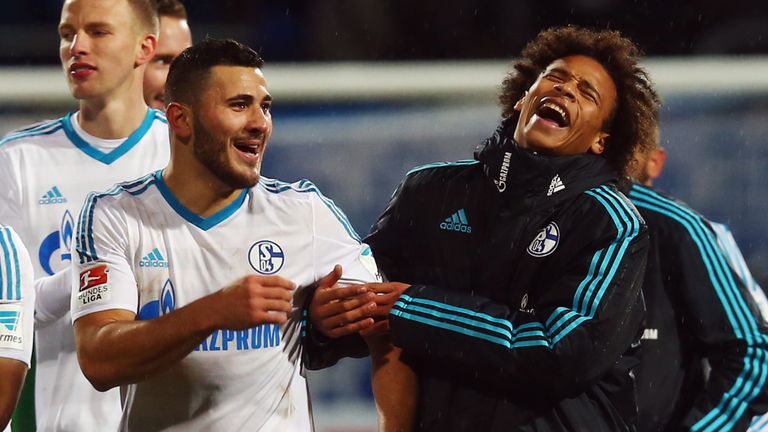 Hero worshipping
Redknapp: Who were your heroes growing up?
Sane: Lionel Messi and Ronaldinho, especially Ronaldinho - how he was playing, enjoying football, you could never see that he had any pressure. It did not matter who was in front of him, he just tried to pass the player, no matter how, and this is the player I tried to play like!
Runs in the family
Redknapp: Your Mum was an Olympic athlete and your Dad was a fantastic footballer - did you always love football as a kid?
Sane: Yes! I always wanted to play after school and even during school when we had breaks, I wanted to play and this is where I always had the most fun.
Tough tacklers
Redknapp: Who has been your toughest opponent in the Premier League?
Sane: It was before when I was playing against Kyle Walker. And Crystal Palace's right-back Timothy Fosu-Mensah, I have played against him twice this season, and even last season, he had me really well under control and I told him how happy I was to play against him.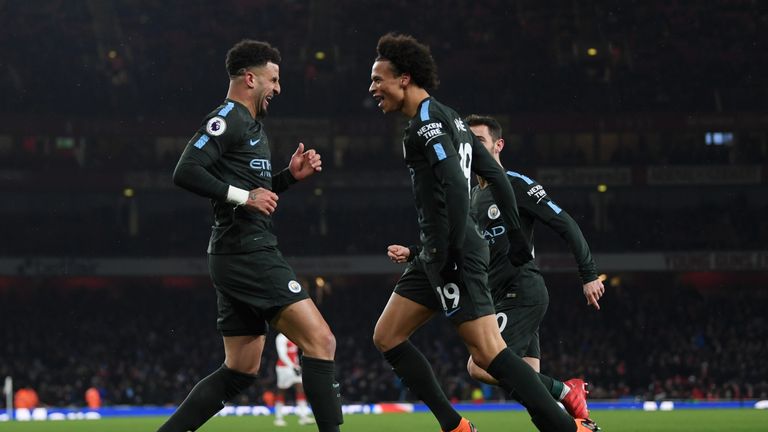 Getting away from the game
Redknapp: How do you relax away from football?
Sane: For me, when I go out of the academy there is no football. I am not someone who watches every game from the Bundesliga, the Spanish League or even the Premier League. Of course, if there is a good game, like in the Champions League, I will watch it. But I am not always watching to see how they played and who is scoring. For me, it is important to get away from football, to calm down, relax and have fun with family and friends.
Just champion
Redknapp: What problems can Chelsea give you on Sunday?
Sane: It will be a really tough game, they have really strong and quick strikers, they stay in the defence really well and waiting for the mistakes of the opponent. And then they try and attack you really quick, seeing the spaces and most of the time playing through the middle. So it will be a really tough game against them.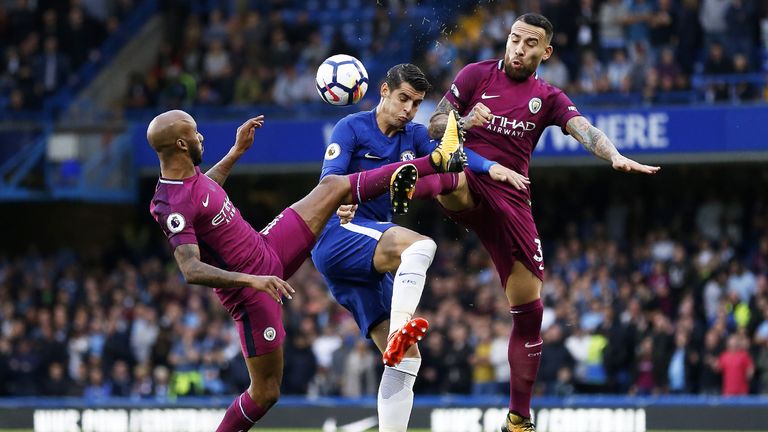 Changing role?
Redknapp: Could you see yourself becoming a central striker, or a No 10 over time, or do you like to play wide?
Sane: I like to play wide, but as a youth I played more in the middle as a 10. So for me they are both really good positions and we will see what will happen if there are any coaches who come in and say, 'You can play through the middle for me.' But I am also really happy to play wide.
'Our target is to defend the World Cup'
Redknapp: Are you looking forward to the World Cup with Germany?
Sane: I hope I can be part of the squad that goes to the World Cup. I am really looking forward to it as it is the biggest tournament for football, everyone is watching it in the world and I hope I can get some experience there too. I think the Germany team is really good, strong team, we are one of the favourites and our target is to defend the World Cup.
Watch the full interview with Leroy Sane ahead of Man City v Chelsea from 3.30pm on Sunday on Sky Sports Premier League and Main Event