Gary Neville responds to Antonio Conte's criticism after Chelsea loss to Man City
Last Updated: 06/03/18 6:25am
Gary Neville has responded to Antonio Conte's suggestion that pundits are 'stupid' for criticising Chelsea's tactics against Manchester City.
Speaking on co-commentary and in his post-match podcast, Neville described the display from the defending champions as "embarrassing" and "unacceptable", as they lost 1-0, had no shots on target and conceded 71% possession to their opponents.
After being told about criticism from Sky Sports' analysts, Conte said "The pundit has to use the head to understand when you speak about tactics. I think you must have knowledge to speak about tactics and not only to speak in a stupid way."
Neville responded to those quotes on Monday Night Football and said that after watching the game again, he was still "disgusted" by Chelsea's display.
He said: "I don't use the words 'embarrassing' or 'unacceptable' lightly. I've had to use it in the last week twice on co-commentary.
"Yesterday I went quiet on co-commentary for two or three minutes - Martin Tyler will tell you I don't do that often - but I had to go quiet as I had to reflect on what I was seeing.
"To be honest with you, it disgusts me.
"The first bit is a bit tactical for a bit of belief. I agree about not taking the ball, not getting on the half-turn as Man City are a great pressing side.
"But I can't relate to it, in any way shape or form for the best players and teams in the world.
"City are the best team in the Premier League by a mile. When they give the ball away, they react. When they win the ball back, everything is quick and at top-speed. They won a cup final last Sunday and they came out on Thursday and they are at it again. There's no rest.
"These Chelsea players took a day off. They took a rest."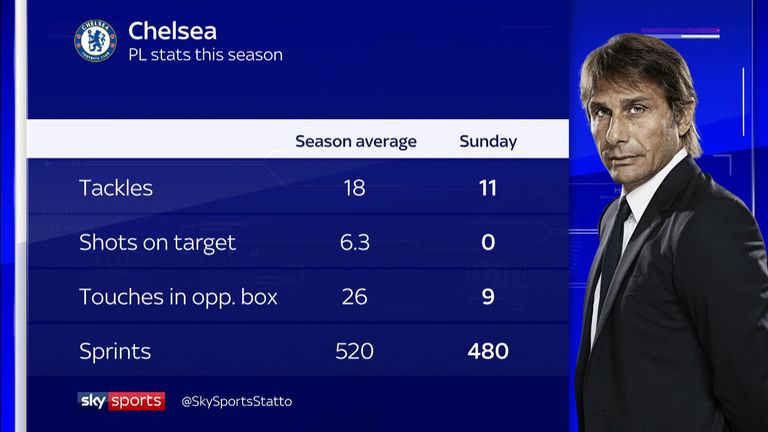 Neville backed up his point with stats that showed Chelsea's players sprinted and tackled less than they do on average, which he felt was surprising in a game where the opposing team dominated the ball.
And he said it was not what he'd come to expect from a coach of Conte's stature.
"They chucked it in yesterday, those players," he added.
"Antonio Conte has called us stupid, I don't know the exact quote, but he'll have watched that back this morning.
"I know the Juventus team that he played in and I was England coach against his Italy team. His teams work hard, they are aggressive, they are good defensively, they tackle and they know how to play. He will have been equally disgusted.
"One thing I can guarantee you is the Chelsea boardroom will have watched that performance yesterday and will not accept it.
"It was nowhere near good enough and it was unacceptable."
Fellow Monday Night Football expert Jamie Carragher agreed that Conte would not be happy with his players - and felt the performance is another example of disharmony at Chelsea.
He said: "In watching football for my whole life, there's not a lot I've never seen before, whether that's playing for my school or playing in the Champions League.
"But I saw something yesterday that I have never, ever seen before in my life on a football pitch - and that was people walking - the whole team - when the ball was five or six yards away. I couldn't believe what I was seeing.
"I'm thinking 'who is at fault there?' Is that players being lazy with a terrible attitude or is this these players saying 'the instructions the manager has given us, we've got no chance'.
"Is it another manager gone at Chelsea? We've seen it before at Chelsea, by the way. I can't believe Conte will be happy with that.
"I don't know if they've chucked it, but I have never seen anything like that at any level of football in my life.
"I've been saying for a long time he won't be there next season. Do the players not want him there next season?
"Does the manager even want to be there next season if he's sending a team out to perform like that with tactics like that?"