Guillem Balague's Champions League preview: Juventus v Real Madrid and Barcelona v Roma
Last Updated: 04/04/18 6:40pm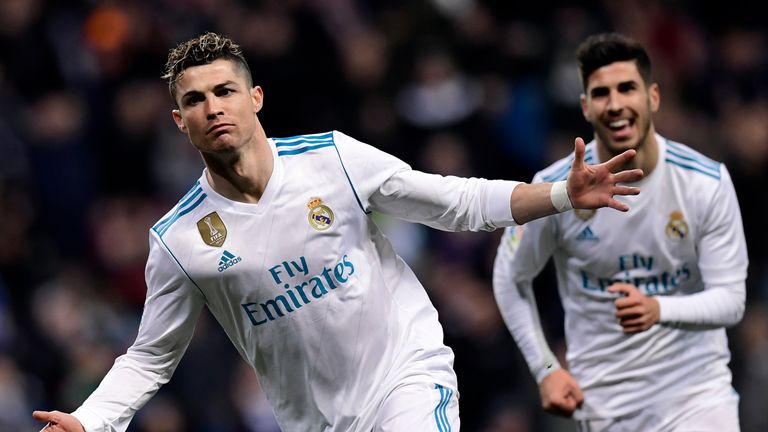 The Champions League quarter-finals get underway this week, with three Spanish teams in action.
Real Madrid, who have won the competition for three of the last four years, meet Juventus while Barcelona play Roma and Sevilla take on Bayern Munich.
Sky Sports Spanish football expert Guillem Balague previews the games involving the La Liga sides, as well as Liverpool's clash with Manchester City...
Roma are the weakest team left in the competition but Barcelona always give you a chance. The stats don't always show it but I insist this is the worst squad they have had in a decade. If they are doing well it's because Lionel Messi is doing it or Marc-Andre ter Stegen is saving them or Sergio Busquets is there to control the game or because of Ernesto Valverde's decisions.
But look at the bench and compare it with the top teams in the quarter-finals. You'd say 'how'? But Messi is how, and Valverde, and Ter Stegen. When you have them you have an advantage.
It will be the kind of game where people say at the end 'if Roma had taken those chances..'. There will be those moments because Barcelona give you them this season.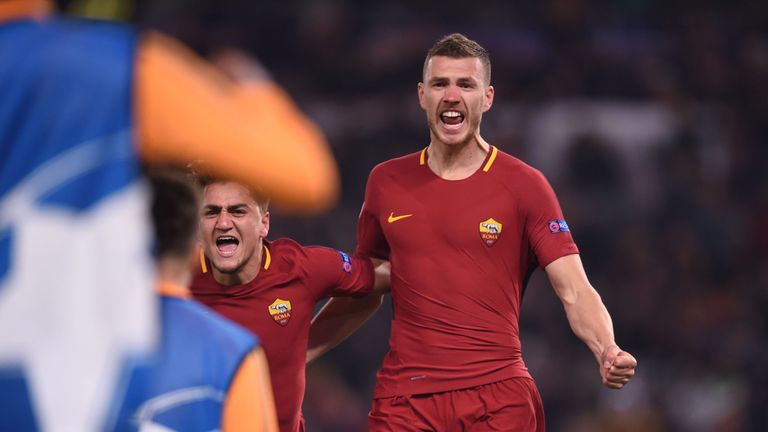 Barcelona's experiment of having two players wide in Philippe Coutinho and Ousmane Dembele as they did against Sevilla at the weekend can't be repeated because Coutinho is cup-tied. It failed anyway because defensively they don't add as much as they should, hence why Sevilla were able to attack quite a lot on Saturday and had so many shots on goal. If they had taken advantage they would have won.
It's two seasons without going beyond the quarter-finals for Barcelona, once because of Juventus and once because of Atletico Madrid. At this stage I don't see anybody winning games clearly for Barcelona and I am sure Roma will have their moments like almost every other big team that have faced Barcelona, but in most cases they have not taken advantage.
It is not by chance that City and Liverpool have got 5-0 and 4-3 scorelines in their previous encounters this season. It's that kind of game. It can go either way and the game could be very tight or completely the opposite.
The reason being is that they don't speculate. They both have a clear idea of what they want to do. In the saying of 'football is a small blanket' they prefer to cover the feet and expose the head, which is the defence.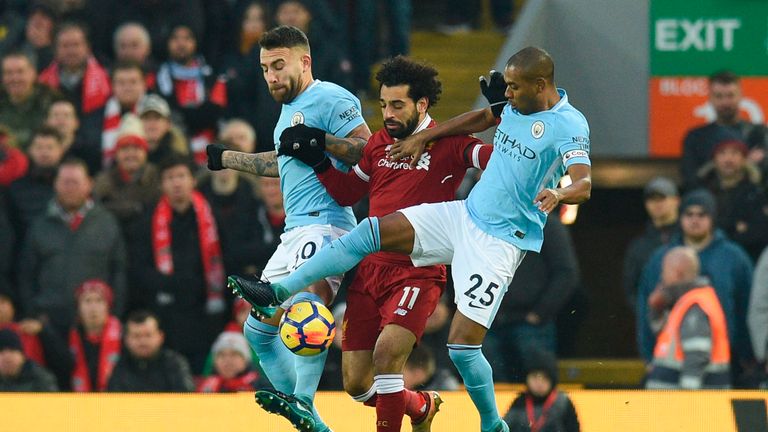 Due to the way both of them play it suits the game of the other team. Liverpool will rejoice with the space that the defence of Manchester City leave behind and City will not change their way of playing. They will defend high up because that's their strength. They are worse defending in their own box. Liverpool will love that space and getting balls to the forwards. That's why Pep Guardiola mentioned Alex Oxlade-Chamberlain because he is one of the players who needs to link well for the front three to get the ball in perfect places to attack.
The biggest weakness of Liverpool for me is not so much the mistakes they make defensively because Loris Karius is playing well and the defence is strong. It's the building from the back and that is the strength of Man City. Liverpool struggled against Crystal Palace building from the back and that's where some of the danger came from, and Man City are fantastic at breaking that build-up play.
Two of the areas that the teams can be exposed in - the high line of Man City and building from the back for Liverpool - can be taken advantage of by their rivals. And if Man City score first I can see the game going to them but if Liverpool score first that will be interesting as they will be comfortable defending deeper and hitting on the counter. It can go either way but I think those are the two big points.
Tuesday's ties...
Juventus v Real Madrid
Aside from the final last year, Real Madrid have a really bad record against Juventus.
The final does allow Juventus to play the underdog card but they have good competition in Serie A this season while Real Madrid are only playing for the Champions League.
It's said that if there is no competition every week that you suffer when you play in Europe, but this is Real Madrid. The players are winners and you put them together and they are able to raise their game. They didn't earlier in the season because when you win a lot it's harder to keep winning but now everybody is raising their level and nobody - apart from Nacho - has problems.
It's the Champions League and Real Madrid, they go together and Real play in a different way.
All the talk is about who will be the 11th player. Everybody reckons Karim Benzema and Cristiano Ronaldo will play, so then Isco looks to be the other one after not playing at the weekend.
Gareth Bale is doing well but he is inconsistent and he partly played well at the weekend because he played on the left as Ronaldo was not there. He had to take responsibility and felt he needed to show his level and the team needed him. When he feels the team needs him, he raises his game. When he is among others that have got the same level or are superior he disappears. He hasn't got that kind of personality. He goes to Wales and he is a superstar but at Real Madrid there have only been moments. Isco has recovered some confidence, and being away with Spain helped, so the suggestion is that he will start.
Both teams know they don't need to play really well to win, history has shown that. They know they will always have a chance and it's about grabbing it. Juventus will allow Real Madrid to have possession and Real Madrid will keep it because they are comfortable with the ball, especially if Isco is in the team.
If they concede one or two goals, even three, they will still say 'there is still time'. That's the amazing thing about these kinds of teams. Look at the La Liga table and you might think Real Madrid have no right to be competing at this stage, but tell me one person who thinks they are not candidates to win the Champions League.
Sevilla v Bayern Munich
Sevilla had 20 shots on goal against Barcelona at the weekend and could have won 4-0. They played really well but they need to be more effective.
If you look at the Champions League quarter-finalists they are the only team without a striker with 10 goals or more this season. Wissam Ben Yedder has eight in the Champions League but he is not a regular starter. Sevilla are doing very well considering that, but it does make the difference. Playing well helps but to finish games you have to score.
I think Bayern are the best team in the competition along with Manchester City. It's just they don't get watched as often and people don't talk about them, but they are fantastic this season. Robert Lewandowski is in top form and the transition with Arjen Robben and Franck Ribery is happening and Javi Martinez is doing well in midfield. It's a very strong team and I don't see much chance for Sevilla.