Liverpool apologise after Man City bus is damaged in fan attack outside Anfield
By Lyall Thomas
Last Updated: 04/04/18 11:57pm
The Manchester City team bus suffered a smashed window on its approach to Anfield as Liverpool fans ignored warnings over flares and smoke bombs ahead of their Champions League quarter-final.
City have confirmed they are seeking new transport for their return journey to Manchester after the coach was pelted with cans and bottles in a hostile reception from Reds supporters on Arkles Lane.
Liverpool apologised to City ahead of kick-off and said they "condemn in the strongest possible terms the scenes" outside the ground, in which two police officers were injured, after the bus route was changed amid safety concerns earlier on Wednesday.
The Merseyside club had warned fans earlier this week that the use of pyrotechnics outside the stadium could result in prosecution, but smoke bombs were seen gushing red clouds at around 5pm and flares emerged as the City bus arrived just after 6pm.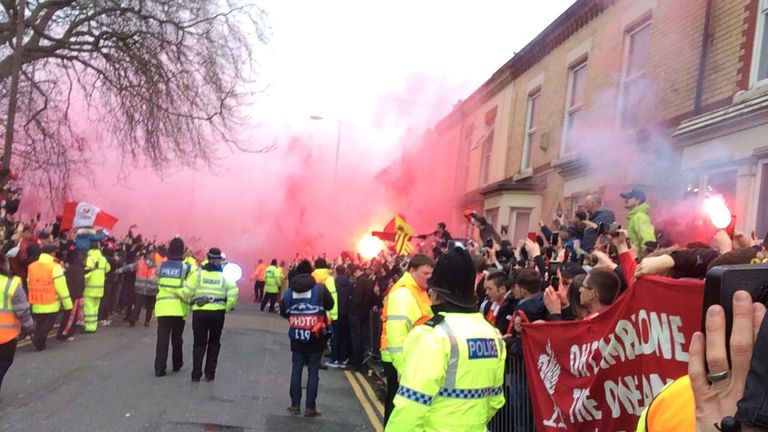 Merseyside Police have confirmed an investigation is underway while Liverpool also confirmed they will conduct their own enquiry and assist Manchester City with "whatever support is necessary".
"The club condemns in the strongest possible terms the scenes which preceded our Champions League quarter-final, which resulted in damage being inflicted on the Manchester City team bus during their arrival at Anfield," a statement read.
"We apologise unreservedly to Pep Guardiola, his players, staff and officials caught up in the incident. The behaviour of a number of individuals was completely unacceptable and the club will cooperate fully with the authorities to identify those responsible."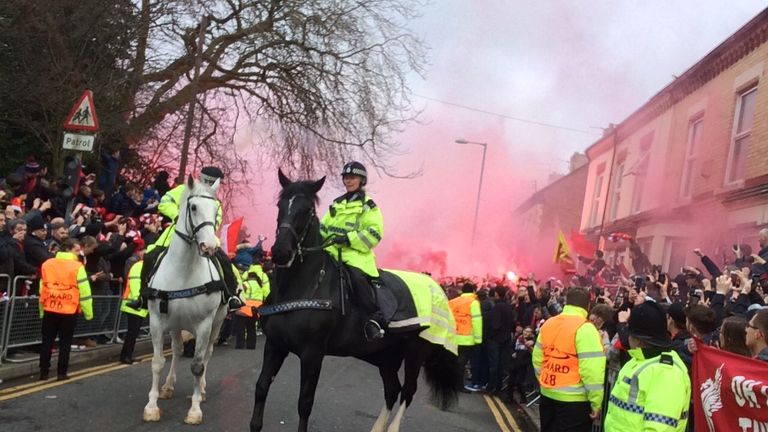 Merseyside Police said: "Thankfully no-one on the bus was injured, but injuries were caused to two of our officers when projectiles were thrown towards the bus. The officers and stewards are there to protect the public and keep them safe.
"This behaviour by a number of people who threw bottles, cans and pyrotechnics towards the bus is completely unacceptable and we will conduct enquiries to identify who was responsible and bring them to justice."
It is an offence for a person to enter or attempt to enter a football ground while in possession of a flare, smoke bomb or firework, and Football Supporters Federation guidelines claim fans have previously been given prison sentences for offences committed outside stadia.
In a warning on Tuesday, Liverpool released a statement that said "the police and courts take these offences very seriously and prosecution can result in a prison sentence", after City had expressed concerns about their impending reception.
Liverpool fans had planned to gather along Anfield Road to greet the two teams but, following discussions with the police, the club re-routed the buses along Arkles Lane, which is a dual carriageway and much wider - although longer - than the usual route.
A Liverpool statement earlier on Wednesday said: "Ensuring the health and safety of our fans and visitors is at the forefront of our all our procedures. The decision was therefore taken to redirect the team coaches via a new route following guidance from Merseyside Police."