Manchester City beat Manchester United to seize title-race advantage over Liverpool
Manchester City are back on top of the Premier League. Watch their meeting with Burnley live on Sky Sports Premier League from 1pm on Sunday; Kick-off is 2.05pm
Last Updated: 25/04/19 12:23pm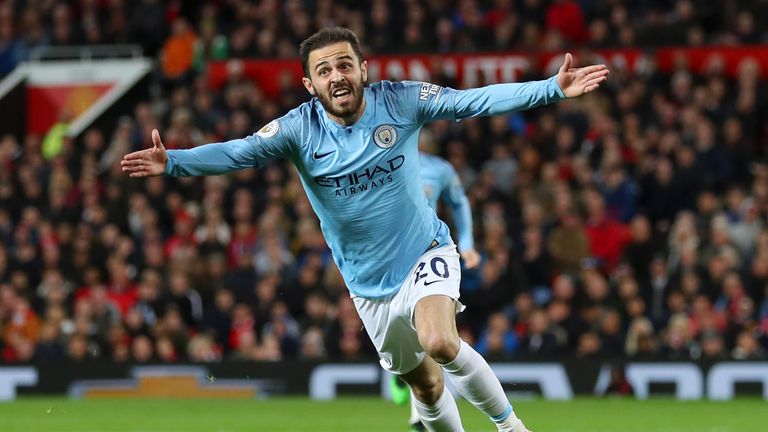 Manchester City claimed a 2-0 win over Manchester United in what could prove to be a pivotal game in the Premier League title race. Is there any stopping them now?
Liverpool fans were entitled to feel optimistic when the teams went in for half-time at Old Trafford. Manchester United had matched their rivals. There was a close shave when David de Gea saved from Raheem Sterling a few minutes before the break, but United had raised their game following the 4-0 loss to Everton. It was not the walkover some predicted.
United had upped the intensity, covering more ground than City at the halfway point and making more high-intensity sprints, too. But it was not long before the visitors began to move into the ascendancy. Leroy Sane's introduction for Fernandinho early in the second half was a sign of their intent. The opening goal arrived just a few minutes later.
United battled gamely, with Jesse Lingard spurning a fine chance to equalise soon after Bernardo Silva's goal, but Liverpool fans could be excused for reaching for the remote when Sane struck City's second. Pep Guardiola's side had not surrendered a two-goal lead all season. They were not about to start now.
The victory takes them back to the Premier League summit, one point ahead of Liverpool with three games to play. Neither side have dropped a single point since the start of March. It has been an extraordinary race and there could be more twists to come, but it is now City's title to lose.
Relentless City
City's crushing Champions League exit against Tottenham could easily have derailed their season, but their response has been exemplary. After the 1-0 win over Mauricio Pochettino's side on Saturday, this was another assured and ruthless display once they overcame some early jitters.
Guardiola's men have now won 11 consecutive Premier League games, scoring 26 goals, but even more impressive is that they have only conceded three. This was their eighth clean sheet in that time, and while the pace of Marcus Rashford unsettled Vincent Kompany in the early stages, it was telling that United only managed one shot on target all evening.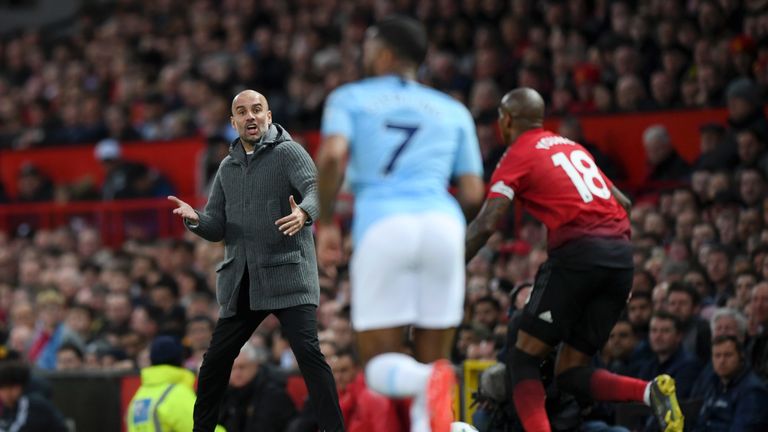 "The difference is enormous," said Sky Sports pundit Graeme Souness. "City weathered the storm early on and then started playing. They knew there was going to be some fire from United, but it didn't last too long.
"You've seen a team playing with so much confidence, clever players, and what's great about them is they work their socks off. You can dress it up however you want! You can be talented, technically gifted, but if you don't put in hard graft you won't be a proper player. City have them in abundance, United don't."
Can they be stopped?
Guardiola knows that hard work must continue if City are to go on and make it over the line. "Now it's time to be calm," he said in his press conference. "Don't read, don't turn on the TV, don't listen to the radio."
But the reality, of course, is that their remaining fixtures make them huge favourites.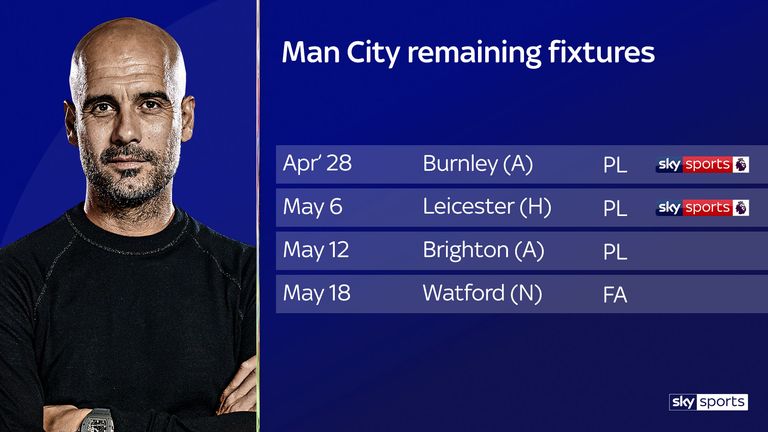 This, as Liverpool well know, was the most realistic chance of them dropping points. Their upcoming trips to Burnley and Brighton will not be straight-forward, and they welcome Leicester to the Etihad Stadium knowing they have already been beaten by them once this season, but it could be far worse. By beating United, they have cleared the biggest hurdle.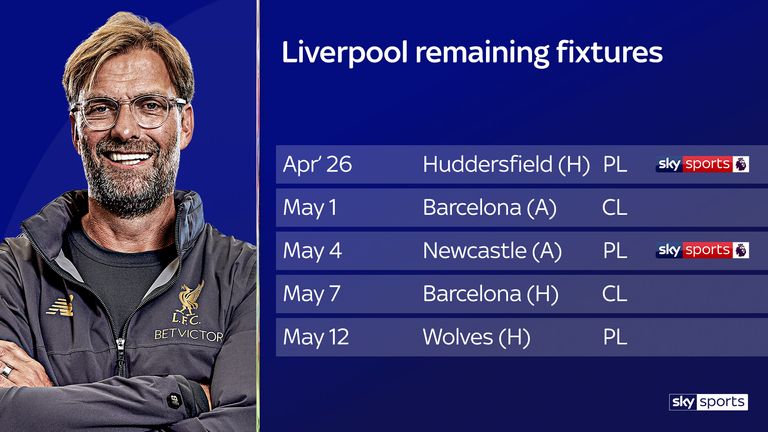 Liverpool's fixtures are relatively kind, too, with home games against Huddersfield and Wolves either side of their trip to Rafael Benitez's Newcastle, but they must navigate those games at the same time as contending a two-legged Champions League semi-final against Barcelona. City no longer have that distraction.