Man City boss Roberto Mancini writes off Mario Balotelli bust-up as 'not important'
Roberto Mancini says his bust-up with Mario Balotelli will not spell the end of the striker's Manchester City career.
Last Updated: 04/01/13 9:27pm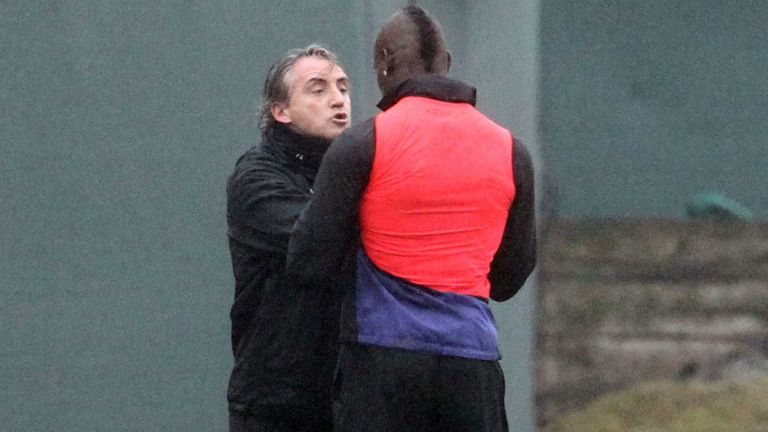 The Manchester City manager was pictured angrily confronting his striker during training on Thursday, raising new questions over Balotelli's future at the club.
But Mancini told a press conference Balotelli will not face disciplinary action and the incident will not spell the end of the 22-year-old's Eastlands career.
He said: "We were playing a game and Mario kicked his team-mate. I told him to leave the pitch, he said 'no', and I took his shirt and pushed him from the pitch. That is what really happened - nothing special, no fight.
"These are things that can happen, usually between players. This was different because I wanted him to leave the pitch for what he did against another player."
Asked whether he would now look to sell Balotello, Mancini said: "No, no, no, no. This is not important - it doesn't change my thoughts on this.
"I will give him another 100 chances if possible, if I think he can change. I am here for this. Sometimes I am upset with him, but I give him another chance, sure. He is 22 and he can make a mistake."
Mancini has more often than not backed his fellow Italian despite a series of high-profile incidents - on and off the pitch - since the striker's 2010 arrival from Inter.
The manager did question Balotelli's future after a sending-off at Arsenal last season, but he was back in the fold by May and set up the Sergio Aguero goal which secured City's first league title since 1968.