Manchester City boss Roberto Mancini to consider the future of several players
Man City manager Roberto Mancini has suggested his side's run-in could determine the future of several players.
Last Updated: 04/03/13 11:47pm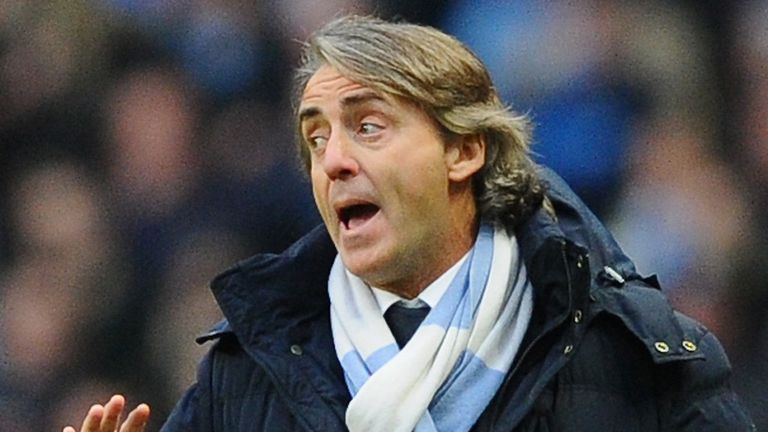 City's hopes of repeating last year's Premier League success are looking increasingly bleak after Manchester United once again increased their advantage at the top of the table to 15 points.
But Mancini is not giving up the fight and still feels his team have plenty to play for in both the league and the FA Cup, in which City face Barnsley in the quarter-finals next week.
That gives some players chance to underline their worth to Mancini as the manager - who remains confident in his own position at the Etihad Stadium - starts to think ahead to how he might reshape the squad in the summer.
City have already been linked with a host of players, including Napoli's Edinson Cavani and Barcelona's Alexis Sanchez, and Mancini admits he has some targets in mind.
"I think it is important the games we have from now until the end, very important," said Mancini.
"We know which players we can buy for the future but we don't know which players can leave.
"Also because some players (might) want to leave because here they don't play and they want more chances to play. Maybe it can happen."
When asked if he would make decisions over the final months of the season, Mancini said at a press conference: "Yes, maybe. Could be."
City have a chance to cut United's lead back to 12 points as they travel to struggling Aston Villa to play their game in hand on Monday.
Mancini's men were beaten by another relegation-threatened side in Southampton last month and another defeat to lowly opposition would be unthinkable at this stage.
Yet even with victory, City would still have just 10 games to turn around a seemingly impossible situation.
Mancini is relying on favours from elsewhere and hopes United's Champions League exertions - they face Real Madrid this week - will catch up with them.
He said: "I think every game could be difficult when you play every three days and at the moment Manchester United have a lot of games, important games, Champions League, FA Cup.
"We hope they can lose points but we don't know when or where."