Yaya Toure: Winning just one trophy would not be failure for Manchester City
Yaya Toure insists winning just one trophy this season would not be a failure for Manchester City.
Last Updated: 14/03/14 4:34pm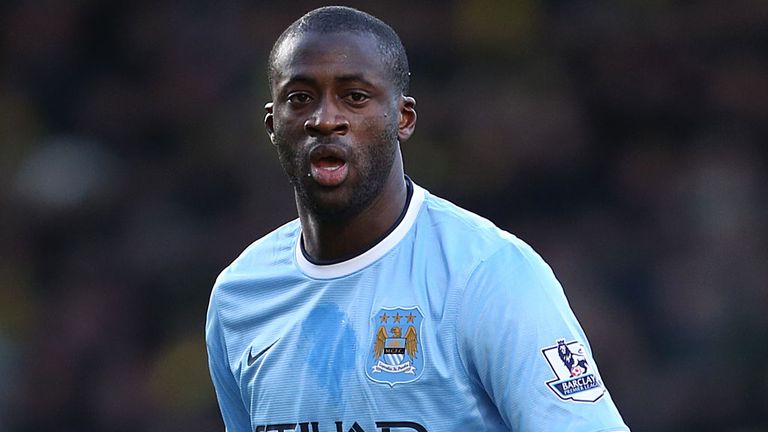 City have seen their hopes of an unprecedented quadruple ended by defeats to Wigan in the FA Cup and Barcelona in the UEFA Champions League in the last week, and they find themselves nine points behind league leaders Chelsea.
Despite lifting the Capital One Cup with victory over Sunderland, the pressure is on Manuel Pellegrini's side to salvage their season by winning the Premier League title.
However, Toure is adamant that their campaign should not be deemed a failure if they fail to catch Chelsea and win the top flight crown.
"We just need to keeping working and try to win all of the games," said Toure.
"We know it's going to be difficult. But when you lose games, you learn more about yourselves. Sometimes when you lose it's not bad.
"We have to move on and think about the Premier League. With the players we have I still think we can do it.
"A failure? Why? Why would it be a failure? We have already won a cup, so you can't say that.
"Football is a competition and only one team can win each of them. So don't say we would be failures because we have won something already, but now we want to win more.
"Teams come and they are desperate to beat us, though, so it is always tough. Teams are very motivated against us and you have to understand we are not a machine."
Toure admits Chelsea are in pole position to win the title despite City having three games in hand over Jose Mourinho's men, knowing winning all of them will move them to the summit.
"Chelsea are nine points ahead," added Toure. "Yes, we have three games in hand, but we could lose all three of them, so Chelsea, for me, is the favourite.
"But it is good that we can now focus on the Premier League and the most important thing is that we will get more rest.
"We've been involved in so many competitions and it's so hard, playing for national teams as well. It's always so difficult.
"And against Barcelona, we lost (Sergio) Aguero again who is always an important player for us, but we cannot think about this defeat because Saturday is going to be difficult. Hull is a serious team, but everything is going to be easier for us now with only the Premier League so I hope we can finish well."
Team-mate Pablo Zabaleta remains upbeat City's can end the 2013/14 campaign with multiple honours.
Zabaleta said of the battle to secure domestic success: "We had determination and character in the Camp Nou. It is never easy to come to Barcelona and get the result that we did.
"We should learn about all these things. I am 100 per cent sure if we keep playing like we did there we can win some trophy. Hopefully we can keep playing with that intensity.
"We know the only trophy we go for now until the end of the season is the Premier League.
"We know how tough Hull away is (on Saturday) but we have a fantastic team.
"It is just belief and playing with intensity. With this team, playing the way we did on Wednesday, we can beat anybody."