Manchester City a long way off from matching European rivals, says Vincent Kompany
Last Updated: 19/03/15 2:35pm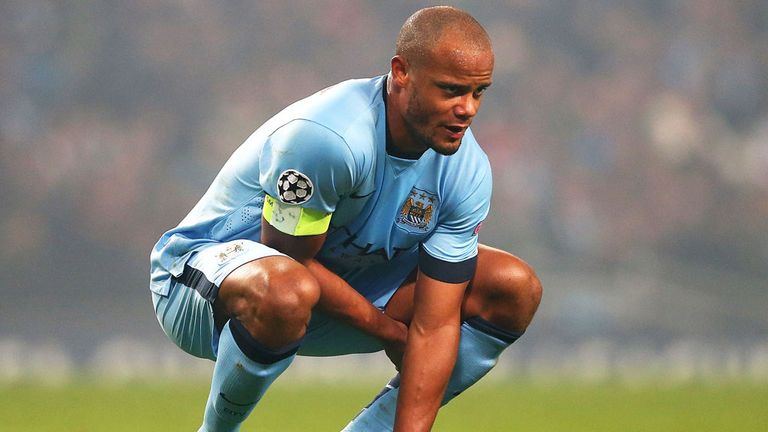 Vincent Kompany believes Manchester City have plenty of work to do before they can compete with the elite teams in the Champions League.
The gap between City and Europe's best clubs was starkly illustrated on Wednesday as Barcelona dumped the English title holders out of the Champions League with a Lionel Messi masterclass at the Nou Camp.
Only the brilliance of goalkeeper Joe Hart kept the scoreline respectable in a 1-0 defeat (3-1 on aggregate).
City may have made progress in the seven years since their Abu Dhabi takeover, but their dream of conquering on the European stage seems way off with Sky Sports pundits Gary Neville and Jamie Carragher stating the club need big changes.
Reflecting on Barcelona's imperious display, Kompany said: "The reality is they were a better team, there is no shame in admitting that. For me there is a big, big difference.
"I will just mention Bayern Munich and Barcelona, and then there are the rest of the teams, with Real Madrid probably in between.
"Ultimately we have always said our goal is to become as good as them, but it will take some time. They are really good. Bayern Munich and Barcelona are not just Champions League-winning teams, they are World Cup-winning teams as well. They have generations that have played together a long time.
"Of course we want to make up the gap but you just have to be true to yourself. We have the ambition to be as good as they are one day, but it is not going to happen overnight."
City's exit meant that England will not have a representative in the quarter-finals of the Champions League for the second time in three seasons.
"The gap will eventually get closer," added Kompany. "Whether it is Arsenal, Chelsea, (Manchester) United, the gap will become closer and I just hope it is us that gets there the first."
City were outplayed in the first leg at the Etihad Stadium three weeks ago but were buoyed for the return in Barcelona after Hart's late penalty save.
But despite a miraculous performance at the Nou Camp on Wednesday night, Hart was helpless when Messi set up Ivan Rakitic on 31 minutes.
On Hart's display, centre-back Kompany said: "It was phenomenal. On that side of the pitch I felt we had all the luck we needed to get a result.
"If you want to win against those teams you need a very special performance and a little bit of luck on your side. Then you can beat them, but every team can lose. There is no shame."
Having fallen six points behind Chelsea in the Premier League, hopes of retaining their title look forlorn and they even face a battle to hold onto second place with Arsenal, Liverpool and Manchester United breathing down their necks.
Kompany, 28, said: "Forget about Chelsea. We owe it to ourselves, to our fans to have a good end to this campaign.
"Then again if we finish this campaign as good as we can, maybe there is still something in it. We will have to see. It is not in our hands by any means, but we just have to go back and work hard and improve."