Brentford striker Tommy Smith says players fully behind departing boss Mark Warburton
Last Updated: 12/05/15 1:31pm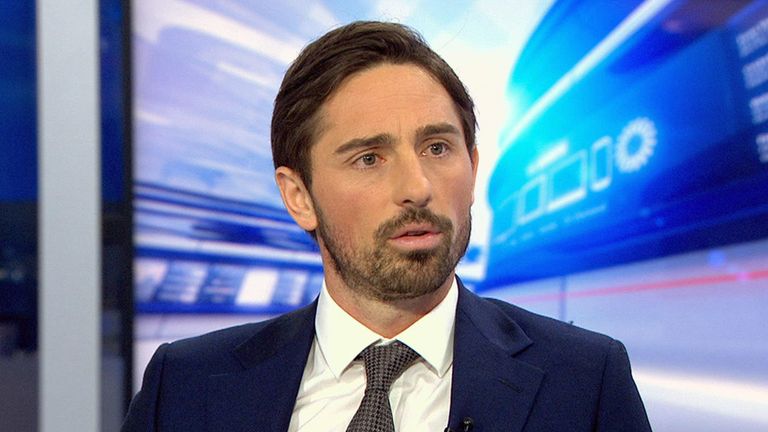 Tommy Smith admits the Brentford players were disappointed to learn Mark Warburton will be leaving at the end of the season but insists the manager's imminent departure will have no bearing on their determination to reach the Premier League.
The Bees striker joined Ray Parlour on The Morning View on Sky Sports News HQ to discuss his side's future prospects and look at the race for promotion to the Premier League.
Brentford lost 2-1 to Middlesbrough in the first leg of their play-off while Ipswich and Norwich drew 1-1 at Portman Road in the other semi-final.
Parlour and Smith agreed Norwich are favourites to edge their encounter with Ipswich but had differing opinions on the tie at the Riverside.
MIDDLESBROUGH V BRENTFORD
SMITH: The players are 100 per cent behind Mark. They always have been. It was really disappointing for everyone to find out so early on in the season the approach for next season, and the fact that Mark is not going to be there.
It's a fantastic group we have got together there. I joined in August and it's been a fantastic dressing room from start to finish. He's done a great job and I am sure he's as disappointed as anyone not to be able to take the club forward. It is really exciting times at Brentford. The owner has put loads of money into the club and he's a huge Brentford fan.  
In terms of the way the club is looked after, you couldn't ask for a better club. It is kind of a double-edged sword for everyone really; you want to push hard and do it for Mark as well as ourselves, but it is a new chapter for the club moving forward whatever league we will be in.
We have got nothing to lose. More pressure is on Middlesbrough, with the home fans, and it will be a sell-out so the pressure is on them. We will go up there with every confidence.
PARLOUR: There is expectation on Boro. It will be a tricky tie. They have got a good record at home and I think they have only lost one at home this season.
The players will know what they have got to do. The Riverside will be packed. They know it is a big, big game. Maybe they will play on the break. It will be on Brentford to take it to Middlesbrough and maybe that plays into Boro's hands. If I am going to pick, I am going to go with my old club Boro to go through.
IPSWICH V NORWICH
PARLOUR: Ipswich have done a brilliant job this year (having) spent no money. It looked like Norwich, getting that away goal, were going to go on and win the game but Ipswich have come back.
I think Norwich are going to do enough at home. They are a side that have got good players. It is a hard one to call. Mick McCarthy has got great experience of getting teams over the line and it should be a cracking game.
SMITH: I agree, it is a really tough game Norwich v Ipswich, big derby game, anything can happen. Mick McCarthy's experience, as Ray says, might be the difference there.
It is going to be really tight. Home advantage might just swing it. If I had to sway one way or the other I would have to say Norwich but it is very close.
Watch both Championship play-off matches live on Sky Sports 1 HD. Middlesbrough v Brentford on Friday at 19.45 and Norwich v Ipswich at 12.15 on Saturday.