Shaun Bartlett interview: His famous goal for Charlton explained
In an exclusive interview with Sky Sports, Shaun Bartlett talks us through his Premier League goal of the season from April 2001 and why he still dreams of a return to England as a coach
Last Updated: 26/05/20 5:01pm
Nineteen years ago, Shaun Bartlett scored a goal. But that was not the end of it. The strike went on to be named as the Premier League goal of the season. Even today, Charlton are having a competition on social media to decide the club's best-ever goal. Bartlett's strike against Leicester has made the final four. Nineteen anniversaries and counting.
"People still remember it," Bartlett tells Sky Sports.
"You cannot exactly run away from it but it is a great feeling."
There are volleys and then there are volleys. As the ball came over Bartlett's shoulder in the left channel, nobody could have expected a connection as clean as the one that came.
Not even Bartlett.
"My first thought was to strike it and see what happens," he recalls. "You have to go with your first thought. If your first thought is to strike it then do it. Do not hesitate or doubt yourself. Nine times out of 10 that would hit someone behind the goal but this time it came off perfectly, the contact, the power and the direction."
However, that is not to say that this was pure luck.
"It was the culmination of what we had done that week," adds Bartlett.
"Keith Peacock was the assistant manager at the time and he used to do a lot of training with us specifically on technique and movement, certain patterns that would help the team.
"It was no coincidence me peeling away from the defender, but, when I watch it back, neither the defender nor the goalkeeper expected it."
The defender he peeled away from was Gary Rowett. The goalkeeper who saw the ball arrowing past him into the far corner of his net was Simon Royce. Curiously, both players were to go on to become Charlton team-mates of Bartlett's.
Did he ever remind them of the goal?
"Over and over," he admits. "It never stopped."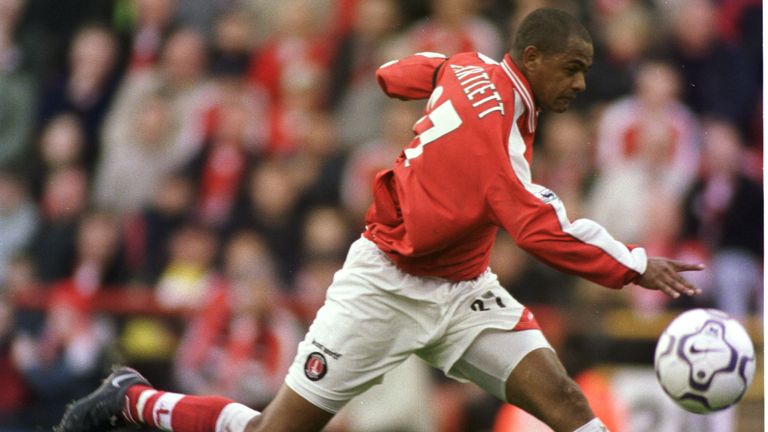 Bartlett went on to spend six seasons at Charlton, the club's only six Premier League seasons that did not end in relegation. It was a glorious period for the club under Alan Curbishley and a success right from the start for Bartlett following his move from Swiss club FC Zurich.
The South Africa international even marked his home debut with two goals in a come-from-behind 3-3 draw against Premier League champions Manchester United.
"I had only been with the club a few weeks and I was thrown in at the deep end," he says.
"It was a bit of time before the really cold weather came but that was nothing unusual for me because I had come from Switzerland which was even colder with a lot of snow.
"What surprised me was the pace of the Premier League. In those early games, I was usually substituted midway through the second half because the pace was unbelievably fast. It was 100 miles an hour, non-stop action. It took me around three months to get used to it.
"Having Mark Fish at the club helped me settle a bit faster because he was another South African who had signed a month earlier. That made adapting that bit easier."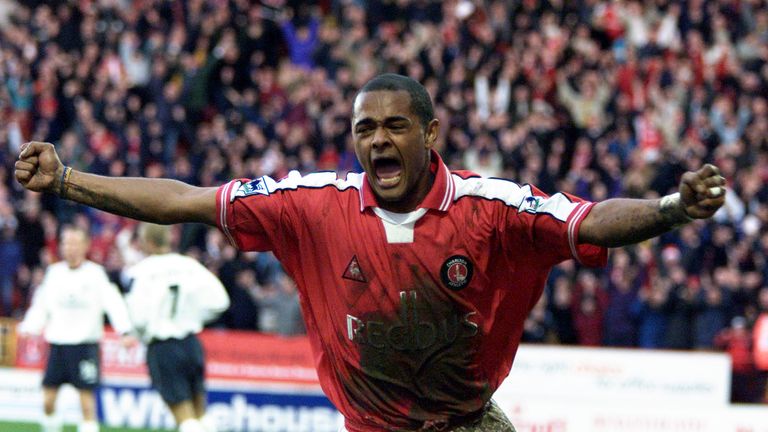 Now 47, Bartlett remains in touch with several team-mates from his Charlton days, including Rowett, Jason Euell and Chris Powell, but he is now back in South Africa working as an assistant manager at his old club Kaizer Chiefs. They were on course for a first league title in five years when the coronavirus crisis called a halt to the campaign.
"It had been going really well," he says.
"We laid a really good foundation in pre-season and started strongly. We became a bit inconsistent but we are still on track. There are eight games to go so we are just waiting to hear what is the way forward. It would be nice to lift the trophy with them again as a coach.
"Working with strikers is my bread and butter, I know how to get the best from them. This season, in particular, we have scored so many goals. It is great to see their work rewarded.
"The transition from playing to coaching took me a bit of time. I got my coaching badges through the English FA because the local qualifications in South Africa are not recognised worldwide so I did quite a bit of travelling back and forth until I got my A Licence in 2014.
"I got that three days before my first game as a head coach so that was quite interesting. I did my final assessment with the Charlton U17 team. I flew in on the Monday, my assessment was on the Wednesday morning, I flew back on the Wednesday evening, and my first league game in charge of Golden Arrows was on the Saturday.
"That was my first job, to get the team promoted to the top tier and I managed to do that at the first attempt. That was remarkable and quite an adventure, to be honest."
Bartlett's focus right now is on Kaizer Chiefs but perhaps the next adventure could be back in English football. Ties to the country remain strong with son Tyrique having had a spell on Newcastle's books and both are hoping to continue their careers in Europe before long.
"Just as with my playing career, I have always wanted to be in the UK. I took the long way going from the United States to Switzerland and then to the Premier League but my time there was a massive influence on me in terms of the professionalism on and off the field.
"My mindset is that it is all about timing. The right person, the right club, the right contact. But I have always had ambitions to come back to Europe and that ambition is still there."
If he does return, there is a certain Premier League goal that Shaun Bartlett can point to if his players are in any doubt as to his credentials and want to see how it is done.