Joe Hart to West Ham: Return puts England status in the spotlight
Last Updated: 19/07/17 7:07am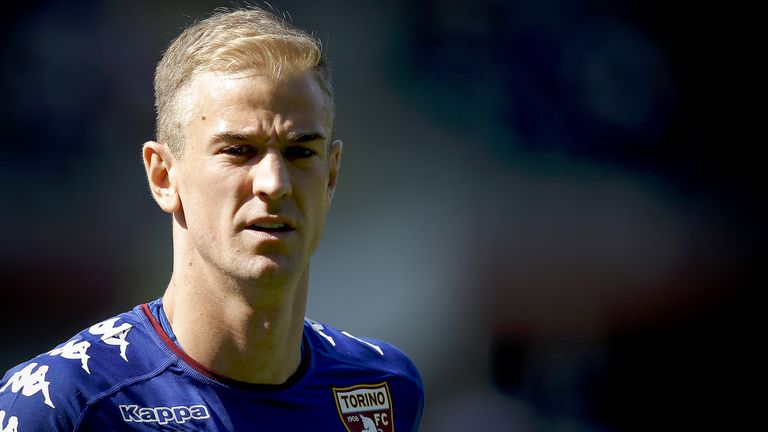 Joe Hart's Premier League return with West Ham puts his England status in the spotlight. So where does the former Manchester City goalkeeper figure in the reckoning? Adam Bate examines Hart's falling stock and the statistics behind it...
West Ham are entitled to feel they have pulled off something of a coup in persuading England goalkeeper Joe Hart to join the club from Manchester City. At 30, Hart should be at the peak of his powers. He also brings considerable experience to the role as a two-time Premier League champion with 71 international caps to his name.
But the very fact that the transfer is happening is an indication that Hart's reputation is diminished. Pep Guardiola's decision to dispense with him was one thing. As Hart himself pointed out, all coaches are entitled to see the game differently. The real disappointment will be that Guardiola's decision did not spark a mad scramble for the goalkeeper's services.
After all, Hart will feel his record stands up. As well as those two Premier League titles, there were four Golden Glove awards. When Manchester City's spine was cited as their strength, Hart's name was ranked alongside Vincent Kompany, Yaya Toure and Sergio Aguero as evidence. Wayne Rooney once called him the best goalkeeper in the world.
His ascent had long been trailed. He was identified as a future star at Shrewsbury; named Birmingham's player of the year during his loan spell there. An England international at 21, his capacity for brilliance was soon established. He won City's performance of the year award for his opening-day efforts at Tottenham in 2010. It was just one of many to follow.
As recently as 2015, his one-man mission to shut out Barcelona at the Camp Nou stood out as an extraordinary individual performance. However, these occasional high spots have been interspersed with lowlights too. Age has not brought the increased consistency that might have been expected. Instead, flaws have emerged. Opinions have crystallised.
An apparent weakness when facing long-range shots low to his left has not been corrected. Moreover, Hart's eagerness to assert himself has manifested itself in agitated displays on big occasions - particularly in tournament play for his country. Inextricably linked to England's Euro 2016 exit to Iceland, potential career-defining games have not gone his way.
There was a superb stop to help earn a 0-0 draw against Slovenia in October, but Hart's summer showing against Scotland did little to end speculation about his position in the England team. Beaten twice from distance by Leigh Griffiths' free-kick, former England coach Gary Neville described his work as "poor" and he was not alone in that verdict.
All of which means Hart returns to English football not with Manchester City and the promise of further face-offs with Lionel Messi and the rest, but with mid-table perennials West Ham. Neither Liverpool nor Everton pursued his signature, so Hart now finds young hopeful Jordan Pickford installed as the No 1 at a club more fancied than his new employers.
Indeed, Stoke goalkeeper Jack Butland will also be hopeful of pressing his claims having returned from injury. Fraser Forster will get opportunities at Southampton too. Hart's West Ham are longer odds for the title than all three of those goalkeepers' clubs and this new status among the pack is a reflection of his underwhelming statistics over the past two seasons.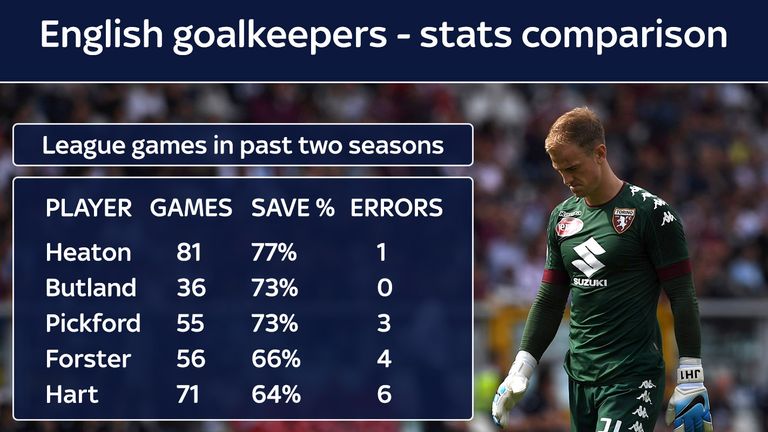 Including Burnley's Tom Heaton, Hart has the worst save percentage of the five contenders for the England No 1 spot. He has also made more errors leading to goals than his international rivals as well - six in 71 games, while Heaton and Butland, Hart's deputies against France last month, have made only one between them in 117 appearances.
Perhaps the opportunity to show what he can do back in the Premier League will prove beneficial. Indeed, the comparison could yet favour him - his greater pedigree apparent as Pickford attempts to deal with high expectations and Butland feels his way back to form. But Hart's approach to the challenge at West Ham could be the biggest test of his resolve.
A year in Italy offered a new experience, an adventure to be viewed in isolation with Hart's willingness to test himself abroad widely lauded. His return ends that phase. Now it is time for Hart to justify his status as England's top goalkeeper in direct opposition to his rivals. He has climbed to the top before. Does Joe Hart have the appetite and ability to do so again?