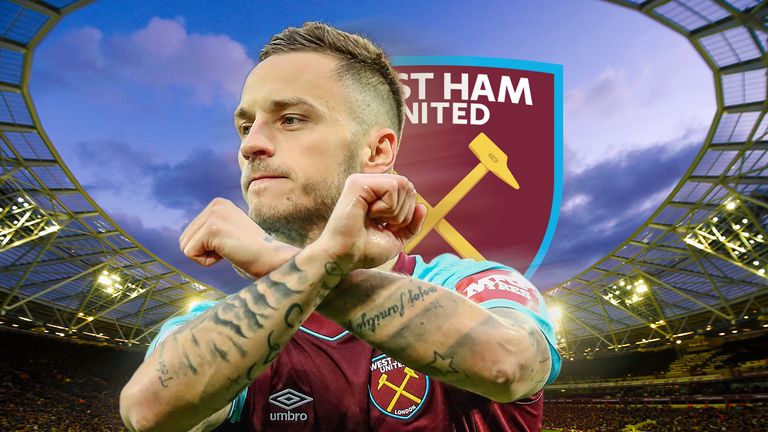 Marko Arnautovic was goalless when Slaven Bilic was sacked in November, but the Austrian has now scored five in his last six games under David Moyes. We look at the stats behind his transformation...
Bilic signed the 28-year-old for £25m from Stoke in the summer, along with striker Javier Hernandez, defender Pablo Zabaleta and 'keeper Joe Hart on loan.
Those acquisitions stirred optimism for the season ahead after a turbulent first term at the London Stadium, with chairman David Sullivan saying: "We start the season in three trophies and our ambition is to win three trophies."
However, despite intentionally signing older players proven in the Premier League to achieve immediate success, the Hammers suffered a 4-0 thrashing on the opening day at Old Trafford and lost their following two fixtures against Southampton and Newcastle.
Arnautovic missed the Newcastle defeat and the following stalemate against Huddersfield through suspension after elbowing Jack Stephens during the 3-2 loss at St Mary's and was demoted to the bench before Bilic was sacked in November.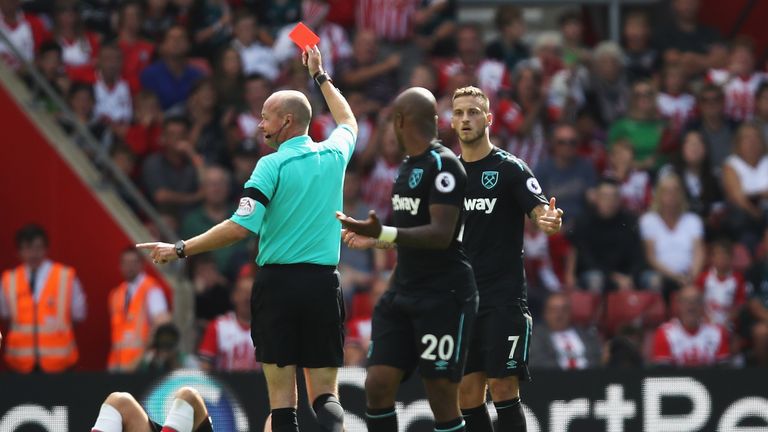 Moyes took the helm just three days later but failed to apply the immediate bounce effect, losing three of his first four league games leading into December.
However, a shock 1-0 win over reigning champions Chelsea proved to be the catalyst for a reversal in form - and Arnautovic scored the winning goal to break his league duck.
The Hammers have now won three of their last six league fixtures and only suffered one defeat, during which Arnautovic has scored five and registered his first league assist during the 2-1 win against West Brom on Tuesday.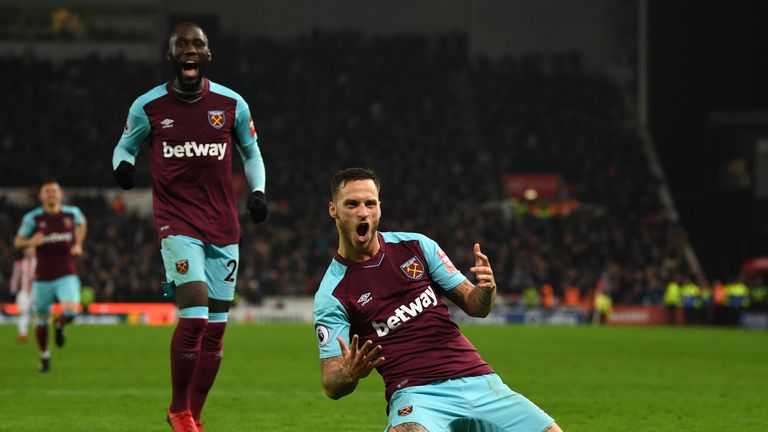 But what's behind his transformation in form? We checked the stats…
LICENCE TO ROAM
Under Bilic, Arnautovic was restricted to the left wing and recorded a remarkable 27 per cent of his overall activity within a small 22 x 11 sq m area - on the left flank, midway in the opposition's half.
But the Austrian has been granted licence to roam under Moyes, switching wings, working around the opposition box and recording activity across the entire pitch - he even has a hotspot of activity on the right post of his own goal.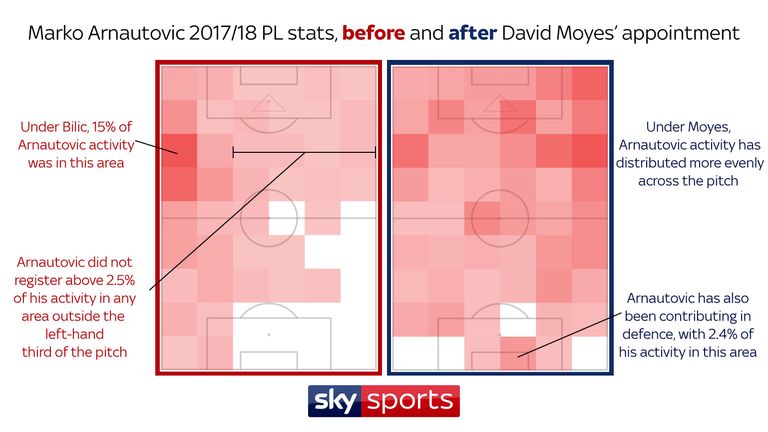 RUNNING
That additional coverage across the pitch has resulted in a surge of distance covered and sprints, as shown in the graphic below.
The Austrian has surpassed 11 km and 70 sprints per game in his last two games - a stark contrast to the 9.8 km and 46 sprints he completed against Manchester United on the opening day.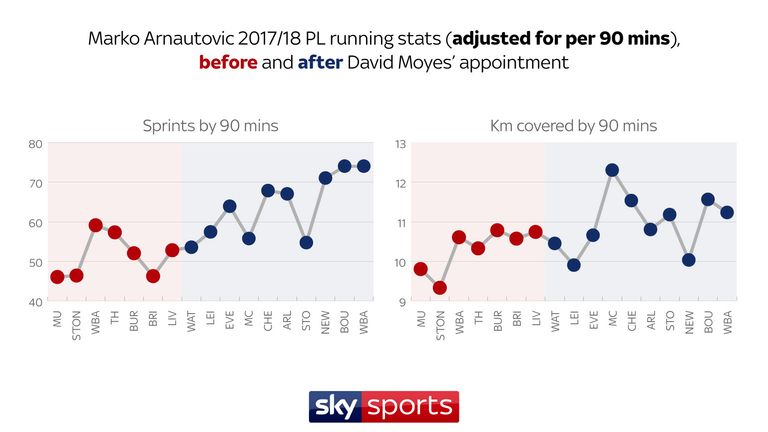 ATTACK STATS
As a result of additional running and freedom to roam, his attacking stats have soared to levels beyond what may have been anticipated upon his arrival in July.
In addition to his five goals and one assist, his shooting accuracy has doubled to 55 per cent during games under Moyes and he has hit the target 1.2 times a game on average - a five-fold improvement from his 0.24 average under Bilic.
And those improvements apply across a raft of stats, including dribbles completed (+956 per cent), touches in the box (+93 per cent), chances created from set plays (+68 per cent) and duels won (+24 per cent).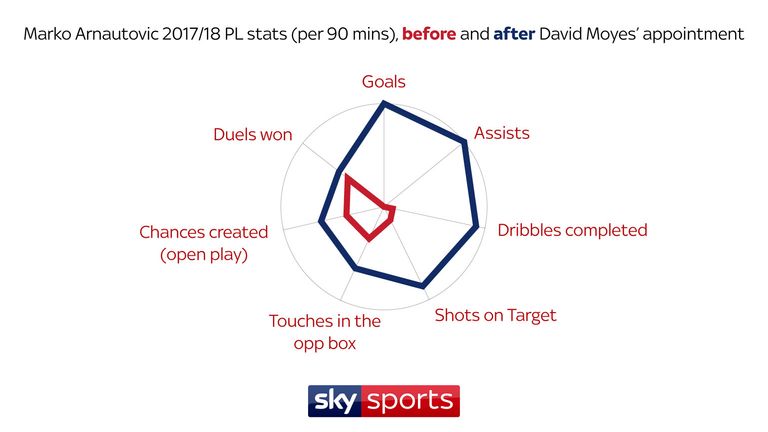 Moyes has reduced the number of crosses at West Ham from 5.0 to 3.7 a game, with Arnautovic completing only 0.2 per 90 minutes, compared with 0.7 under Bilic, while his disciplinary record has also improved - collecting a modest two yellow cards since his reckless red-card offence in August.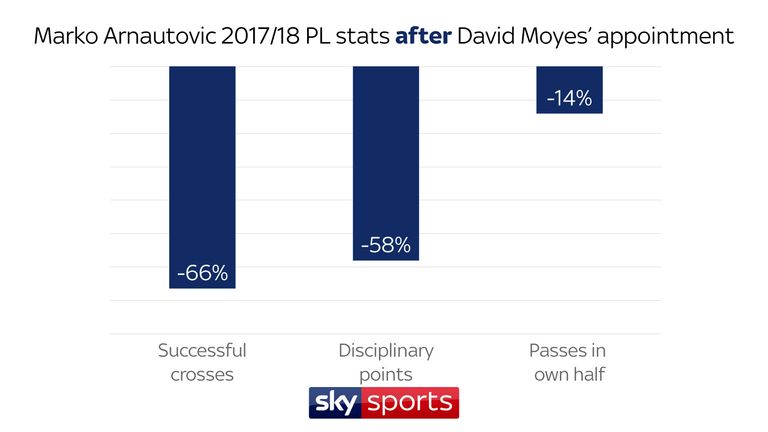 And with Andy Carroll hitting a match-winning double against the Baggies earlier this week, West Ham's front-line have hit form - but will the Hammers' rearguard contain Harry Kane and co when they travel to Wembley on Thursday?
Watch Tottenham v West Ham live on Sky Sports Premier League from 7.30pm on Thursday