Jake Livermore reacted to abuse over son, say West Brom
By Richard Cooke
Last Updated: 03/01/18 9:15pm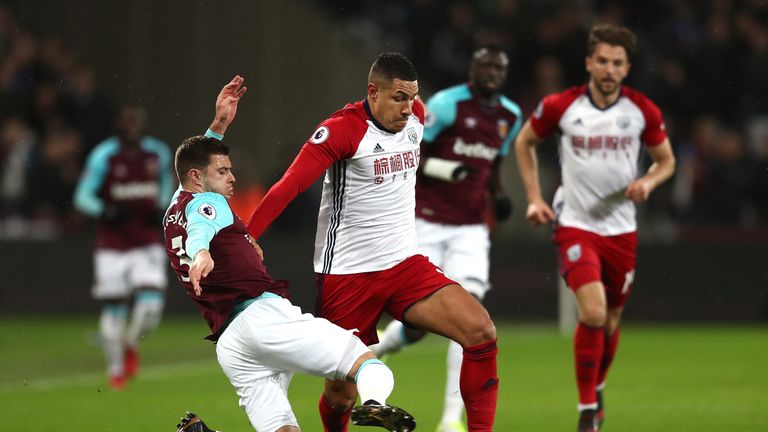 West Brom say Jake Livermore climbed into the crowd at West Ham to confront a supporter who abused him about the death of his baby son.
The England midfielder was involved in an angry confrontation with a home supporter after being substituted in the 64th minute of their 2-1 defeat at the London Stadium on Tuesday.
Livermore had to be ushered down the tunnel and the supporter was subsequently ejected.
After West Ham identified the supporter who was involved, West Brom issued a statement on Wednesday offering the "total support of everyone at the club" to Livermore, who lost his baby son in 2014.
It read: "Following his substitution in the second half, Jake was subjected to general abuse from home supporters which he shrugged off.
"However, he acknowledges that he moved to confront one spectator who chose to make a comment about the death of his infant son.
"The club would like to think that all right-minded football supporters could understand this reaction which did not result in any physical exchanges before Jake was led away to our dressing room.
"Jake is an outstanding young individual who has the total support of everyone at the club and he has made it clear he considers this statement to be an end to an unhappy incident."
A West Ham United spokesperson said: "West Ham United can confirm that the individual involved in an altercation with Jake Livermore during last night's match against West Bromwich Albion was immediately identified and removed from London Stadium.
"After the game concluded, West Ham United officials liaised with West Bromwich Albion, Jake Livermore himself and the Metropolitan Police to commence a full investigation into the incident.
"The player has today confirmed he does not wish to make this a police matter, however, given the nature of the allegations, the club will continue to investigate before taking the appropriate action."
Earlier in the match, Livermore was subjected to taunts about testing positive for cocaine in the months after his son's death.
The Metropolitan Police have said they are continuing with their own enquiries, despite receiving no formal complaint, and are speaking to both clubs.
The Football Association has also requested observations from all parties on the incident.