Yossi Benayoun 'embarrassed' by the behaviour of West Ham fans at Tottenham
Yossi Benayoun has condemned the West Ham fans who directed offensive abuse towards Tottenham supporters.
Last Updated: 27/11/12 10:26am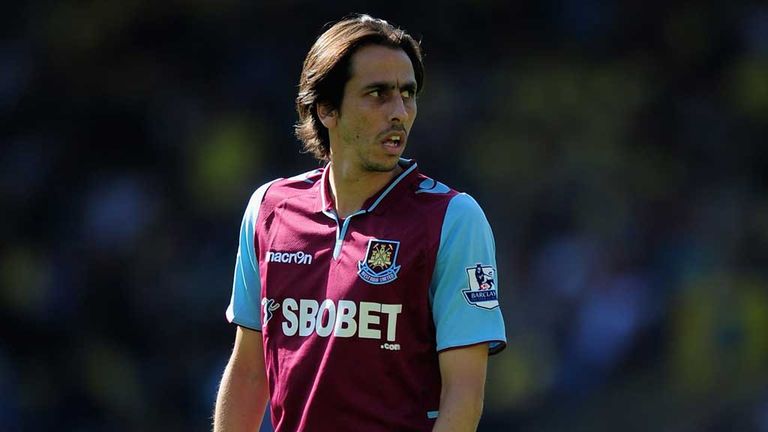 The Israeli international admitted he felt disappointed and embarrassed by the actions of the Hammers fans at White Hart Lane.
The Football Association and the police are investigating alleged anti-Semitic abuse which resulted in the arrest of two West Ham fans, one of which has now been banned for life by the club.
The visiting supporters are also alleged to have mocked the knife attack on a Spurs fan before Tottenham's game in Rome last week.
And Benayoun, currently in his second spell at Upton Park on loan from Chelsea, has lashed out at the Hammers fans' behaviour.
"I have a great relationship with the West Ham United supporters, from my first spell at the club and again now I am back on loan here," said Benayoun on Twitter.
"This is why I was very disappointed to hear some of the songs and it was embarrassing."
A club statement said: "West Ham will take the strongest possible action against any of their supporters, including enforcing life bans from the club, that are found guilty of behaviour which is categorically not condoned by West Ham."
The chants from a section of West Ham supporters have been reported to the police by the Society of Black Lawyers.
Tottenham will be submitting video evidence as part of their report to the FA.
A club spokesman said: "We are currently compiling a full report for the Football Association and shall be submitting this with all our evidence including relevant CCTV footage."
The Community Security Trust (CST), a charity that monitors anti-semitism, said it has received complaints from people in the Jewish community following the Spurs match, including from people who were at the game.
CST spokesman Mark Gardner said: "The days of English football crowds making massed monkey noises are thankfully gone, but massed anti-Semitic chanting about Hitler and gassing was clearly heard from a loud section of West Ham fans. We have heard such abuse against Spurs before and it risks seriously compromising the work against racism at all levels of the game."