Quique Sanchez Flores is unsure whether Watford's owners appreciate his work at the club and confirmed there is a break clause in his contract.
Flores' position at Vicarage Road has become increasingly uncertain following a disappointing second half to the campaign, in which the Hornets have won only twice in 11 Premier League matches.
But, for the first time in the Premier League era, the club look destined for safety in the top flight, sitting 10 points clear of the relegation zone with four games left to play.
Survival, combined with reaching last weekend's FA Cup semi-final, constitutes an excellent campaign but Flores is not sure everyone at the club agrees.
"Is it appreciated by the club? For sure the fans appreciate it," Flores said.
"Because I know they have enjoyed and they appreciate how difficult it is to get to this point. More? I don't know."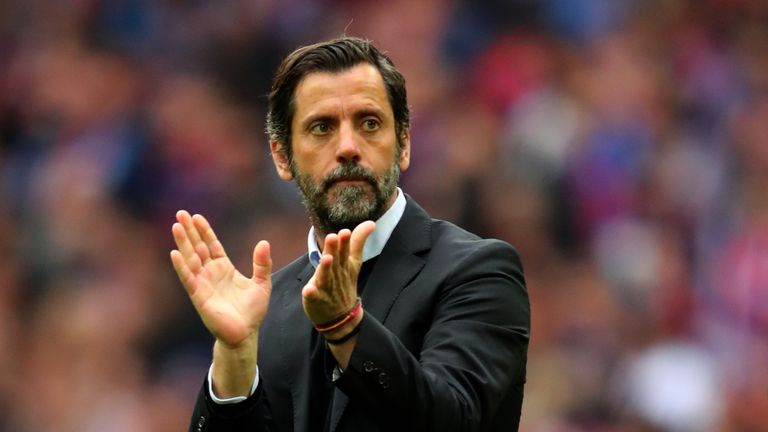 Watford moved to deny reports on Wednesday that a decision has already been taken to make a change at the end of the season but Flores confirmed there is a break clause in his contract.
"It's a clause at the end of the season that means we need to talk again. So at the end of the season we will talk again," Flores added.
"It's an option and when you put this kind of clause in the contract, it's for both parties. So you need to be clear and to see the things in the same angle."
Asked if he wanted to stay, Flores said: "This is not the question for me now.
"I know the kind of people I want to work with. That's the only thing I can say. In the last four or five years I work from my feelings. I work around people I feel completely protected with.
"These are my feelings. When we finish the season I will check what the conditions are but I need to feel happy."
Flores was handed a two-year contract when he was appointed head coach in June of last year but he is not planning for the future.
"I never plan long for anything as I know how life moves" he said. "I never plan longer because life is full of surprises."