Richarlison interest no surprise after making Watford impression, says Marco Silva
By Sky Sports News
Last Updated: 18/11/17 11:03pm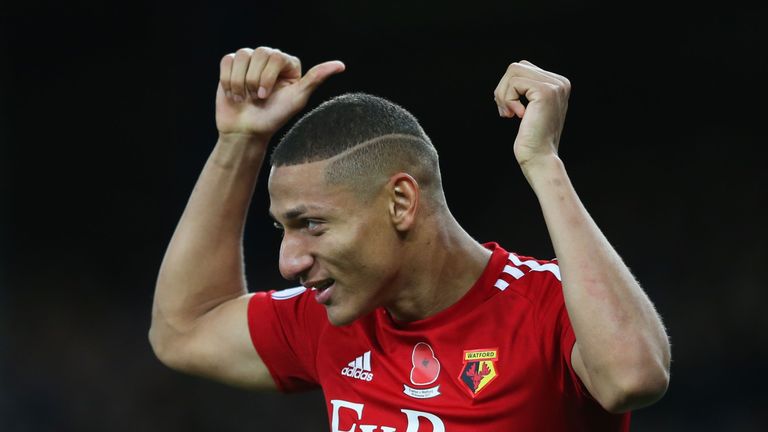 Marco Silva says it is "normal" for Premier League clubs to be circling Richarlison after the Brazilian's impressive start at Watford.
The 20-year-old has scored four goals in 12 appearances to help steer Silva's Watford into the top half of the table, and has attracted the interest of Tottenham in the process, according to the Evening Standard.
Richarlison only arrived from Fluminense last summer for £13m, but Silva insists he expected clubs to be tracking the youngster after such a promising start.
"It's not a surprise if these clubs come to see him," said Silva. "It's not really a surprise. He's had a fantastic impact at our club and on the Premier League. It's a normal situation that everyone's starting to talk about him, but most important is that he keeps going, to improve.
"He's a player with a lot of quality so it's normal if everybody starts to pay attention to him.
"He's a different type to the normal Brazilian player; for what we wanted for our team he's the player with the (right) skills.
"We are talking about a fantastic talent, a very, very good player. I'm sure in the future he'll achieve everything he can."
Silva, 40, was also asked about Richarlison's chances of breaking into the Brazil squad, who drew 0-0 against England at Wembley last week.
"He went through all the youth levels for his national team and performed well," Silva said.
"It's a fantastic national team, with fantastic players in the position he plays in, but it's a goal for him and I'm sure he'll work hard to achieve it.
"We analysed him for some weeks in June, when he was playing in Brazil. We took the decision to tell the board to do everything we could to sign the player."
Potential interest in Richarlison comes at the same time that Everton hope to appoint Silva their new manager, and with the Portuguese determined to leave Vicarage Road and refusing to offer assurances over his future.
On Sunday Silva's team host West Ham in David Moyes' first fixture as the Hammers new manager, and at a time when both high-intensity football is increasingly popular and the visitors are widely thought to have been underworked, the Hornets boss dismissed the contrast between the sides.
One set of statistics showed West Ham had made the fewest sprints in the division, with 4,942, and that Watford had made the second most with 5,950, but Silva - also boosted by the returns to fitness of Heurelho Gomes and Christian Kabasele - said: "It's not always the team who runs most that wins the game.
"We need to run well. I'm sure we ran more against Everton, but we didn't win. I'm sure we ran more in the game against Stoke, but we didn't win. Football isn't just about the team who runs more."