Billy McKinlay left bemused following his spell at Watford
By Paul Gilmour
Last Updated: 04/11/14 11:17pm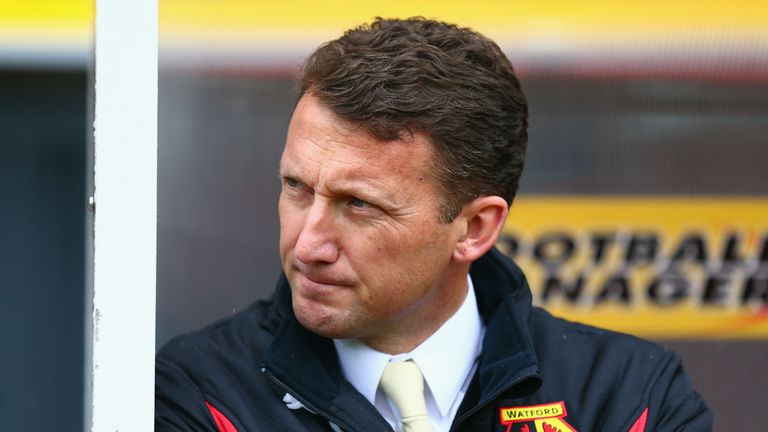 Sky Sports News HQ reporter Paul Gilmour speaks to former Watford manager Billy McKinlay about his short time in charge at Vicarage Road and gives us the background on the turmoil at the club.
Former Watford coach McKinlay concedes he is still bemused following his short stint in charge at Vicarage Road earlier this season.
Following a swift change of heart by Watford owner Giampaolo Pozzo, the Scotsman turned down the offer to step down into a backroom position after just two matches in charge.
McKinlay had been catapulted into the head coach role on September 29 to replace Oscar Garcia, who was forced to quit due to health problems. 
The job was McKinlay's first management job after 10 years of working with experienced names including Roy Hodgson and Martin Jol and he resigned from his role as Northern Ireland's assistant manager in order to concentrate on Watford.
The 45-year-old is a well-respected coach but he always had one eye on management - last month Southampton midfielder Steven Davis said he would make 'an excellent manager'.
On October 6, Pozzo called McKinlay to a meeting safe in the knowledge Slavisa Jokanovic would be his next Head Coach. It's my understanding he was offered  the chance to return to the assistant role. This was turned down as he felt there would be a lack of credibility having been in the top job regardless of the time period. 
When Watford announced his appointment chief executive Scott Duxbury said "In Billy McKinlay we have someone with the qualities and significant experience to build further on the foundations already laid for a successful season ahead."
But McKinlay discovered that eight days is a long time in football - he told Sky Sports News HQ he has not lost his appetite for football management after the experience.
"I had two games which I think is number four in the records," he said.
"It was such a bizarre scenario. You try to put some rationale on it which is difficult at times but basically, the owner changed his mind. Generally, he made a mistake giving me the job in the first place.  
"From my point of view it has only intensified my determination and my belief in my ability to do the job and it certainly won't diminish my attitude towards the future."
"He just said to me that he wanted to change manager. He wanted to continue with the philosophy and culture that was at the club previous to that. It was something he felt that he had to do.
"I'd not seen it coming. It was almost bordering on the ridiculous so I was shocked. It's his prerogative. He has put a lot of money into the club and he felt he couldn't give me support and that he was making the decision sooner rather than later."
Although the club announced McKinlay's arrival, his contract was only verbally agreed and not signed.
"There was an offer there but the most important thing for me was the focus on the games and trying the maintain the good start. It hadn't been signed but that wasn't an issue from my point of view. Those things generally take care of themselves."
McKinlay still feels frustrated that he was forced to give up his role with Northern Ireland to take over as Hornets boss.
"That was something that didn't sit particularly well with me in that the timing wasn't great," he said.
"Northern Ireland boss Michael O'Neill was terrific about it. I was aware there was a qualifying double header coming up and obviously Michael's focus and preparation was on that so I felt I was letting them down. Michael was supportive and felt it was an opportunity I couldn't turn down."
The Scotsman has not ruled out returning to the Northern Ireland set-up in the future.
He added: "That's something we may re-visit in the future. They've got off to such a great start in the qualifying campaign with three wins in a row so the most important thing is the team. I think the Romania game coming up is the most important thing. After that there might be a conversation with Michael to get his thoughts, to get my thoughts on it and 
we'll see where that takes us," McKinlay said.
There have been 22 managers in England who have lost their jobs since the beginning of this season, while only 28 managers from the 92 league clubs have been in charge for more than two seasons.
"There needs to be a realisation that a certain amount of time is required to get your point across.
"My situation was extreme to say the least but I think the culture in the modern game now is managers and coaches are getting less and less time."
Despite being on their fourth head coach since the end of August and the third since the annual team photograph was taken, Watford are the current Championship leaders.
In football we should always expect the unexpected.