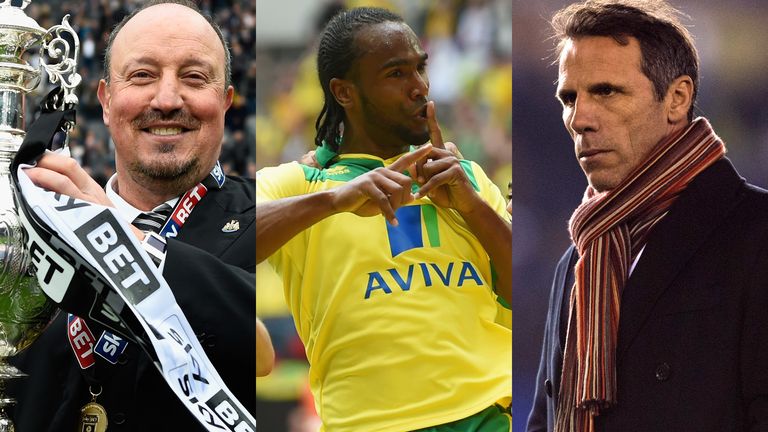 The new year is here and we're starting to approach the business end of the Sky Bet Championship.
But what are the chances of a late dash for the play-offs? Or even a big rally to avoid relegation? Recent history suggests it's not so likely...
The top two
Over the course of the last three seasons the team that is top at the start of January 1 have gone on to win promotion. Newcastle (2016/17) and Bournemouth (2014/15) did it in style by winning the title and Middlesbrough finished second in 2015/16.
Things, however, aren't quite so straightforward for the side that heads into the New Year second in the table. Brighton may have won promotion last season, but Derby dropped from second to fifth by the end of the campaign in 2015/16 and Ipswich went from second to sixth in 2014/15.
Both Derby and Ipswich then went on to lose in the play-off semi-finals.
Where have the top two from New Year's Day gone on to finish?
| 2016/17 | Finished | 2015/06 | Finished | 2014/15 | Finished |
| --- | --- | --- | --- | --- | --- |
| 1st) Newcastle | 1st | 1st) M'boro | 2nd | 1st) B'mouth | 1st |
| 2nd) Brighton | 2nd | 2nd) Derby | 5th | 2nd) Ipswich | 6th |
Play-off race
Of the 12 teams to make the Championship play-offs in the last three seasons, only three have come from a position outside the top six at the start of the new year, and none from lower than eighth.
Last season Fulham rose from eighth to sixth, nicking Leeds' place (who fell from fifth to seventh) in the process. In 2015/16 Ipswich and Sheffield Wednesday swapped seventh and sixth and in 2014/15 it was Derby who fell out (from third to eighth) and Norwich took their place (seventh to third). The Canaries also won promotion via the play-offs.
The relegation battle
Things look far gloomier down at the bottom. Over the course of the last three seasons only one team has managed to climb from the bottom three on New Year's Day to eventual safety.
Bristol City were 22nd in 2015/16 but managed to climb four places and finish 18th, while MK Dons took their place in the bottom three, dropping from 20th to 23rd. Charlton climbed a place from 23rd to 22nd but still went down and Bolton couldn't make it off the bottom. In fact, Rotherham (2016/17) and Blackpool (2014/15) also went from last to last.
Those facts don't bode well for Bolton, Burton and Birmingham this season, who fill the bottom three spots heading into 2018.
Biggest movers
Big climbs are possible, but only two teams have made it more than five places up the table in the last three seasons between New Year's Day and the end of the campaign.
Cardiff managed to make it from 21st to 12th last season, climbing nine places, and Preston made it from 17th to 11th (up six places) in 2015/16.
Likewise only Birmingham have ever fallen more than five places. Last season the Blues were 11th at the turn of the year but eventually dropped eight places to 19th.
18 sides have ended the season in exactly the same place as they started the new year in, while 59 of the 72 sides have moved up or down no more than three places.
Key stats (2014/15-2016/17)
| | |
| --- | --- |
| Biggest riser | Cardiff 2016/17: 21st-12th (nine places) |
| Biggest faller | Birmingham 2016/17: 11th-19th (eight places) |
| No movement | 18 sides |
| Three or less up/down | 59 sides |
What about Leeds and Forest?
Leeds are fifth heading into their New Year's Day clash against Forest, exactly the same position as they were in on January 1, 2017. In 2015/16 Burnley rose from fifth to become champions and in 2014/15 Watford went from fifth to second to secure automatic promotion.
Forest, meanwhile, are 14th and haven't risen above their New Year's Day position in any of the last three campaigns. Last season they dropped from 18th to 21st, in 2015/16 they were also in 14th on January 1 and ended up in 16th, while in 2014/15 then slipped from 11th to 14th. Mid-table obscurity looks like it's on the cards for Mark Warburton's side this season.
Don't miss the Sky Bet Championship clash between Leeds and Nottingham Forest on New Year's Day, live on Sky Sports Football from 2.30pm and Sky Sports Main Event from 3pm