They may be close off the pitch, but Tom Cairney and Matt Smith will have to put friendship to one side for Saturday's west London derby, as Sky Sports EFL reporter Jonathan Oakes found out earlier this week...
Sitting inside a high-street coffee shop, just around the corner from Craven Cottage, Tom Cairney is catching up with former Fulham team-mate Matt Smith over a vanilla latte.
It's not the most common location for a footballer to spend their free time, but for these two, in recent years, it's become something of a weekly ritual.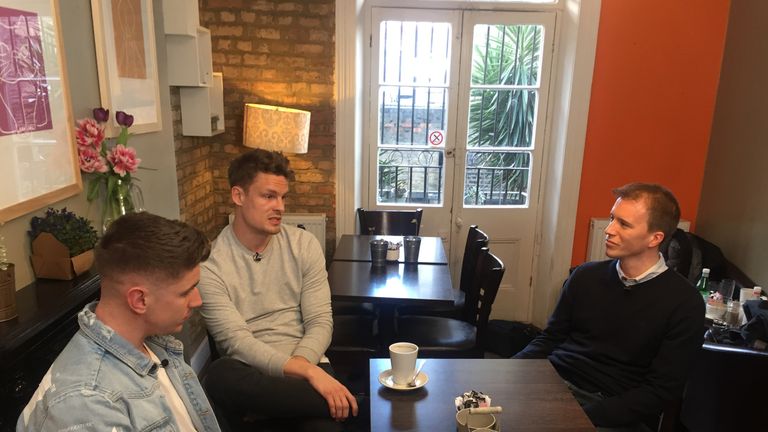 "We go for dinner once a week, sometimes we get a tag-along, and we have a thing of trying to get through every restaurant in London," says Smith. "And we're making a good job of it!"
The pair forged a friendship within a close-knit group that contained Jamie O'Hara, Ben Pringle and Richard Stearman in the years following the Whites' relegation from the Premier League - Smith joined from Leeds in the summer of 2014, Cairney followed from Blackburn 10 months later.


Birmingham-born Smith's career had not seen him travel any further south than the Midlands prior to the transfer to SW6, while for Cairney, a move to the capital was a daunting prospect having spent the entirety of his time as a professional turning out for Rovers and in east Yorkshire, with Hull.
However, it was the connection the two made in the days after the Scotland international's reported £3m move from Ewood Park that proved critical to his settling in the city and, ultimately, his success on the pitch.
Smith, who joined west London rivals QPR last January, said: "There's people that you work with that you get on amicably with but there's ultimately people that you click a bit more with and you spend a bit more time with. We had things in common, have spent a lot of our careers up north and were both relatively new to London.
"As footballers, you have a lot of free time after you finish training at 1pm and there's a lot of time in the afternoon. It's always important that you take time away from the pitch to get to know each other and to gel, because I think that shows on the pitch."
Cairney added: "He's got the keys to the city and he's a friend to the stars so I think it helped me settle in more quickly because it's hard moving from up north down here, it definitely eased me into London life.
"I think it helps take your mind off things, people don't realise sometimes that when you are injured and when you haven't got a timescale or you're not sure what it is, that's the hardest thing to deal with and that's what it was with me at the start of the season."
With the form the Fulham skipper is in, it's difficult to comprehend that he missed the whole of September, and half of October, with a knee injury as Slavisa Jokanovic's squad looked to build on their sixth-placed finish - and eventual play-off defeat to Reading.
Nonetheless, the 27-year-old has returned to the starting XI and played a pivotal role in the run of 15 games without defeat, stretching back to mid-December, that has propelled the Whites to within eight points of the automatic places with nine games remaining.
The gap will be a difficult one to bridge, but after coming through perhaps the most challenging period in the season unscathed, Cairney believes all the signs point to a promising finish in the Sky Bet Championship.
"I think they said the last six games were going to be season defining," he said. "We've played teams around us and above us and we've won five and drawn one. We're in frightening form at the minute and I don't think anyone will want to play us at this time.
"We have been capable of it all season, but I think it's a bit like last season where, at the turn of the year, we've really turned it on. It's going to be hard to catch Cardiff at the minute as they keep winning as well, but I'm sure we'll have a good go. If we end up going the rest of the season unbeaten and not being able to catch Cardiff then it'll be really frustrating, but we will see."
In contrast, Ian Holloway's QPR can count themselves among the form teams in the division, having upset fellow promotion hopefuls Aston Villa with a 3-1 victory at Villa Park on Tuesday evening and Smith is enjoying a fruitful season, with his eight goals marking his third-best return in professional football.
He said: "We've picked up recently and won a good seven points from the last three games, so the form seems to have turned a bit and if we can really start capitalising on away performances - because our home form has been really good, but what's let us down really is away from home - the Villa result the other night was certainly our best result and best performance of the season, I think we surprised a lot of people.
"I always think I'm more influential starting games and I think my goalscoring record is much better when I'm starting games, but the manager utilised me as an impact player predominantly at the start of the season. I think I've been turning in some good performances, not only scoring goals but creating them as well, so I just hope I can continue from that.
"I'm very lucky at QPR because I've got Luke Freeman next to me who's got a fantastic left foot, fantastic delivery and he's one of the leading assist providers in the division. When I was at Fulham I had Tom, when I was at Leeds I had Ross McCormack.
"It's all about having these relationships because ultimately, it's people like Tom, Luke who make me look good. I'm heavily reliant on players around me and I just think the better ammunition I'm getting from the flanks, it's going to make me look good. I'm thankful for those guys."
It was a friendship that was almost scuppered in January when West Ham declared a major interest in signing Cairney for a touted £18m, but for the meantime, it's clear to see there's plenty of admiration between these two.
"Every Thursday we watch clips of the opposition and it was basically the Matt Smith show today," said Cairney. "It was literally watching him win headers for about 10 minutes. Our game plan is to try and stop that, obviously, so if you don't play, I don't know what I'm going to do! Sometimes they say form goes out the window in games like this so it'll be a closer game than some people are thinking.
Smith concluded: "He's moved, he's left the Fulham ends and lives in Cobham now so it makes life a bit harder for us to meet up, but on the pitch, once he's fit, I think he's the best in this division. It's nice to see, but hopefully on Saturday he can have an off-day."
Don't miss Saturday's west London derby clash between Fulham and QPR, live on Sky Sports Football and Sky Sports Main Event from 12pm.