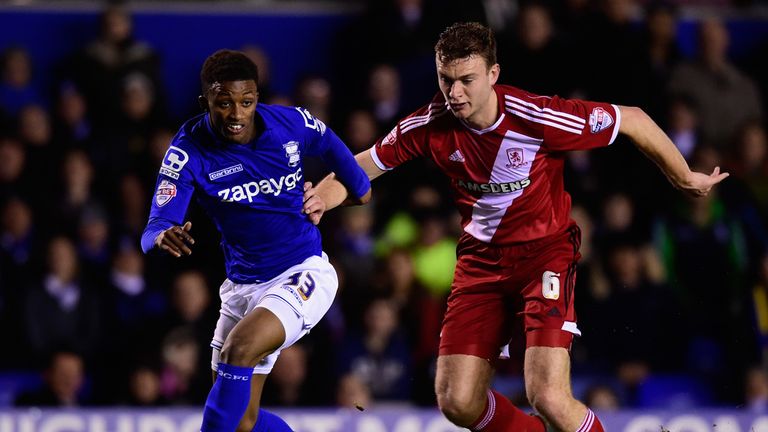 England Under-20 boss Aidy Boothroyd has told Demarai Gray to ignore the hype to realise his potential.
The Birmingham winger has been called up by Boothroyd for the first time for the Toulon Tournament at the end of the month.
He had a breakthrough season at St Andrew's and Blues rejected several bids from Bournemouth in January - the final offer rising to £5million.
Gray scored six goals in 43 games as Birmingham finished 10th in the Sky Bet Championship and Boothroyd wants him to focus.
He said: "With the amount of adulation and exposure these guys get it's very, very easy for young players to fall off the wagon and start to believe the hype.
"That is the real key. You had to do four or five seasons as a professional before you were talked about, they way some of these players are talked about now - they've only played for a couple of weeks.
"It's very difficult to know what level a player is going to get to. He has certainly got the temperament to be a really good player."
Gray's deal at Birmingham expires at next year and he is yet to sign a new one despite being offered fresh terms in December.
Blues want to keep the 18-year-old and Boothroyd knows it could be a gamble from Gray if he did leave St Andrew's.
"I guess you're saying if he goes to a bigger club will he get the games? And the answer is you just don't know," he told Press Association Sport.
"It's only been a couple of seasons, he's been in and out and got a few games under his belt. Every player is different.
"Getting games and the exposure he has got, this is what we're trying to do with our England players. We want them getting their cap accumulation.
"They are going and playing a lot of games, on different continents, winning and losing penalty shoot outs, understanding opponents and styles.
"We are trying to expose them to it you hope when they come to senior level they deal with it a lot better."