Gary Rowett knows better than most how brutal being a manager in the Sky Bet Championship can be.
Despite being one of the most highly-rated young managers in the country, and perceived by most to be doing an excellent job at Birmingham, Rowett was dismissed and replaced by Gianfranco Zola last year.
Since then, the Blues haven't exactly gone from strength to strength, parting with Zola and then Harry Redknapp, while Rowett has landed at Derby - another club well-renowned for having an itchy trigger finger when it comes to sackings themselves.
"I think I'm the third longest-serving manager in Derby's history at the moment and I've only been here six months!" joked Rowett.
"As any manager you know you need to time to affect some of the things you want to, but the problem with management is you don't get that time."
Hopes were high for Derby at the start of the campaign - as they are almost every summer at Pride Park - but it's been a mixed opening so far, perhaps best summed up by consecutive league results in September that saw a 5-0 win over Hull followed by a 4-1 loss at Bristol City. And Rowett knows it's not enough.
"The aim for Derby has to be trying to challenge for promotion," he said. "We know we're not doing that at the moment and I'll be the first to say that's not acceptable for us. We know we've got other challenges and that makes it a bit harder to achieve that straightaway.
"But for five years we haven't got where we needed to be for various reasons, so I didn't just want to do the same thing and hope that worked because I felt that would be arrogant. I needed to try and change things we needed to change.
"We had a relative amount of success at Burton and Birmingham by trying to build the club how we think [would work], regardless of whether we're allowed to continue that process, and I'll do the same at Derby. But of course you want short-term results to back that vision up."


Rowett had three months out of the game between Birmingham and Derby last season, and admits the Saturdays off weren't easy for him after so many years of constant involvement in the game.
"I remember sitting there looking at all the scores coming in and it just felt really strange," he said. "I got to about seven Saturdays in and I thought: 'I've got to do something else with my Saturday afternoon!'
"But it was nice to step back and try to learn. Sometimes when you come away from the pressure of having to win games you can try and look at some of the things you've done. I went into a few businesses to learn how they run things just to try and up-skill myself, so when I went into that next challenge you have some ideas around it."
The reputation he had built at Burton and Birmingham was enough to get him back into a role quickly, something that many of his peers haven't found quite so easy in such a competitive profession. Rowett respects the impact that foreign players and managers have brought to these shores, but believes the work done by the likes of Eddie Howe and Sean Dyche proves that more young British bosses deserve a shot.
"If you look at Eddie Howe and Sean Dyche, they have slightly different styles but both have been incredible successful and both have done brilliantly with what they've had," he said. "Sean, in particular, has had far less resources to achieve that, and yet he maybe doesn't get as much credit as some other managers would. I don't think there's anyone around who has done as good a job as him, and he deserves it.
"As a player I always felt that foreign players coming into the game helped British players. The standards they brought in, with the different cultures and ways of doing things was brilliant, and I think it's the same with managers. As a British manager I'll always say I don't think some of those managers at the top [like Howe and Dyche] get enough credit, but that doesn't mean to say I don't admire and appreciate some of the foreign managers.
"The Premier League has probably got four of the best managers in the world at the moment, and you have to accept it's a global game. There are less opportunities for British managers and coaches, but that's not just [in the Premier League] it's down there as well and it filters down. There are a lot of good people in the game who are out of work, and it would be nice to find a way to give them some more opportunities."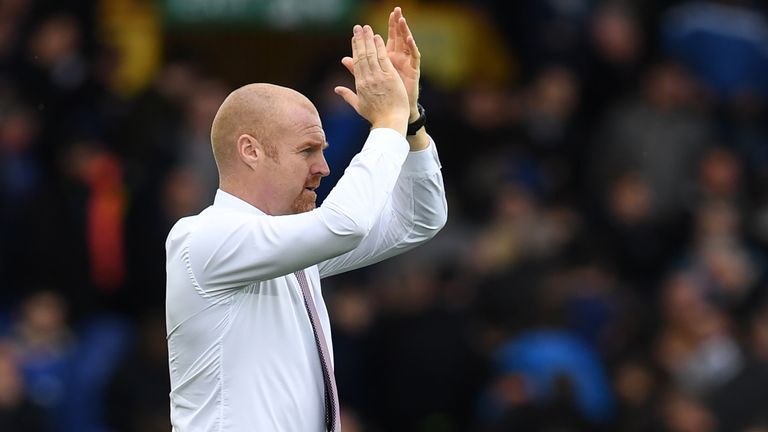 It's widely considered to be one of the most open Sky Bet Championship campaigns in years, and Rowett believes that the trickle-down effect from the Premier League is having a positive impact on the quality of the league below.
"The league is getting better as more players start dropping down from the Premier League," he said. "This year is probably the most competitive in terms of teams spending money and it means there's more balance. There also aren't really many standout teams who look like they're going to go down already. It's a difficult league.
"You can see a lot teams around that are in the middle of a bit of a rebuild, the likes of Middlesbrough, ourselves and Forest. Reading and Fulham were in the play-offs last season and both were below us at one point.
"There's no one way to play to get to the top of this league, or a right way to do it. Any of those teams at the top could find a lack of form and drop down, while any team can climb the league. If you have a little run you find yourselves back in the play-offs very quickly."
Rowett's Derby face Nottingham Forest in the East Midlands Derby - live on Sky Sports Football on Sunday - and he's craving three points against their big rivals.
"As a player I probably didn't appreciate the rivalry as much as I do now," he said. "It's a big game and you look forward to it but as a manager you're just desperate not to lose.
"We'll both go out there and try and win the game. There's a bit more pressure on us at home but it'll be a fantastic occasion. We've got to make sure we get a positive result."
Don't miss the Sky Bet Championship clash between Derby and Nottingham Forest on Sunday, live on Sky Sports Football and Sky Sports Main Event from 1pm