New Derby manager Frank Lampard is targeting promotion after revealing the job was the highest-level offer he received.
The former Chelsea, West Ham and England midfielder was interviewed twice by Ipswich earlier this summer, but has opted to take over from Gary Rowett at Pride Park in his first step into management.
Lampard will face restrictions on his recruitment budget after high-spending transfer windows failed to deliver promotion to the Premier League in recent seasons, chairman Mel Morris said on Thursday.
But Lampard - capped 106 times by England - insisted he had the desire to be part of the "cut-throat" end of the game following a post-playing spell in punditry.
Asked if he had received offers at a higher level than Derby, Lampard said: "No I didn't, I had conversations, I wouldn't go as far to say offers.
"This is the outstanding offer and hence why I'm here."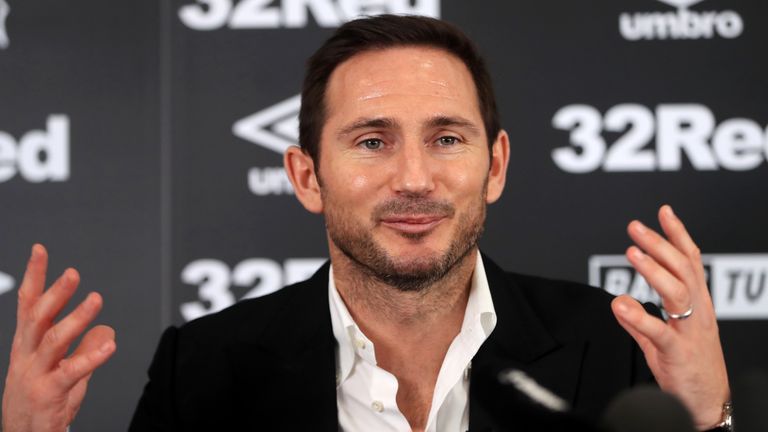 I had the pleasure of so many great managers, I'm not a clone of any one manager I had.
Frank Lampard
Lampard discussed the role with his father and former player Frank Lampard Snr, as well as his uncle and former Derby football advisor Harry Redknapp before accepting the job.
He said he will be leaning on his wide range of contacts in his first managerial role having played under the likes of Jose Mourinho and Carlo Ancelotti, but insists he will have his own identity.
"I had the pleasure of so many great managers, I'm not a clone of any one manager I had," he said, after labelling himself a 'suit' manager.
"I saw what I thought was the good, and the bad of them, I'll make my own judgements. I'll be open."
Morris said it would be "impossible" to spend big on signings due to Financial Fair Play restrictions and Lampard said he was made clear of Derby's resources.
"We were open, which is the important part," he said. "There's decisions to be made whether it's in or out, with the team and formation - those will be my decisions on the training ground and there will be open conversations off the pitch.
"I'm here to succeed and be competitive. My aim from the first day of pre-season is to be successful, and that means promotion."
Lampard said his backroom staff is "very close" to being decided and that he knows who it will consist of.
His former Chelsea and England team-mate John Terry announced he will leave rival Sky Bet Championship club Aston Villa this week, but the new Derby boss said there have been no discussions about a move to Pride Park.
"There are conversations ongoing across the board, and that isn't one of those - that's not what I'm saying," he said.
"But they start now. John Terry has had a fantastic career. We'll concentrate on what we want to do here so there's certainly not an answer for you now."