Frank Lampard is expecting a memorable encounter for his first home game as Derby manager.
Lampard's side come up against Leeds at Pride Park on Saturday evening, live on Sky Sports.
The former Chelsea midfielder told Sky Sports News that having one of their main rivals as opponents will make the occasion even more special.
"I can't wait for that, I've had two games there in pre-season," he said. "But it can't compare obviously and particularly to get one of our main rivals.
"Not just in terms of league position but in terms of history - it all bodes for a really exciting game for everybody - for Leeds United as much as for us.
"But for me personally to feel the atmosphere at home - what I'm sure is going to be a fantastic atmosphere generated by our fans.
"Hopefully the players can live up to that with their performance."
Lampard has made nine new signings as he attempts to get Derby promoted to the Premier League for the first time since 2008.
They won their opening game of the season, coming from behind to beat Reading 2-1 in stoppage time.
One of the Rams' recent signings - Chelsea loanee Mason Mount - scored their opening goal and Lampard is hoping his new squad can quickly gel.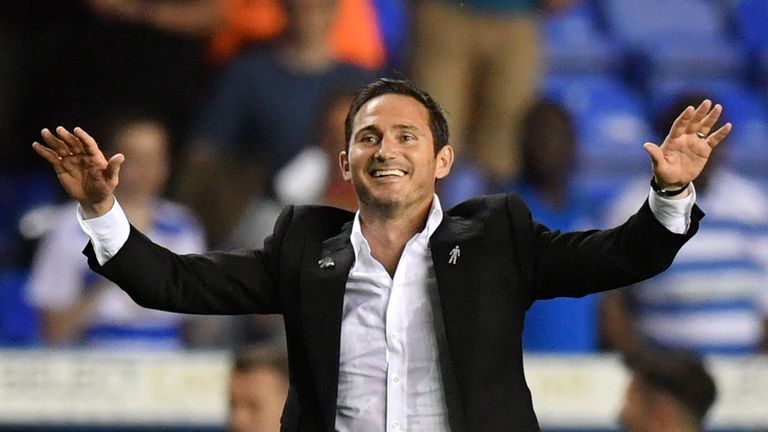 "We're not here to take time and that comes down to hard work," the former England international added.
"That comes down to the hours on the training ground, that comes down to the personalities, down to myself putting it together.
"I do feel that the players we brought in - we focused on them and in terms of their qualities they're different.
"But in terms of one aim, that's to be part of a collective to pick up what we're trying to do.
"So we'll work with that but I think we've got a lot of intelligent, football intelligent players.
"Hopefully they can pick up on our ideas because we don't have time to go too far with the idea of not coming together.
"I think it's very important we do and I think we will."
Upgrade to Sky Sports Premier League and Sky Sports Football now for just £18 a month. Cancel any time.