Derby boss Wayne Rooney has revealed he discovered the news that the club had filed notice to appoint administrators on Sky Sports News.
The 35-year-old, who is in his first managerial role at Pride Park, also confirmed he had yet to speak with chairman Mel Morris.
"I've seen it on Sky," Rooney told Sky Sports. "I spoke to (chief financial officer) Stephen Pearce after, but initially I saw it on the TV.
"I have spoken to Stephen, I haven't spoken with Mel. I am sure he has got other things on his mind."
The former Manchester United and England captain insisted his players would not let the uncertainty over the club's future affect their preparation for the visit of Stoke, who Derby beat 2-1 on Saturday.
Rooney defiant despite Derby challenges
Rooney also insisted he is committed to Derby despite the club's impending administration, and is ready to rebuild the club.
Goals from Max Bird and Curtis Davies secured a morale-boosting three points against Stoke, temporarily lifting the gloom around the club in the process.
"I've said a few times I'm committed to this club and to the group of players and the staff, I care about them, so I'll keep doing everything I can to help us get through this," Rooney added.
"I think we will get through this for the better. We are going to have tough times ahead in the near future but it's my job now to start rebuilding this club and trying to put it back together.
"My job is to bring some pride and dignity back to the club, it's got a big fan base and those fans deserve my full attention and the players' full attention."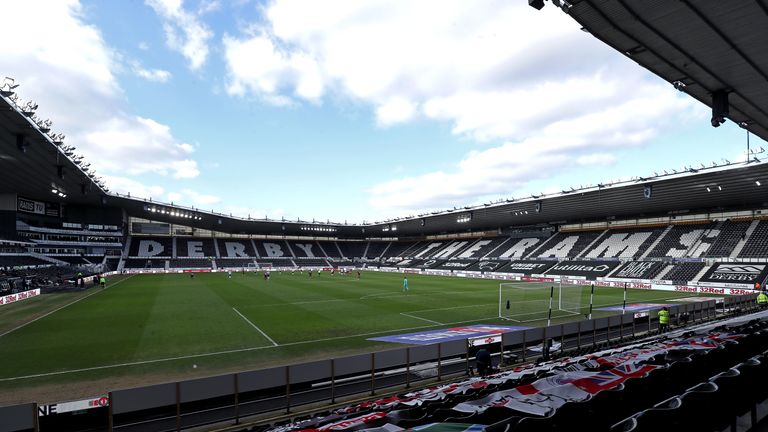 Neville: This can't happen to a club like Derby
Sky Sports' Gary Neville:
"We have got to stop this happening. When owners come into football clubs, there should be an obligation to be able to cover the obligations they sign up to. Until we have that in place, we're going to continue to have big trouble.
"Examples like Derby will keep coming forward. We have had Bury, Macclesfield, Wigan, Bolton, all these clubs. It's got to stop.
"I know there has been a fan-led review led by Tracey Crouch, she's put recommendations forward, Oliver Dowden said he was going to support those recommendations, and I know Nadine Dorries [Secretary of State for Digital, Culture, Media and Sport] has just taken over from Oliver Dowden. We need to hear from Nadine Dorries that she's going to support the recommendations to put an independent regulator in place to change rules in English football, to stop this happening.
"Derby are now in a perilous position. My hometown club were there three or four years ago. It has to stop.
"It's the desperation to be part of this, the Premier League. It's amazing, the Premier League. But there is a desperation and an urgency. You should be disappointed if you don't go up, or if you go down, but not to the point where you lose your club.
"Derby have chased, and they have chased, and they have chased. And they have not got the golden ticket.
"Now they may go out of business. That cannot happen to a football club and institution like Derby County."