Should Jay Rodriguez stay down? Thierry Henry and Jamie Carragher discuss on MNF...
Last Updated: 26/09/17 12:07am
Jamie Carragher and Thierry Henry analaysed the major talking points of Arsenal's 2-0 win over West Brom on Monday Night Football, including West Brom's penalty appeal and Tony Pulis' claim that Alexis Sanchez 'cheated'.
In the eighth minute at the Emirates Stadium, West Brom rightly felt aggrieved not to have been awarded a penalty after eight minutes following Shkodran Mustafi's trip on Rodriguez.
The incident went unpunished by referee Robert Madley, but Rodriguez recovered, hit the post from 12 yards via a superb touch from goalkeeper Petr Cech, before Jake Livermore then struck wide with the goal gaping.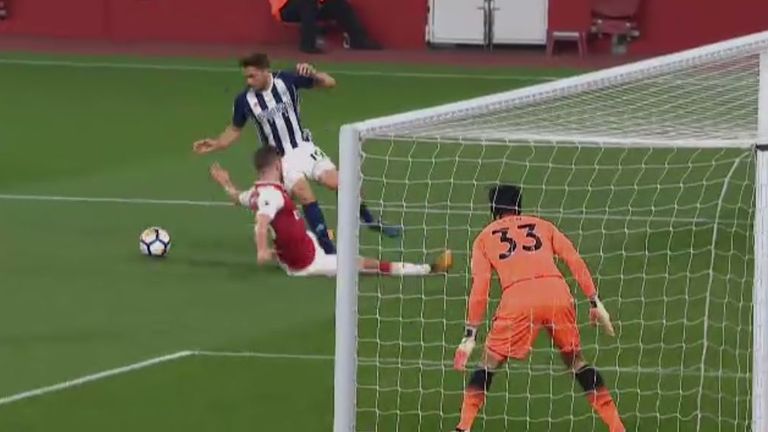 Speaking to Sky Sports, Rodriguez revealed he was waiting for a penalty to be awarded and got up when it didn't come, but Henry thought he had every right to stay down after being caught by Mustafi's late challenge.
"He said he was waiting for the whistle and it didn't come," Henry told MNF. "The first rule in the game is play until the whistle. If the referee had given a foul it would have obviously closed the debate and also if Livermore scores it also closes the debate.
"However, the one thing I disagree with him about is that he said he was not going to go down and try to buy a foul. There was a foul. If he stayed down he wasn't going to buy a foul because there was a foul and there was contact.
"He didn't have to roll around, he could have just stayed down."
Following the incident, Carragher said referee Bobby Madley didn't protect Rodiguez's honesty and thinks Tony Pulis will now be sending a message to his squad to stay down if it happens again.
"He hasn't been street-wise," Carragher said. "Should he have stayed down? I bet that's what Pulis is saying to him in the dressing room. I think he made the referee's mind up by getting up so quickly.
"There's plenty of people conning referees - we see it a lot. That's the flip side of it where the referee hasn't done his job for the attacking player.
"Then Tony Pulis will be sending the message to his squad that if it happens next week you make sure you stay down because we've got a chance to go 1-0 up at the Emirates."
Tony Pulis was left fuming with referee Madley after West Brom were denied a "stonewall' penalty at Arsenal, and labelled Alexis Sanchez a "cheat".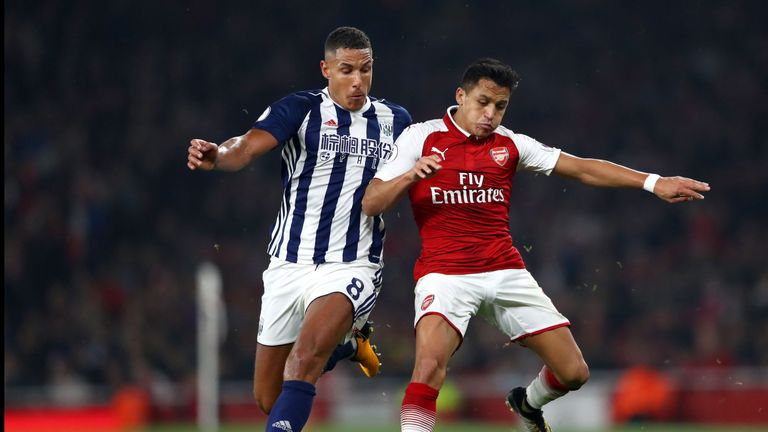 Pulis referenced an early free-kick awarded to Arsenal, where he believed Sanchez dived and should have been booked.
Both Carragher and Henry could understand Pulis' frustrations but did not think Sanchez cheated.
Carra said: "We saw Sean Dyche on the same subject at the weekend, and it does get people in the game - managers and fans - passionate about it. I want to see a manager showing passion after the game and upset about the decisions that have gone against them.
"Is Alexis Sanchez cheating? Should it have been a free-kick? No. He puts his arm on him and he goes down but it's not a free-kick. He goes down far too easily, of course he does, but I've seen a lot worse than that. Cheating? It's a big word to say."
Henry added: "You saw a guy that was frustrated for not getting the penalty and then conceding a penalty. You saw frustration and passion.
"What he said was right. Was it a free-kick? No, it wasn't a free-kick. Was it a penalty? Yes, it was a penalty. Was the word [cheating] too strong? Yes, it was too strong but I understand the frustration."