Tony Pulis denies calling Alexis Sanchez a cheat but stands by diving claims
By Tony Tighe
Last Updated: 29/09/17 11:21am
Tony Pulis is standing by his view that Alexis Sanchez dived to win a free-kick on Monday but denied calling him a cheat.
The West Brom boss was frustrated that Jay Rodriguez was not awarded a penalty during their 2-0 defeat at the Emirates Stadium, while he felt Sanchez should have been booked for simulation.
Speaking ahead of Saturday's Premier League fixture against Watford, Pulis said: "I didn't call him [Sanchez] a cheat - I said the incident was cheating.
"Simulation is cheating, whoever does it. In the modern game, with the players technically so good and the ball so light, free-kicks around the edge of the box are almost as dangerous as penalties.
"Referees and officials should take that into consideration.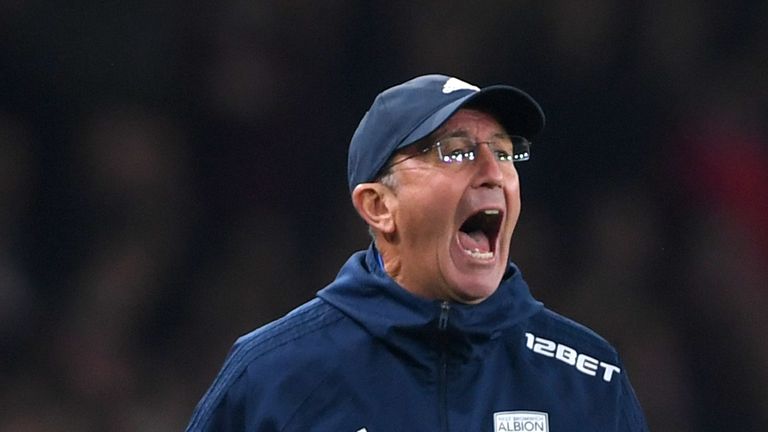 I didn't call him [Sanchez] a cheat - I said the incident was cheating.
Tony Pulis
"Giving free-kicks in those areas have to be absolutely spot on. They talk about being correct with penalty decisions, that it's a 100 per cent call; anything around the box that they're not sure on, they shouldn't give.
"I was disappointed [after the Arsenal defeat] but that game has moved on now. I'm more concerned about Watford, the form they're in, and what we need to do on Saturday."
Doyle retirement 'worrying'
Pulis described the news of Kevin Doyle's retirement following medical advice as 'worrying' and says it is a big concern for football.
West Brom legend Jeff Astle was the first British footballer confirmed to have died from chronic traumatic encephalopathy (CTE), leading to the establishment of the Jeff Astle Foundation in 2015.
"Anything to do with sport that leaves a mark on a player who finishes his career is worrying," said Pulis.
"In this area more than most, it'll bring to light again the problem Jeff had.
"The LMA, PFA and all the governing bodies are very keen to spend money on it, to research it and get to the bottom of it.
"I'm very sorry to hear about Kevin Doyle and what has happened to him. I just hope that he gets over it and we do get to the bottom of this problem."