Gareth McAuley says Sunday's World Cup play-off tie in Basel could be his final game for Northern Ireland.
The 37-year-old defender admits he will contemplate retirement, from the international arena, if they fail to reach next summer's World Cup finals in Russia - and especially if manager Michael O'Neill ends his six-year tenure with Northern Ireland.
Switzerland go into this weekend's second leg as the favourites to progress, having won the first leg at Windsor Park on Thursday 1-0.
McAuley is expected to collect his 76th cap at St Jakob-Park, with O'Neill's squad facing an uphill battle to become the first Northern Ireland team to qualify for the final stages since 1986.
And West Brom's central defender said: "What I do is probably a lot to do with what Michael does and what happens after this campaign.
"That will have a lot to do with what I decide to do with my future. So it's possible Sunday could be my last game.
"You never know. I need to make sure I'm playing regular football to even consider coming away to play international football, and there are obviously other factors involved that will possibly come to light and would be a factor in me deciding what I want to do, but I would like to be available to play.
"Michael gets linked with all the jobs going. It's a difficult one. There will be clubs looking at him, seeing what he has done with us over the last few years. He's had to build that process.
"It's that crystal-ball thing, looking to the future, looking too far ahead and that's not something I've ever really done.
"But it would be a consideration of mine, if Michael was to move on and get a club job, as to what I would do going forward into another qualifying campaign."
McAuley had hoped his son could have travelled to Switzerland, to watch his father play in possibly his final international fixture, but said that will not now be happening.
He added: "I wanted my missus to bring the wee man over just in case it was my last game.
"And she's not doing it, so I might have to play again! School's more important, and I agree with that.
"He wants to play football, play tennis, all that but he's got to do his school-work first before all the kids' activities.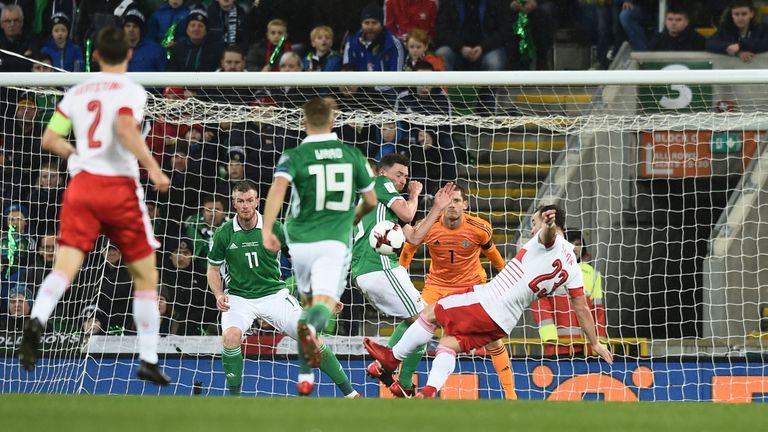 "My kids make me sentimental. The hardest bit of the Euros last summer was, after family day, when they came, and then they were gone again. We were left deflated when they were gone, everyone was in tears.
"Lots of people say football is a matter of life and death and things like that but there are a lot worse things in the world than winning or losing football games."
Sunday's second leg is live on Sky Sports Football from 4:30pm.