Ref Watch: Dermot Gallagher's verdict on Callum Wilson's equaliser for Bournemouth against West Ham
Last Updated: 27/12/17 5:17pm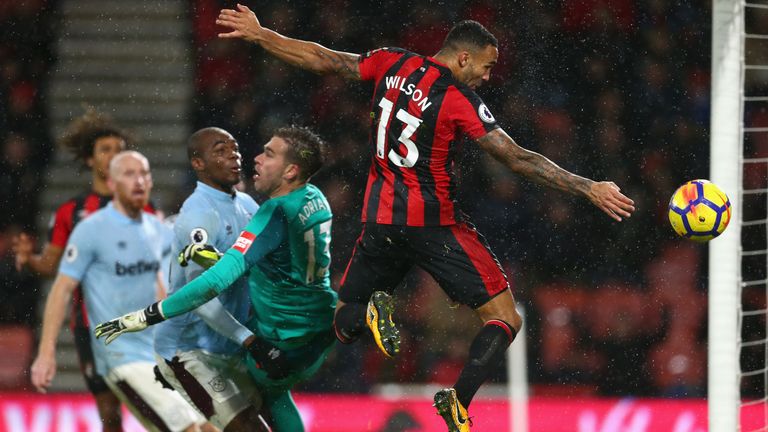 Should Bournemouth striker Callum Wilson's stoppage-time equaliser against West Ham have stood? Could Tottenham's Dele Alli have been sent off at Burnley? Dermot Gallagher has his say in this week's Ref Watch.
There were a number of highly contentious decisions over Christmas in the Premier League and on the continent, including contentious goals at the Vitality, players not being shown red cards at Turf Moor and penalties that generated huge debate at both the London Stadium and the Santiago Bernabeu.
Luckily, however, former top-flight official Dermot is here to run his eye over all the hotly-disputed calls...
Incident: Wilson's stoppage-time equaliser against West Ham is initially ruled offside, before referee Robert Madley gives the goal after consulting with his assistant.
Dermot's verdict: Wrong decision.
Dermot says: It is a very tight offside call, but once Simon Long (referee's assistant) calls that, the basics should just happen. He whistles and gives offside. It became too complicated after that. The debate was if he is in an offside position and has he interfered and has the ball touched him. He has interfered. It became too protracted. Simon was convinced it was offside and he is in the best position to judge offside. And the referee really should have just given offside and we would not be talking about that. But unfortunately the conversation took place and there was too much information being given by each party, it seemed to go on too long. In the end, they came to the conclusion that Wilson had not touched the ball, which was incorrect as he did touch the ball and it also went in off his arm.
Incident: Francis' high challenge poleaxes West Ham midfielder Cheikhou Kouyate, but referee Madley only books the Bournemouth defender.
Dermot's verdict: Wrong decision.
Dermot says: I would not say it was malicious and I do not think he has in any way, shape or form gone to hurt him, but he has a duty of care to his opponent and if you put your boot that high - and it is that high, it is not as though the player has ducked, his studs go in his face - I think it is a red card and most referees would agree with me.
Incident: Leicester midfielder Daniel Amartey is sent off after picking up two yellow cards against United.
Dermot's verdict: Correct decision, red card.
Dermot says: We talk about breaking up a promising attack, he is never going to stop the player, who is clear into space, or get the ball (for the first yellow). The second one is just obvious and you talk about a second yellow for a red card - well, you would never have a more heaven-sent second yellow for a red card than that. It is just blatant to everybody.
Incident: Charlie Austin's boot catches Huddersfield goalkeeper Jonas Lossl in the face, with the Southampton striker subsequently being handed a three-match ban for the incident.
Dermot's verdict: Red card.
Dermot says: He has left his foot in there. At that point he can leap the player and you see lots of forwards who leap the goalkeeper; he has enough time to do that. His foot has come out and he has left it in there. I think that should be a red card and Lee Probert was very clever in that situation because he knew that something had happened. But he did not panic into a yellow card and go halfway house. He kept his powder dry, it went to the FA because it was an unseen incident, he did not see that go into his face and therefore the procedure could take place. And Austin accepted the charge and took a three-match ban.
Incident: Alli lunges in on Burnley defender Charlie Taylor, but referee Craig Pawson only showed the England international him a yellow card.
Dermot's verdict: Correct decision, not a red card.
Dermot says: It is low, he has gone one footed, it is reckless, but it is 100 per cent not a red card. It is not with massive speed and intensity to hurt, his feet are low and the referee [Michael Oliver] is absolutely correct in his action. The referee has done really well here because he has judged that on a Tottenham player making a foul, he has not prejudged by the name on the shirt. People have been banging on about Dele Alli, but you have to be careful about Alli. He has to be judged the same as every other player.
Incident: Newcastle defender Ciaran Clark is judged to have fouled West Ham forward Michail Antonio just inside the area.
Dermot's verdict: Wrong decision, no penalty.
Dermot says: Tough, tough call in fairness and the VAR will clear this up on FA Cup weekend. I do not think anybody would criticise a referee for this decision because look at the speed we are watching and the player is already in the penalty area. It is just outside, but it is marginal and you could also argue that it continues inside.
Incident: Real right-back Dani Carvajal is sent off after pushing the ball away with his hand and Barcelona are awarded a penalty.
Dermot's verdict: Referee should have waited and not sent the player off.
Dermot says: If he had just waited one second because the ball was always going towards the line, then the referee could have given the goal and kept the player on. This is almost back to Arsenal v Barcelona in the 2006 Champions League final when Jens Lehmann was sent off and the same thing happened. They did score the penalty, but had they not scored the penalty they would have been even more upset. It is a massive gamble, let's be honest, as in a massive game like that, if that suddenly spins wide….but you could argue that you were just delaying to see what happened. But if he had just waited that one second, because there is no rush to give a penalty or the red card, he always had that time. And it is amazing that in that one second the whole situation for the referee had changed.