Mike Dean decision to award West Brom penalty was 'awful' and 'horrendous' say Super Sunday pundits
Last Updated: 01/01/18 11:38am
Super Sunday pundits Jamie Redknapp and Ray Parlour described Mike Dean's decision to award West Brom a penalty in their draw with Arsenal as 'awful' and 'horrendous'.
Just minutes after Alexis Sanchez's free-kick had deflected off James McClean and into his own goal for what looked to be Arsenal's winner (83), Calum Chambers was adjudged to have handled in the area, allowing Rodriguez to step up and equalise (89).
In the Super Sunday studio, former Arsenal man Parlour had his say on the incident, alongside Redknapp and former referee Dermot Gallagher, who agreed that Dean should not have awarded the spot-kick.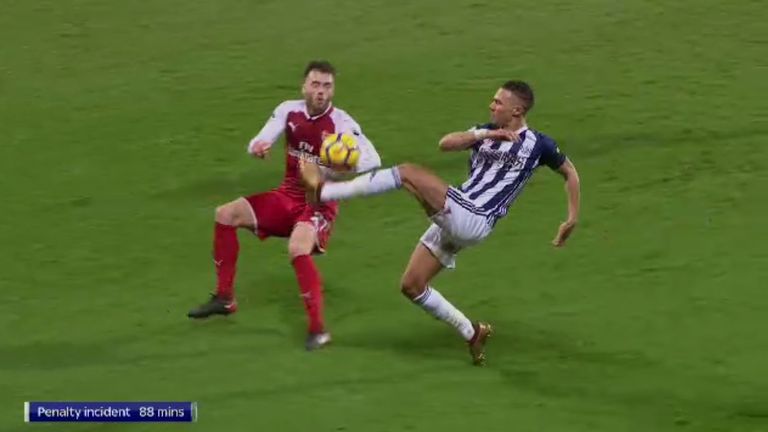 Ray Parlour
It cost Arsenal two points at the end of the game and it was an awful decision. Gary Neville said in commentary that he couldn't believe it as well.
I think Calum Chambers had his eyes closed as he went to close him down and he can't get his arms out the way and I don't even think Kieran Gibbs is appealing for it. He wanted a corner if anything. His arms are in natural position, what can you do?
It's hit him from a yard. He can't believe it. I feel sorry for Calum Chambers as he'll be sitting in that dressing room now so disappointed. He can do nothing about it but the referee has cost his team two points.
Jamie Redknapp
It's a horrendous decision, it really is. It's a grey area in football right now because there's no doubt at all, that he's not put his hand to the ball, that's ball to hand. We want consistency in the games.
What defenders tend to do nowadays is put their hands behind their backs, just to take it out the equation but there his arms are in a natural position, he's balanced and if anything he doesn't want that ball to his arm, it's a really poor, poor decision.
Dermot Gallagher
It wasn't a penalty for me. I think the player is too close. When Mike (Dean) looks down the line, he sees a slight movement of the arm, but I don't think he's aware that that movement is just him getting his balance. He's taken that as he's moved his arm towards the ball, but for me it's too close and it wasn't a penalty.
The bad luck for referees is that two incidents occur within 24 hours and they look totally different and have two different outcomes, and that's why we talk about it, unfortunately.