Football Commentator & Columnist
Martin Tyler's stats and facts: Man Utd the comeback kings? Mauricio Pochettino hits 200
Last Updated: 12/04/18 3:32pm
Are Manchester United the comeback kings away from home? Does Sam Allardyce have the most 0-0 draws in Premier League history? And how does Mauricio Pochettino rank among other non-European managers?
Sky Sports commentator Martin Tyler has the answers to those questions and more.
Got a question for Martin? Tweet @SkySportsPL with #TylersTeasers and do not forget to have a go at his latest teaser on Premier League winners.
Tyler's starting stat...
I was at an incredible Manchester derby on Saturday evening. In history, there have now been 176 Manchester derbies in all competitions with United now on 73 wins. City have won 51 and there have been 52 draws.
In the league there have been 158 meetings, with United winning 62, City winning 45 and 51 draws. In the 42 Premier League meetings, United have 21 wins, City have won 13 and there have been eight draws.
Of the current Manchester United players, Chris Smalling has the most derby goals with three. He scored in a previous 3-2 comeback win in the Community Shield in 2011 and in a 4-2 home win in April 2015. Paul Pogba joins Marcus Rashford, Michael Carrick and Juan Mata on two derby goals.
Of the current City squad, Sergio Aguero has eight derby goals, Yaya Toure has four, David Silva has three and Vincent Kompany has two. Kevin De Bruyne, Nicolas Otamendi and Ilkay Gundogan all have one. As illustrated in our coverage, Kompany's other goal was six years earlier in a famous 1-0 win.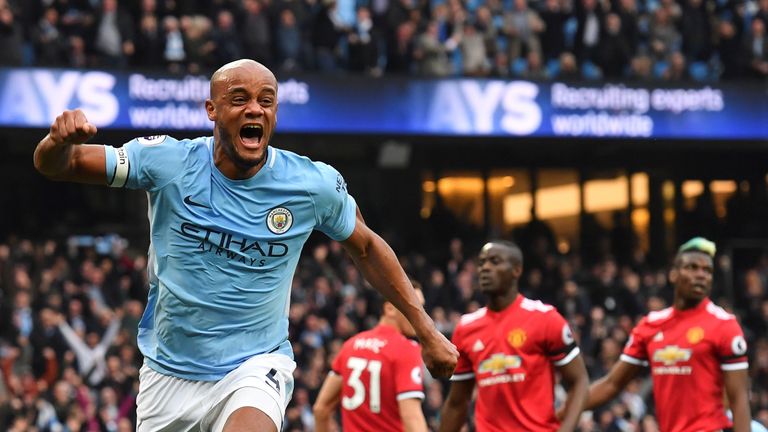 The game was Man City's 50th of the season and only their sixth defeat - and that number increased to seven on Tuesday night. They have 41 wins and three draws, scoring 127 and conceding 42.
City have lost three games in a row, but with unusual goal bursts from the oppositions. At Anfield they conceded three in 19 minutes, against Manchester United they conceded three goals in 16 minutes and against Liverpool at home they conceded twice in 21 minutes. Don't forget to watch Tottenham vs Manchester City on Saturday night, live on Sky Sports, to see if it happens again!
Raheem Sterling has played 14 times against Manchester United and not yet scored, while Ashley Young made his 400th club league appearance.
Only one Premier League visiting team had scored more than once at the Etihad this season - and that was Stoke City, who lost 7-2. The last visiting team to score three there was Chelsea in December 2016.
Comeback kings
Man Utd have come from 2-0 down on the road twice in the past couple of months! Does any team do this more often than them? Paul, Manchester
MARTIN SAYS: United's 3-2 win at City on Saturday was the ninth time in Premier League history they have won having trailed by at least two goals away from home, four more than any other side.
The first was also against Manchester City at Maine Road in November 1993, where goals from Eric Cantona (2) and Roy Keane flattened their rivals, who had taken a 2-0 lead at half-time through Niall Quinn's double.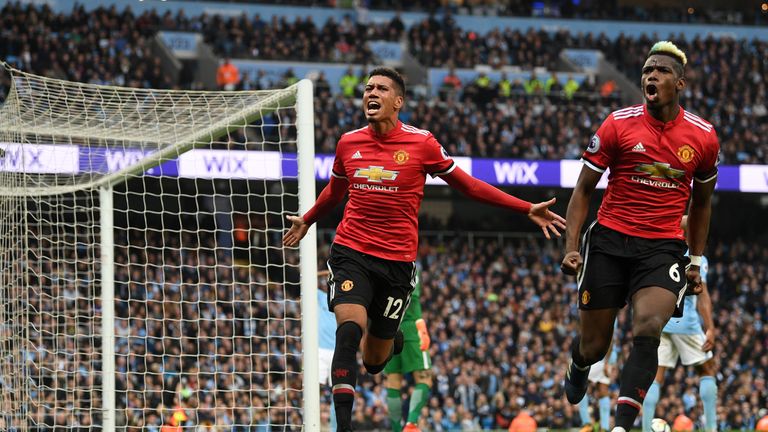 United have also fought back to beat Tottenham (5-3 in September 2001), Everton (4-2 in April 2007), Blackpool (3-2 in January 2011), West Ham (4-2 in April 2011), Aston Villa (3-2 in November 2012), Hull City (3-2 in December 2013) and Crystal Palace (3-2 in March 2018).
Next in the list are Tottenham, with five away wins having trailed by two or more goals, followed by Liverpool and Newcastle (three times).
Managing goalless draws
Does any manager draw more games 0-0 than Sam Allardyce? Dan, Merseyside
Everton nearly stole it against Liverpool, but Sam had to settle for his 50th 0-0 draw in 507 Premier League games.
However, that's not as many as Arsene Wenger (62) or Harry Redknapp (64), who has the most goalless draws overall, which is a surprise to me.
Allardyce is third with 50 goalless draws. That's 9.86 per cent of his matches which is a lower percentage than Redknapp (9.98 per cent), while only 7.54 per cent of Wenger's matches in the Premier League have been goalless.
So 9.86 per cent of Allardyce's Premier League games have ended goalless, but that's nowhere near George Graham.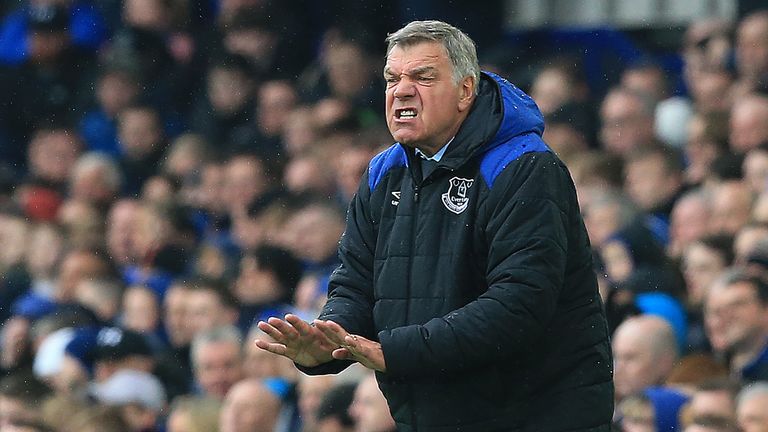 The former Arsenal, Tottenham and Leeds manager recorded 45 goalless draws in just 288 games in the Premier League, or 15.63 per cent.
Highest percentage of Premier League matches ending 0-0 (minimum 30 matches):
George Graham - 15.63%
Harry Redknapp - 9.98%
Steve Bruce - 9.95%
Sam Allardyce - 9.86%
Tony Pulis - 9.63%
Martin O'Neill - 9.19%
Of those managers who have registered at least 30 goalless draws, Sir Alex Ferguson has the lowest percentage of 0-0s, at 5.56 per cent (45 in 810 games).
Double ton for Poch
Saturday was Mauricio Pochettino's 200th Premier League game as a manager. Has any other non-European boss managed that many? Tony, via e-mail
Tottenham's 2-1 win over Stoke was a landmark occasion for Argentine Pochettino, who is far and away ahead in the non-European manager stakes.
His 200 games trump Chilean Manuel Pellegrini's 114 from his time at Man City, followed by Uruguayan Gus Poyet (60 games at Sunderland), and Argentine pair Ossie Ardiles (54 games at Tottenham) and Mauricio Pellegrino (30 games at Southampton).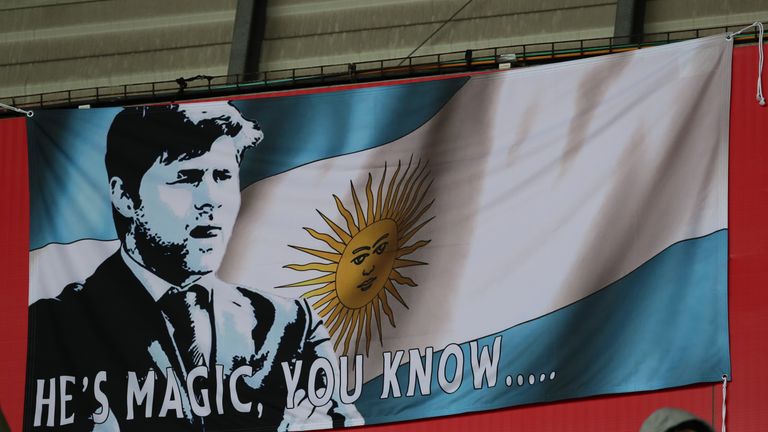 The win on Saturday was Poch's 103rd in the Premier League, drawing 53 and losing 44, but his win percentage of 51.5 trails Pellegrini, who won 70 of his 114 games (61.4 per cent). Ardiles won 29.6 per cent, Poyet won 23.3 per cent and Pellegrino a mere 16.6 per cent.
Losing leads
West Brom lost more points from a winning position at the weekend. How many is that this season, and is it a record? Sammy, Birmingham
MARTIN SAYS: West Brom's 1-1 draw with Swansea on Saturday leaves them 10 points from safety with five games remaining of a dismal campaign, in which they've lost 26 points from winning positions.
Granted, it's unlikely, but if West Brom had held on to all of their leads, they'd have 47 points - which would be enough to be eighth in the Premier League.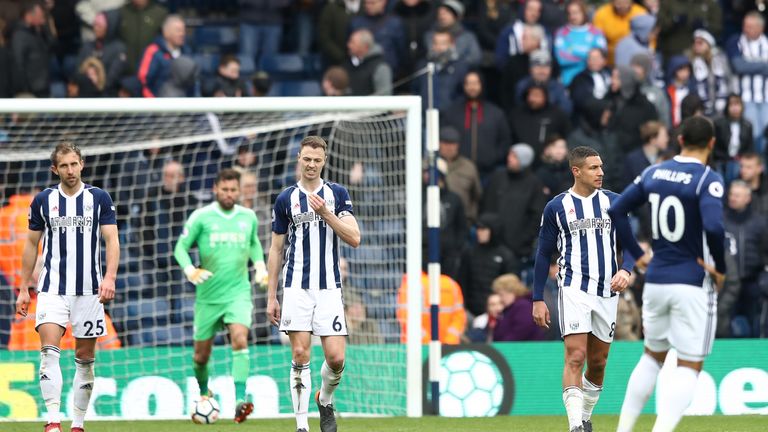 West Brom's 26 points lost are the most by a Premier League side since the 2012/13 season, where Southampton chucked away 29 points having been ahead in games.
Chelsea (1995/96), Wimbledon (1999/00) and Tottenham (2007/08) hold the record for most points lost in a season from winning positions, with 33, followed by Newcastle's 31 points in 2004/05.
Of those teams, only Wimbledon were relegated - although West Brom are certainly on the brink.