West Brom pair Darren Moore and Dwight Gayle win Sky Bet Championship September awards
Doncaster duo Grant McCann and John Marquis win League One awards, while Newport boss Michael Flynn and Oldham's Sam Surridge win in League Two.
Last Updated: 05/10/18 10:08am
West Brom manager Darren Moore has been named the Sky Bet Championship Manager of the Month for September.
Handing a first-time caretaker-manager the job on a permanent basis can be fraught with danger, but Moore has eased into the role impeccably. His attack-minded side collected 13 points from five games, scored 12 goals and went top.
Moore said: "It means everything to win this, because it shows progression with the football club, it shows the club is heading in the right direction. It means a lot to me, but obviously sitting here, I get to pick up this award but I share it with everybody: the staff, players, supporters. Everybody at the football club shares in this award, I suppose I have just got the head title to pick it up.
"The players have tried to buy into what we are trying to do here together as a group, and they are working well together. There is a good team dynamic, there is a good cohesion with the group, and all the staff behind the scenes have bought into it, in trying to bring an energy to the football club.
"We realise it is only a start, there is still a lot of hard work ahead. It is a tough Championship campaign and we know it is a relentless pursuit, but one that we're just gravitating day by day and trying to get better as we go along."
West Brom striker Dwight Gayle has been named the Sky Bet Championship Player of the Month for September.
Five goals in five games showcased Gayle's range as a goalscorer. A magical individual effort and a rapier-like finish against Stoke City, calmness against Bristol City, predatory instincts against Millwall and a stunning free-kick at Preston North End.
Gayle said: "It is a great achievement for myself and I am really pleased for the individual award, but obviously I have got to thank my team for it and they were vital to the reason I got it.
"We are trying to play a different brand of football and everyone is pulling in the same direction. I think the staff and players are working really well together and I think if that continues we are going to have a good season.
"After the first couple of games I hadn't scored and you start putting an extra bit of pressure on yourself, and the longer that goes I think it becomes more difficult. But luckily I have managed to get a few goals now and I feel like I have settled in and hopefully I can just continue to repay the team for helping me settle in."
Sky Bet League One
Manager: Grant McCann, Doncaster
Doncaster Rovers manager Grant McCann has been named the Sky Bet League One Manager of the Month for September.
As a player, the Northern Irishman loved space in midfield in which to create. McCann employed a 4-3-3 formation to stretch defences and give his players the same freedom. They responded with 13 points and 12 goals from five games.
McCann said: "It has been a good start, we are not getting carried away though. We have got a lot of improving to do. In terms of winning, I think the Yorkshire derby against Bradford City [2-1 victory on September 22] was a good result for us. We knew it was going to be a tough game.
"A new manager had gone in there in David Hopkin and we knew it was tough, and it turned out it was, but we showed real desire to get the job done and get the three points.
"It is a long season, it has been a good start for us, we are only 10 games in, we will keep level, take each game as it comes - the old cliché - and see where we can go."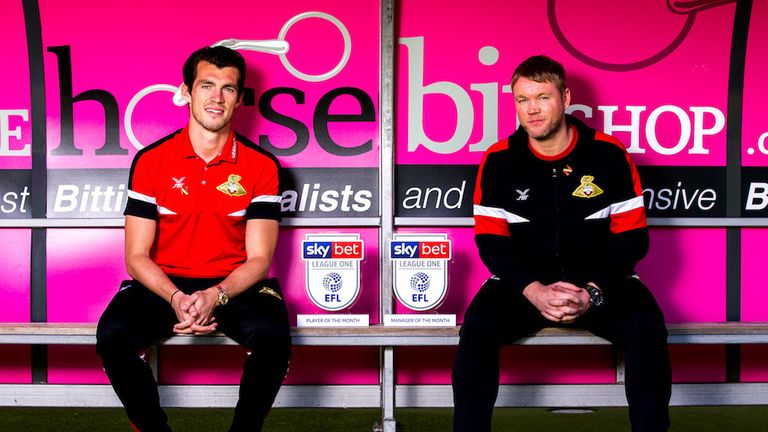 Player: John Marquis, Doncaster
Doncaster Rovers striker John Marquis has been named the Sky Bet League One Player of the Month for September.
Six goals in five games for the prolific forward who is loving life in Rovers' new-look attack, which perfectly suits his mobility and adventure. His goals were easy on the eye, too, the best of which was a deft chip at Peterborough United.
Marquis said: "It has been a successful month for us as a team and myself - to score six goals in a month has been good. The manager has put a lot of confidence and belief into us to do well and keep doing what we believe are the right things.
"We believe that we have a squad of players that can be looking to challenge for promotion, so we are looking at top six at least, and if we can be in and around the play-offs come the end of season."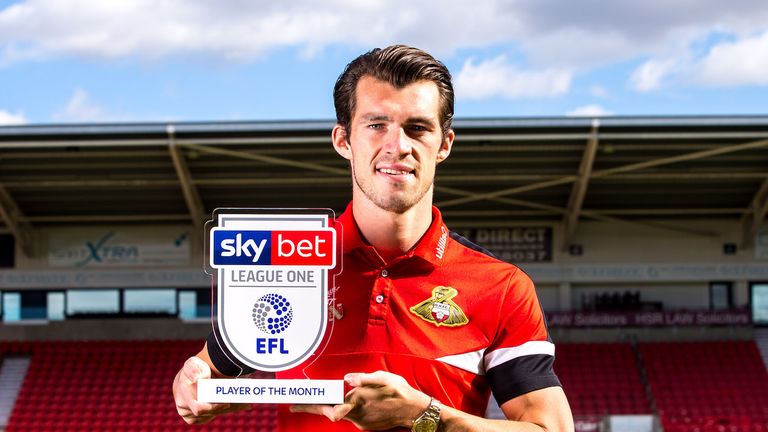 Sky Bet League Two
Manager: Michael Flynn, Newport
Newport County manager Mike Flynn has been named the Sky Bet League Two Manager of the Month for September.
Built on impeccable away form with wins at Port Vale, Oldham Athletic and Tranmere Rovers, Flynn guided County into second place with 12 points from a possible 15. The belief he has instilled was evident in a 4-2 win over Cambridge United, from 2-0 down.
Flynn said: "All the credit has got to go to the players. That's what we're about; we all help each other out and we all work as hard as we can. Without them, I wouldn't be sitting here.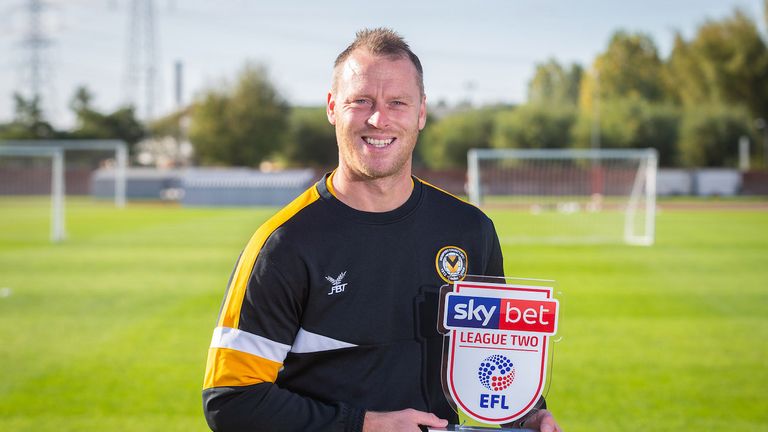 "One of the key things was how we bounced back after the bad result against Yeovil Town. We've gone to some difficult places in the month, and we've managed to get some good away wins, so it was very pleasing the boys produced the goods when they needed to.
"The Cambridge win was pleasing. It was the first time we've come back from 2-0 down to win since I've been in charge, so credit to the boys - they don't know when they're beaten. To go away to Oldham and Tranmere and get results was massive, because they are not easy places to go.
"Nothing is won in this part of the season; you've got to be in contention in the business end in March and April, and hopefully we can continue what we are doing and surprise a few people."
Player: Sam Surridge, Oldham
Oldham Athletic striker Sam Surridge has been named the Sky Bet League Two Player of the Month for September.
Five goals in four games for the 20-year-old Bournemouth loanee. A strong runner who loves to take on defenders, Surridge's power in the air brought two headed goals, including a stooping effort inches off the ground against Crawley Town.
Surridge said: "I'm happy to get the award and to have scored a few goals in September.
"I want to thank the manager and the other players who have helped me, without them this wouldn't have happened. Hopefully I can continue to keep scoring well as helping the team pick up points."