Neil Warnock slams 'total disgrace' Nuno after Wolves' boss post-match celebration
Last Updated: 07/04/18 10:22am
Wolves boss Nuno has apologised to Neil Warnock after his post-match antics following their victory over Cardiff on Friday night, although the Bluebirds boss labelled him a "total disgrace".
A dramatic end to the Sky Bet Championship encounter, which was settled by Ruben Neves' stunning second-half free-kick, ended in dramatic fashion when Cardiff missed two stoppage-time penalties.
And for the second away game in a row, Nuno celebrated by running onto the pitch before shaking the hand of his opposite manager - something for which he was also criticised after Wolves beat Middlesbrough on Good Friday.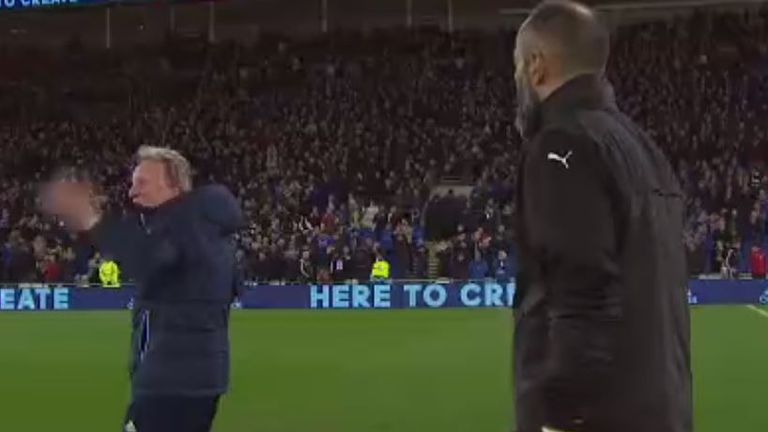 "It happened at Middlesbrough and it happened again today," Nuno told Sky Sports after the game. "I have to say I'm sorry, I was talking to an assistant and he told me in Britain we [don't] do that. But I've arrived here and I love this country and I love the football. Last year I was coaching in the Champions League and now I'm in the Championship and I'm very proud of what I'm doing.
"I want to be a gentleman to all the managers, I'm sorry to [Middlesbrough boss] Tony Pulis and I'm very sorry to Neil Warnock. It was not my intention to be disrespectful but it's very difficult in the last minute when there is a penalty and your goalkeeper [saves it], you have to celebrate, I'm being honest. Once again I'm sorry and I'll try to avoid it.
"I'll go to his office now and if he gives me a moment I'll try to explain it."
Warnock, however, who spoke to Sky Sports shortly after Nuno, admitted he was in no mood to hear his apologies.
"I don't accept it at all and I think it's totally out of order," said the Cardiff boss. "I think he was a total disgrace, I used strong words and I meant every one of them. He's got to learn that in British football you have manners and a bit of class when you've won a game. You've got to learn that I'm afraid.
"I don't think I'll go into my office until after he's gone. I don't want to see him tonight if I'm honest. I thought it was a great game and it didn't need to end like that."
Warnock admits he was hurting after full-time, which saw his side slip nine points behind the Sky Bet Championship leaders. Substitute Gary Madine saw his penalty saved in the fourth minute of added time, while Junior Hoilett hit the bar two minutes later with the last kick of the game.
"I thought it was a cracking game between the two top sides in the division," said Warnock. "It was end-to-end stuff, the goalkeepers made saves and there were 'oohs' and 'aahs' [from the crowd]. It was a world-class goal for Wolves. We're disappointed to miss two penalties, I mean crikey, but it's one of those things. We had to work really hard to lose it.
"But we've got to lick our wounds because we play again Tuesday and Saturday. You saw tonight that we've got a great group of players who have done brilliantly and we should have got a result. [Wolves] will think of themselves as very fortunate to be going back up the motorway with three points."
Meanwhile, Nuno admitted that he needed to control his players better after daft challenges from Conor Coady and Ivan Cavaleiro to give away the late penalties. Coady was first up with a needless shove on Anthony Pilkington, before Cavaleiro lunged rashly in on Aron Gunnarsson.
"I think we should control our emotions better and it's my job to control the emotions of the players to avoid these situations," said Nuno. "I'm always looking to finish the game by scoring more goals, but when we defend we need to be more cautious.
"Football is a fantastic game and that's why we love it so much. We had some luck today but I think we deserved it and we worked for it. If you look at the game we had chances not to suffer in the end, but that's why John Ruddy was in [the EFL team of the year], he deserved it and he earned the victory for us."