Sky Sports study reveals dangerous months for Premier League managers to face sack
Last Updated: 15/11/17 1:47pm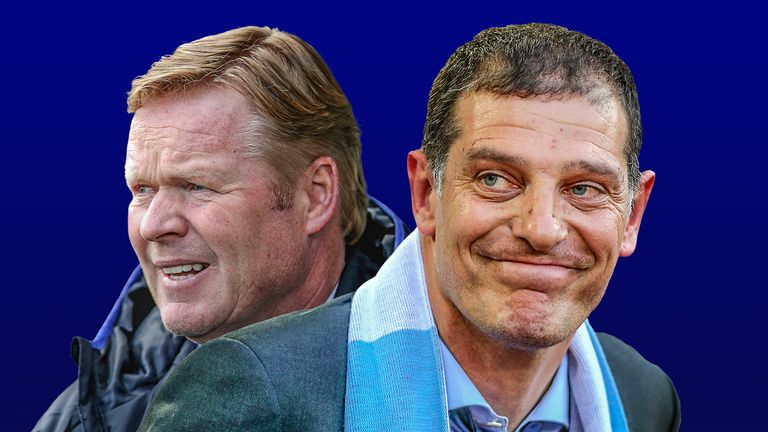 Slaven Bilic became the fourth Premier League manager to lose his job this season - but what month is the busiest for managerial casualties?
Frank de Boer was the first top-flight boss to face the sack this term in September, after just five games and 77 days in charge at Crystal Palace.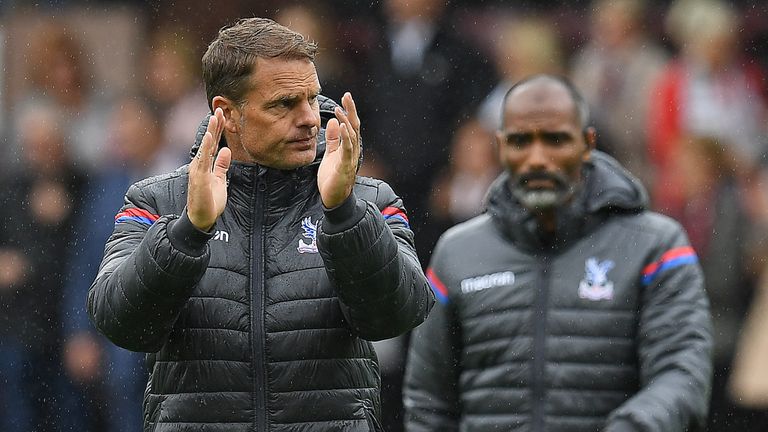 In October, Leicester axed Craig Shakespeare after 219 days at the helm, before Everton dismissed Ronald Koeman six days later.
In fact, all four clubs are among the most prolific of current top-flight teams for changing managers during the Premier League era.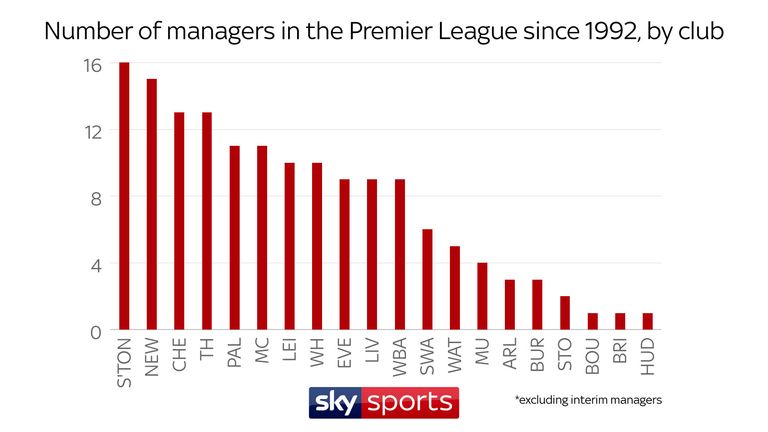 Bilic was the first casualty this month, but pressure is mounting on Swansea's Paul Clement, West Brom's Tony Pulis and Southampton's Mauricio Pellegrino.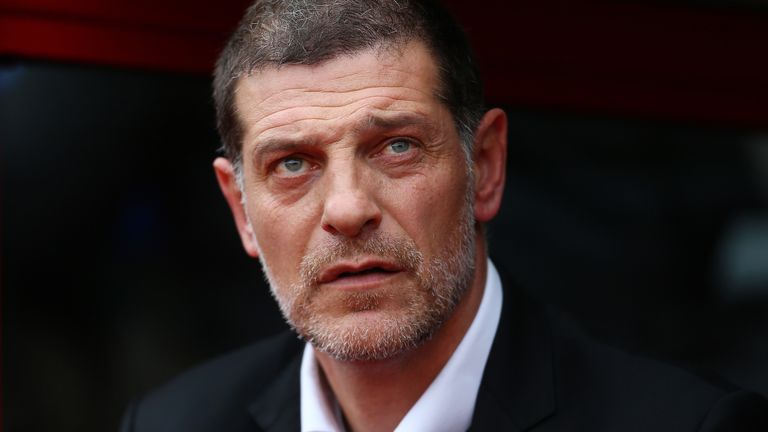 We calculated the number of departures for bosses that managed in the Premier League during their reign since 1992, by month, and excluding interim appointments, to reveal when managers should be most concerned about losing their jobs…
DANGEROUS MONTHS
During the season, managers should be most concerned about their positions in the current month of November.
There have been 32 departures in the Premier League during that month, of which Tottenham, QPR and Portsmouth have each dismissed three.
Across the entire year, May is the most prolific month for sackings with 48 to date - but 29 of those occurred in the second half of the month.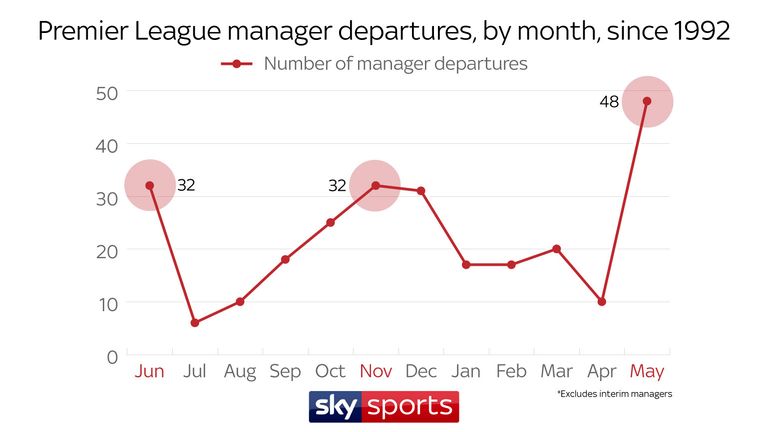 As Shakespeare and Koeman discovered this term, October (25 departures) is the fifth-worst month for job security, behind December (31).
However, managers can take a sigh of relief if they make it through the festive period into New Year.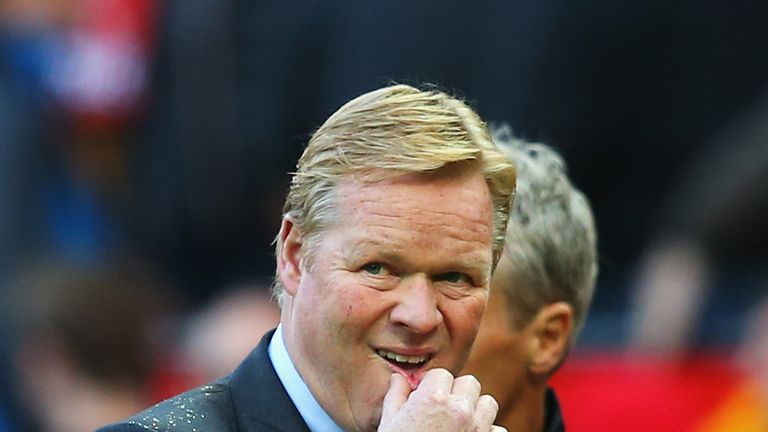 Only 17 bosses have lost their jobs in January, and the same number in February - nearly half the total from November or December.
Throughout the year, the safest month for a boss is during the pre-season month of July (six). During the season, the best months for job security are the season-opening month of August and the penultimate month of April (both 10).
DANGEROUS DAYS
June 1 is the most prolific day for managerial exits, with nine bosses leaving their respective clubs on that day over the last 25 years. During the season, the busiest day for clubs severing contracts early is October 25 (five) - joint with May 24.
Departures on that day in October include Tim Sherwood (Aston Villa), Harry Redknapp (Portsmouth), Juande Ramos, Martin Jol (both Tottenham) and Ray Harford (Blackburn) - although Redknapp had resigned to replace Ramos at Spurs and Harford quit after a poor start to the season.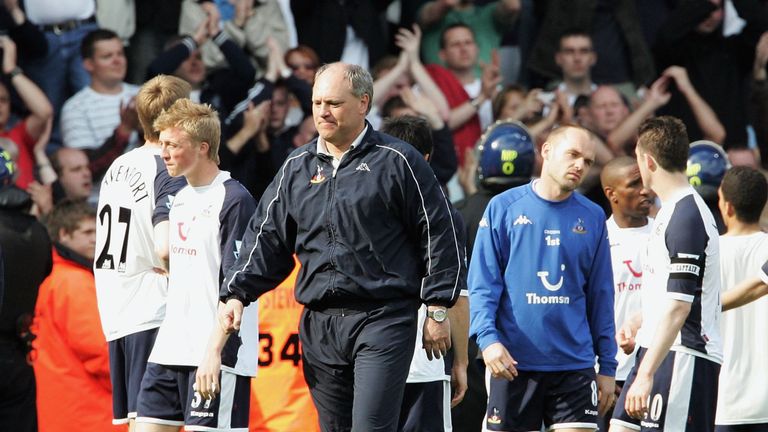 So, Premier League managers feeling the heat should count down the days to New Year and hope for a prosperous spring.
However, Southampton's most prolific month for dismissals is January and at Chelsea, behind May, it's February - emphasising that no month is safe for a Premier League boss.