Premier League grades: Dennis Wise offers his view on the weekend's games
By Ron Walker
Last Updated: 05/03/18 1:17pm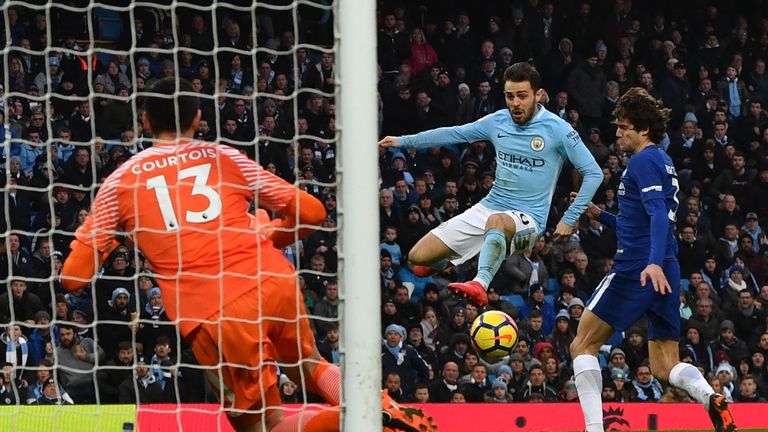 Who were the top performers and who let themselves down in the Premier League this weekend?
We asked Sky Sports News guest Dennis Wise to offer his verdict on the weekend's top-flight action, with the former Chelsea midfielder grading each club on their display.
Weekend's Premier League results
Burnley 2-1 Everton
Tottenham 2-0 Huddersfield
Watford 1-0 West Brom
Leicester 1-1 Bournemouth
Swansea 4-1 West Ham
Southampton 0-0 Stoke
Liverpool 2-0 Newcastle
Brighton 2-1 Arsenal
Man City 1-0 Chelsea
So, how did your club fare - did they top the class with an A, flunk with an F, or come somewhere in between? Read on to find out...
Burnley - B
Bringing on Chris Wood at half-time worked a treat. If you had to pick a team who've exceeded expectations, you can't look beyond them. Sean Dyche has done excellently on a very limited budget and they needed that win.
Everton - D
You'd expect Everton to go to Burnley and get something. Being in front, and with the money that they've spent makes it worse. Michael Keane was going back to his old side and with him, and their quality elsewhere, you'd expect them to see the game out.
Leicester City - C
Riyad Mahrez answered the speculation and everything that happened in the transfer window in exactly the way you'd want him to. He scored a wonderful free-kick, but I would have expected Leicester to win.
Bournemouth - B
Eddie Howe's doing a fantastic job there. They went through a spell where they struggled but he's managed to pick them up. He'll be disappointed, it was a poor situation - giving the free-kick away, and how the wall was set-up.
Southampton - C
They're down there for a reason. There wasn't much in the game, but with Southampton at home you'd expect a little bit more. They need to win these kind of games, especially with three away in a row coming up.
Stoke - C
Paul Lambert's done okay there but have they got a good enough group of players to get out of it? They dug in and got a result on Saturday but they've got some tough games coming up. They've drawn too many games including this one.
Swansea - A
What can I say about Carlos Carvalhal? He's put a smile back on their faces, he's been the inspiration. What a result it was against West Ham, he's done extremely well and I think their momentum will keep them up.
West Ham - C
They've got enough to keep them up but they've fallen away at a bad time, and they were poor. It's a bad result but with the quality they've got they should be alright.
Tottenham - A
They've done extremely well and nicked that fourth spot. They've kept up their form from other competitions in the Premier League and Mauricio Pochettino can pick the right team for the right time.
Huddersfield - C
They're up and down. They're one of the teams I thought would struggle, and they've done better than I expected, but the inexperience of not being in this league, they've got two home games coming up that can help after this. I can just see them getting beat at any time though, but losing at Spurs is no disgrace.
Watford - B
Watford dug in and got the result they needed and wanted. It wasn't the prettiest performance but they got the job done and they're looking good since Javi Gracia has come in.
West Brom - C
After all the speculation about sorting themselves out, they needed to get something from the game but they didn't. They weren't as bad as they have been, but they need results.
Liverpool - A
They're playing in a really fluent way at the moment. Klopp has got them playing in a real positive manner with the front three, and I think they've surprised people going up to second.
Newcastle - C
Rafa went there to try to defend, and try to get something from the game. Newcastle kept themselves in it, and look organised, but the quality came through from Liverpool.
Brighton - A
They've never beaten Arsenal before but their performance was great, they deserved to win and they're in good form at the moment. They've surprised a few people this season.
Arsenal - C
They just didn't turn up in the first half, conceded two poor goals. They're struggling and they won't be getting in the top four, and the only way to save their season is by beating Milan now.
Manchester City - A
They dominated against Chelsea. They were exceptional, they understand everything they're taught and they're a very creative team - I hate to say it, but I love watching them play.
Chelsea - C
Chelsea tried to sit back and stop Man City without being too effective going forward. It was disappointing the way they played, they did it extremely well against Barcelona but it didn't work for them at all.