Charlie Austin 'very close' to Southampton return, says Mark Hughes
By Alice Piper
Last Updated: 29/03/18 4:26pm
Mark Hughes says Charlie Austin's return is imminent, with the striker 'ready' to help Southampton's relegation fight.
A hamstring tear last December resulted in a lengthy spell on the sidelines, during which time the club slipped into the relegation zone after achieving just one Premier League win.
Hughes, who takes charge of his first league game at the club this weekend, revealed Austin is 'very keen' to make Saturday's trip to West Ham, as he stressed the importance of the 28-year-old's goalscoring threat.
"We need to get him on the pitch," he said.
"He's done some good work and we're pleased with where he is, but clearly if he's not available this weekend then we would like to think he will be certainly available for the following games.
"He is very, very close and we are very pleased with where he is.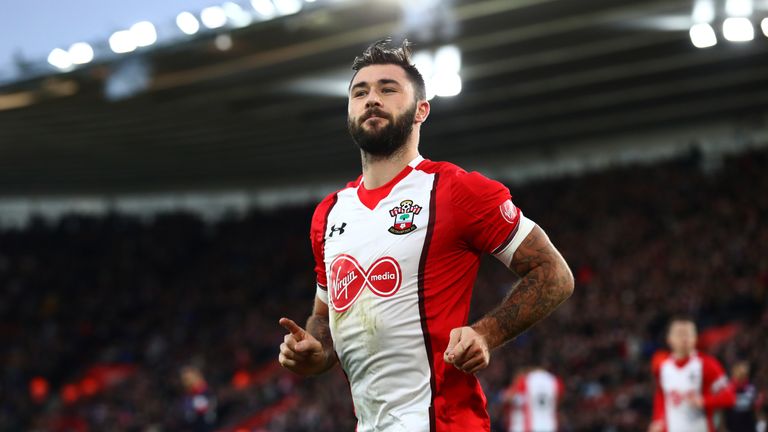 "I think Charlie himself, more importantly, is pleased and assured in his own mind that he is ready to come back.
"We're hopeful. I think he's very keen to be involved."
Austin scored five goals in seven games before sustaining the injury, and Hughes highlighted how keenly his absence has been felt.
"It was a significant injury, so he's done exceptionally well to get back as quickly as he has done," said Hughes.
"But clearly he's a goalscorer, and one of our problems this year has been our ability to score consistently in games."
Ahead of their visit to the London Stadium, Southampton sit two points from safety, one place behind the Hammers.
David Moyes' side have had recent issues of their own, after widespread supporter unrest and pitch invasions during this month's 3-0 defeat to Burnley led to West Ham issuing lifetime bans to supporters involved in the disturbances.
Hughes feels the atmosphere at the ground could be a key factor in the outcome of the game.
"It's a key game clearly for both sides," he said.
"Clearly there seems to be a little bit of anxiety surrounding [West Ham] at the moment.
"We've just got to take the opportunity, if it presents itself, to be able to exert pressure on them and maybe affect the atmosphere in the ground.
"We've just got to try and be positive, get on the score sheet first. That's really important in the Premier League.
"You've got to be in a position to affect the teams around you."