Arsene Wenger says Southampton battling Premier League survival is surprising
By Shona Duthie
Last Updated: 08/04/18 10:12am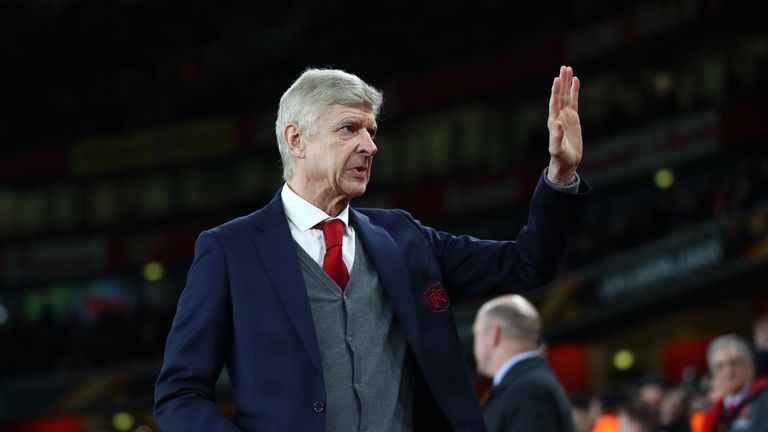 Arsenal manager Arsene Wenger admitted he is surprised to see Southampton fighting it out for Premier League survival.
Southampton visit the Emirates Stadium on Sunday on the back of a 3-0 defeat to West Ham.
The loss has left Mark Hughes' side in the relegation zone, less than a month after he replaced Mauricio Pellegrino.
Arsenal drew 1-1 with Southampton at St Mary's earlier in the season with Olivier Giroud scoring late on to grab a point and Wenger revealed he is shocked to see them battling for survival.
"Southampton are a team who have a good technical quality and I am quite surprised to find them where they are," Wenger said.
"They gave us a very good game this season. Honestly I don't know, maybe they had injuries, lost Virgil van Dijk [to Liverpool] as well and needed time to recover from that."
The Frenchman believes it is now more difficult for teams to stand by an under-fire manager as more and more supporters call for them to be sacked.
Wenger added: "It is part of the modern game, it is why clubs have to continue to work with what they believe is right.
"It is certainly more difficult because the pressure from the fans is bigger everywhere now.
"I don't know how it is at Southampton but they have shown remarkable work. If you think, they were in League One and when you think back now to the quality of players they had, it is quite impressive."
While Sunday's game is important for Saints, Arsenal will have an eye on the second leg of their Europa League quarter-final at CSKA Moscow four days later.
Wenger saw his side win the home fixture 4-1 to all but assure themselves of a place in the final four and he conceded there is likely to be rotation among his squad this weekend.
"We are focusing on the Premier League and the Europa League with the squad," he added.
"We rotate a little bit from one game to the other after considering the recovery and the slight injuries or risk of injuries.
"As well we consider that some people, like (Pierre-Emerick) Aubameyang, are not available in the Europa League but they are available in the Premier League. So the rotation is quite natural."
Henrikh Mkhitaryan will miss the game on Thursday due to a knee injury. He was forced to limp out of the first leg on Thursday night, with Wenger fearing he has suffered ligament damage.
"Miki came off and he will be out for Sunday," Wenger confirmed.
"He has a scan and the fear is that his medial knee ligament has been touched. We'll know more about that soon. For how long he will be out, I don't know."