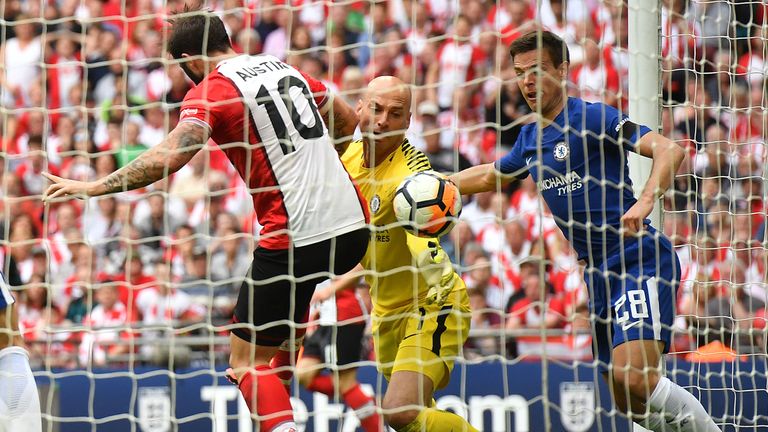 Mark Hughes voiced his frustration at the lack of use of the Video Assistant Referee after Southampton were beaten 2-0 by Chelsea in the semi-finals of the FA Cup on Sunday.
Saints had a goal ruled out with the score at 1-0 when Chelsea goalkeeper Willy Caballero dropped the ball over his own line under pressure from Charlie Austin.
There appeared to be minimal contact between Austin and Caballero but referee Martin Atkinson still decided to award Chelsea a free-kick.
Saints also had penalty appeals turned down when the ball hit Olivier Giroud's hand from a corner, leaving Hughes frustrated with the officials.
"There is disappointment from our point of view because there's the situation where the goalkeeper made a wrong decision and has basically thrown the ball into the back of his net because of poor goalkeeping. If ever there was a situation for VAR to step in and say we probably need to review that I would have thought that was the opportunity to do that.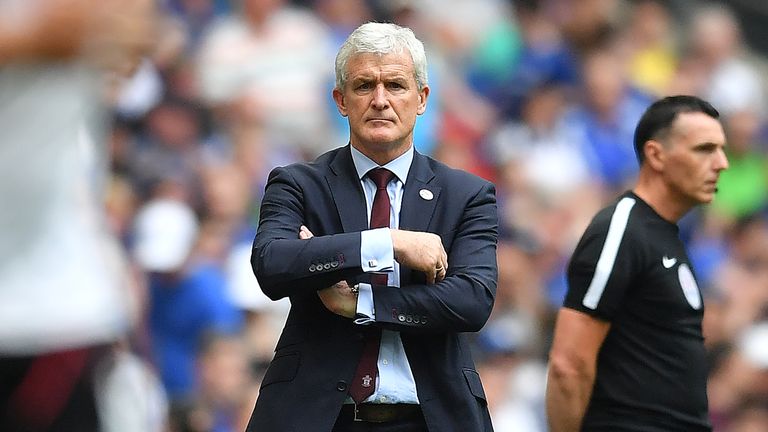 "Clearly it's a match-defining moment and a key time for us, if we get the goal back then who knows how the game might have followed. Why it hasn't been referred I have no idea.
"Whether or not the referee's said it was a foul, which clearly it wasn't, all he probably knew was on his watch it lit up and told him it was a goal, but for whatever reason he didn't want to give that.
"He missed a clear handball as well from a corner, Giroud's handball, another one they could have reviewed, but probably it was a bit too quick for them, because that seemed to be happening all day.
"We are disappointed with the officials on the day and whoever it is who sits in the darkened room and makes the decision whether you go to video or not."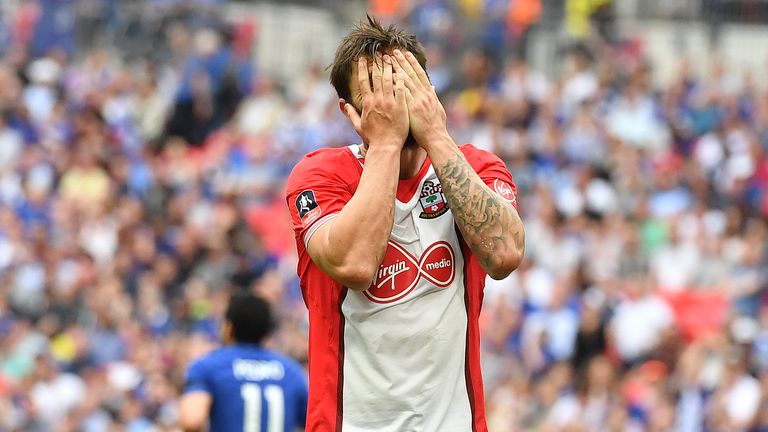 After falling 1-0 behind inside the opening minute of the second half, Saints had chances to hit back as Shane Long spurned a good one-on-one opportunity and Charlie Austin hit the post.
And Hughes added: "I thought our response after going behind was good. We needed a bit of luck, but we had good moments. Shane Long obviously miscontrolled at a key moment when he maybe felt he should have scored.
"We hit the post, the goalkeeper made a save from Nathan Redmond which he didn't really know anything about. Those moments need to go for you, clearly Chelsea had moments as well. It wasn't to be, we came up a little bit short."
Saints now turn their attentions back to the Premier League as they look to avoid relegation.
They face Bournemouth next weekend and Hughes said: "We have a huge game against Bournemouth at home that we need to win. There are no grey areas, we have to win."