Brighton fought back to earn a 2-2 draw against Stoke at the Amex Stadium to extend their Premier League unbeaten run to five games.
The Seagulls were trailing to Eric Maxim Choupo-Moting's composed opener when they felt they ought to have been awarded a penalty after Ryan Shawcross tangled with Glenn Murray inside the box.
Referee Lee Mason waved away the protests and eventually awarded Stoke a free-kick after Murray handled the ball on the ground, but Shawcross admitted after the match that he had caught the striker.
Stoke captain Shawcross told Sky Sports: "I clipped him and the referee probably hasn't got the best of angles but it probably was a penalty, if you look back at it."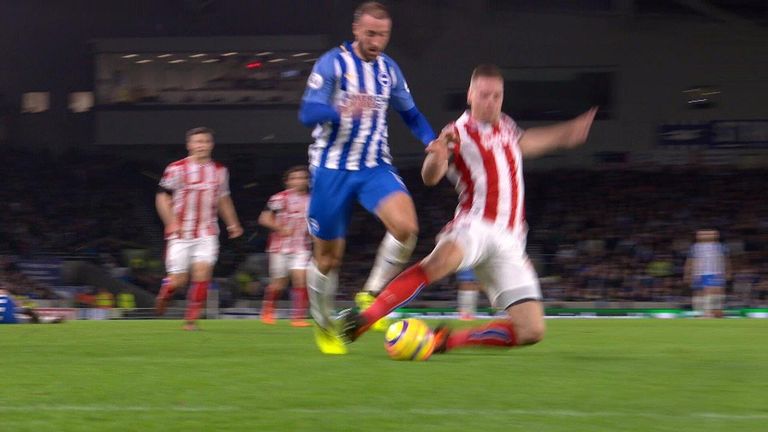 Brighton manager Chris Hughton felt aggrieved by the decision despite his side equalising through Pascal Gross just four minutes after the incident, claiming that the assistant referees should have helped Mason to make the correct decision.
"My take is exactly the same as it was at the time," he said. "From where we were in the dug-out, we had a very good view of it. Straight away I felt it was a penalty. We're really, really disappointed with that.
"What we do have are two officials who can make a judgement on that. If a referee doesn't see it, when you have a linesman who is on that exact same side, it makes it an even tougher one to take.
"My take on it was it was a penalty. I've only seen it once since and that hasn't changed. What you are going to get with referees is they very much work as a team. I don't know how well he seen it but he obviously hasn't seen it well enough to give it.
"When you have a linesman on that side who certainly must have had a better view… I was 40 or 50 yards away and I thought my view was perfect and it was certainly a penalty."
Former Premier League referee Dermot Gallagher sympathised with Mason believing his assistant Adrian Holmes had made an honest mistake in not seeing the contact which sent Murray to ground.
He said: "Lee's been caught out of position because the move has changed. His natural instinct is to move as quickly as he can to make an angle as close to the incident as possible.
"But as Shawcross makes the tackle, his body impedes Lee's view, so all he sees is Shawcross' body. In his opinion, he thinks he has got a touch of the ball and awards a corner. I can fully accept that from where he is. When you see it from behind the goal, it's a totally different view.
"The linesman is tracking the offside, and that's his natural instinct. He's convinced the ball has moved when it actually hasn't. The referee is not going to risk taking a chance of getting it wrong."
Speaking on Monday Night Football, Craig Bellamy said: "It was clear for Hughton to see it (on the touchline) so you'd expect the linesman to see it. It was a penalty there's no doubt about that. The linesman has no excuse as it's his side."
Jamie Carragher added: "Mason's blocked by Shawcross and he ends up giving a foul for handball. The linesman has to get that right, whereas I could give the benefit of the doubt to Mason because of the view he had."