Which clubs have won the most penalties in the Premier League 2017/18?
Last Updated: 28/02/18 5:15pm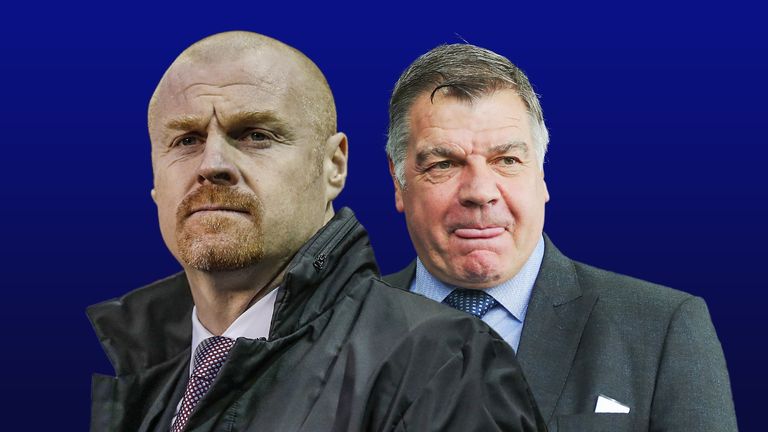 Burnley host Everton live on Sky Sports this Saturday - but both clubs have polarised fortunes when it comes to winning penalties.
Along with Swansea, Sean Dyche's Burnley are yet to win a penalty in the Premier League this term, while the Toffees have been awarded a table-topping seven - joint with Crystal Palace.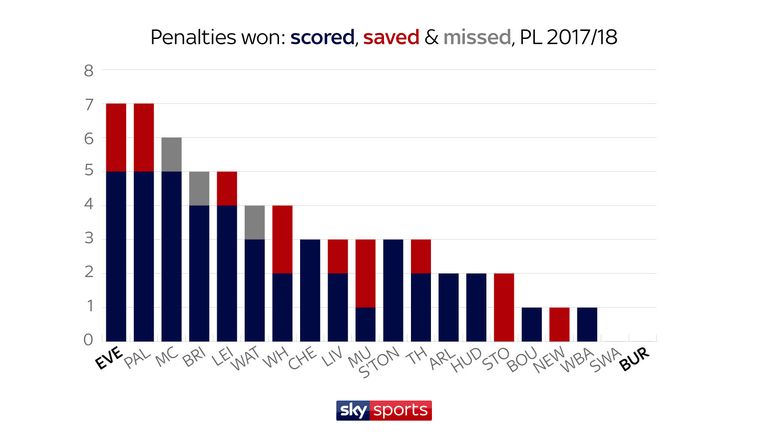 Burnley's most clear-cut appeal was during a 0-0 stalemate at Huddersfield in December, when goalkeeper Jonas Lossl appeared to wipe out Jeff Hendrick - but referee Paul Tierney dismissed penalty protests.
Speaking after the game, Dyche said: "A point on the road is worth having but we should have more. It was a definite penalty. Obvious."
For Everton, Wayne Rooney has scored three of his five penalties directly - having headed a fourth from a rebounded attempt during his hat-trick at West Ham - while Leighton Baines has converted both of his attempts.
Rooney had another penalty parried against Swansea - but Dominic Calvert-Lewin was on hand to net the rebound.
The Toffees were also awarded a controversial penalty - despatched by Rooney - to earn a point in the Merseyside derby last December.
PENALTIES CONCEDED
At the other end of the pitch, both clubs have conceded a league-high five penalties - joint with Huddersfield, Liverpool, Newcastle, Watford and West Ham.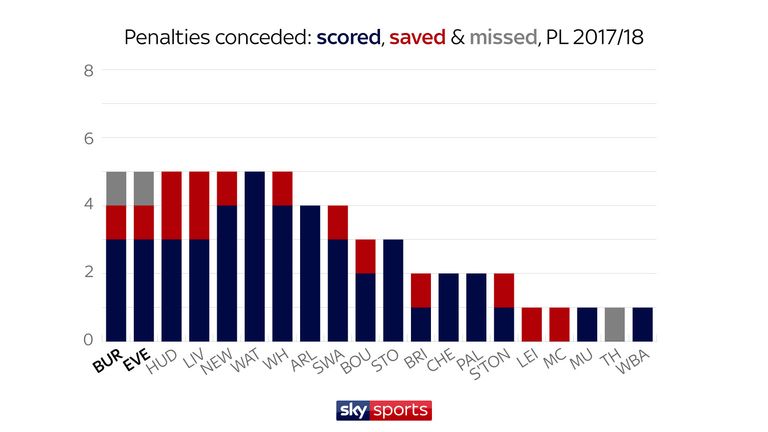 In November, Burnley defender James Tarkowski was adjudged to have fouled Arsenal's Aaron Ramsey in the box - resulting in Alexis Sanchez converting a last-minute match-winner.
After the game, Dyche said: "We've had a lot [of penalty claims] not given. I don't know why. Bigger clubs seem to get the decisions.
"I'm not sure it's a fact, I'm not sure anyone has stated it, but for years managers have been promoting this thought that they do."
Of the top six clubs, all but Arsenal have been awarded three penalties or more, while four have conceded no more than two - bar Liverpool (five) and Arsenal (four).
However, Burnley will be looking to win their first league game since December, when Dyche claimed he was the "proudest man in Proudsville" after beating Stoke 2-0 to sit fourth in the Premier League table.
In addition, there have been a league-low 47 goals scored in games involving the Clarets this term - which suggests margins could be slim and a penalty would be even more likely to swing a result at Turf Moor.