Jordan Pickford should be England goalkeeper for 2018 World Cup, says Peter Shilton
By Liam Grace
Last Updated: 29/05/18 6:07am
Jordan Pickford "just edges" Jack Butland as England's No 1 goalkeeper for the 2018 World Cup in Russia, says Peter Shilton.
Pickford and Butland were picked in Gareth Southgate's 23-man squad alongside Burnley's Nick Pope, while Joe Hart was not selected despite being No 1 for England's past three major tournaments.
Shilton, England's highest-capped international, thinks Southgate made the right decision in not selecting Hart - who has made 75 caps for the Three Lions - and opting for Pickford, Butland and Pope.
"I think it's the right decision," Shilton told Sky Sports News. "Obviously there are only nine caps between them and Pope's not even had a game yet - but when Pickford and Butland have played, I think they've looked the part.
"At this moment in time I think Pickford just edges Butland. Gareth Southgate wants England to play out from the back and Pickford is really good with his feet. He has tremendous distribution."
Despite Everton's slow start to the Premier League season and Stoke's relegation to the Sky Bet Championship, Shilton thinks it has been a successful domestic campaign for the England pair.
"I looked at how Pickford reacted when he went to Everton for £30m. They really struggled in the early part of the season but he held them together.
"They got a few 1-0 wins down to him and his good saves, and Butland had a good season at Stoke considering they were struggling.
"I think in terms of handling pressure I've got no problems with them."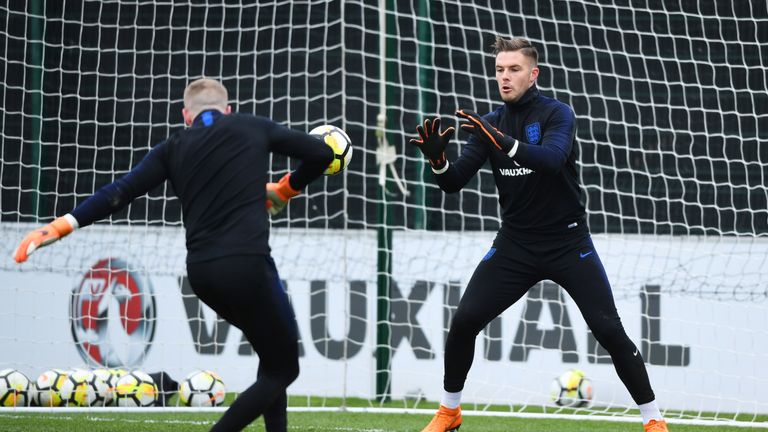 Shilton also had his say on goalkeeping mistakes - a hot topic after Loris Karius' two errors in the Champions League final against Real Madrid on Saturday.
"I've made mistakes," said Shilton, who has won two European titles with Nottingham Forest.
"I made a mistake in 1973 which was the lowest part of my career when we drew 1-1 at Poland at Wembley and I should have stopped the goal and we failed to qualify for the World Cup.
"But I learnt from that and I got revenge when we drew 0-0 with them to quality for Italia 1990. I had a tremendous game to get us a 0-0 draw."