Carlos Carvalhal insists his relationship with the Sheffield Wednesday owners is 'fantastic' as speculation mounts over his future at the club.
The Owls lost 1-0 at home to Championship leaders Wolves in front of the Sky cameras on Friday night, thanks to Ruben Neves' 34th-minute strike, which leaves Carvalhal's men without a win in their last six.
The Portuguese head coach guided Wednesday to the playoffs last season, but his team sit 15th so far this campaign and he believes their league position is largely due to matters out of his control.
"The relationship [with the owners] is fantastic," he told Sky Sports. "There are things that have happened in the time that we've been here; the line was very continuous, we've stabilised the team in sixth, fifth, fourth, sixth, seventh - these were our positions in the last two seasons.
"Last season there was a moment when we lost and drew some games. There are reasons for that because we missed five or six important players, but after we recovered our players, we were again in our position in fourth place.
"This season is a little more difficult…a lot of players who can help our team are out and this put us one step down. I don't want to be boring about this, but we also don't get lucky with the decisions of the referees in a part of the season which cost us 10 points, minimum."
Owls' striker Jordan Rhodes presented Adam Reach with one of the hosts' best opportunities minutes prior to Neves' opener, but he side-footed wide of the mark, and Carvalhal felt it was a performance that deserved a better reward.
"It's very hard to talk about this game, I thought we prepared very well," he added. "We have a clear definition of the type of press we must do to Wolves. We blocked their dynamic completely - it was very difficult for them to achieve goal situations.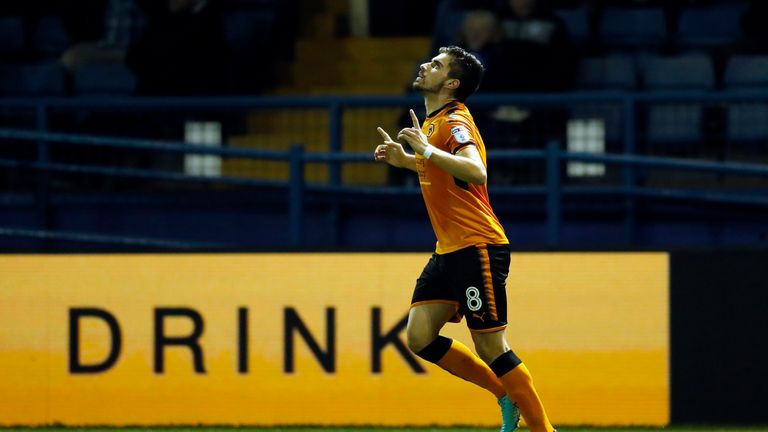 "The goal came from nothing, from a free-kick - I'm not sure it was a free-kick. We played against a strong opponent with a lot of players out and we must give congratulations to Wolverhampton because they have a good team, but I think we deserve a little more than nothing."
When pressed about whether the playoffs remain a possibility, he refused to rule out a push, adding: "We must continue to do what we did today.
"I believe next week we will recover another player, during the next weeks we will recover more. I believe that when we will be ready, we will again be a strong team in the competition."