Sky Bet EFL Goal of the Month winners: Fernando Forestieri, Lyle Taylor and Hiram Boateng
Fernando Forestieri, Lyle Taylor and Hiram Boateng have won the Sky Bet EFL Goal of the Month awards for April.
Last Updated: 10/05/19 8:04am
Sheffield Wednesday striker Fernando Forestieri is the Sky Bet Championship Goal of the Month winner for April, receiving 72 per cent of the public vote.
With defenders snapping at his heels against Norwich on April 19, Forestieri decided to take them out of the equation by letting fly with an arrowhead of a strike that seemed to gather pace along its way to goal.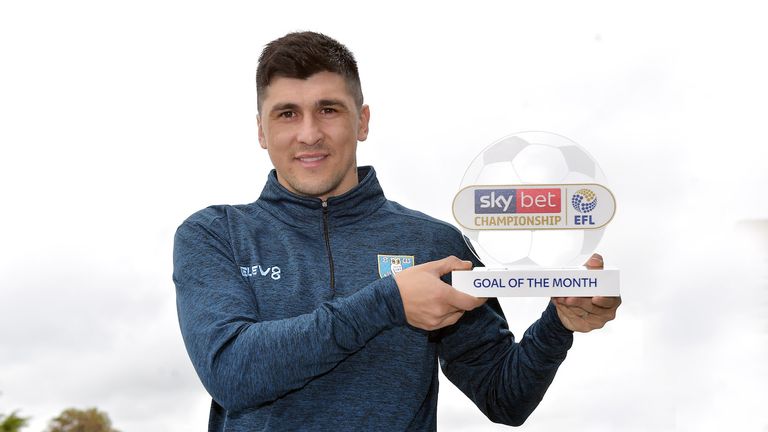 Lead Sky Bet EFL Goal of the Month judge and Sky Sports pundit Don Goodman said: "This goal from Fernando Forestieri served as a reminder of what we've all been missing this season from Wednesday's maestro, as a series of hamstring injuries limited his season's output to a shadow of previous years.
"It's one of the purest strikes of a football you're likely to have seen all season, and Wednesday fans will hope that we'll be seeing plenty more of that from him next year."
Forestieri beat off competition from Bristol City's Josh Dasilva and Wigan Athletic's Reece James.
Sky Bet League One: Lyle Taylor - CHARLTON v Scunthorpe - April 22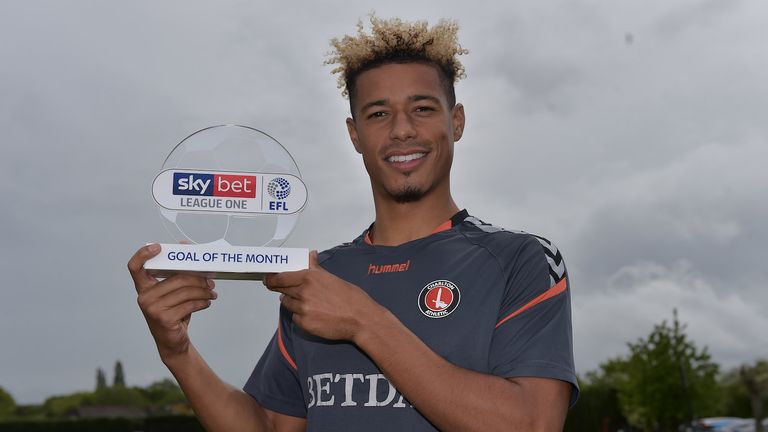 Charlton Athletic striker Lyle Taylor is the Sky Bet League One Goal of the Month winner for April, receiving 53 per cent of the public vote.
To Taylor's heading prowess and rampaging runs, you can add the hitherto hidden ability to whip a free-kick over the wall and drop it into the far top corner.
Taylor said: "Any accolade is really nice, and to be voted as the scorer of the best goal of the league for this month is great. I'm proud to have won that and hopefully that won't be the last one and it won't be the last great goal I score!
"To be honest, I don't actually remember winning the free kick. I think a lot of goals seem to be that way to be honest; you remember scoring them, but you don't really know how you got there.
"I said to the boys that were in the box to make sure they get across the goalkeeper and get in his eyeline because that might be good to distract the goalkeeper. They got across the goalie's eyeline, but it wasn't really needed in the end!
"It's one of those that I'm really proud to have scored and hopefully there will be a few more before I hang my boots up in the years to come."
Goodman said: "Lyle Taylor has a claim of being the most underrated player in Sky Bet League One this season, as despite notching 20 goals and leading his side to third place in the division, he wasn't named in any of the teams of the season nor won any personal awards outside of SE7.
"This free kick, on the way to a 4-0 demolition of Scunthorpe United, was stunning to watch and the Addicks fans will be dreaming of a repeat as we enter the play-off campaign."
Taylor beat off competition from Oxford United's Luke Garbutt and Bristol Rovers' Luke O'Neill.
Sky Bet League Two: Hiram Boateng - EXETER v Port Vale - April 13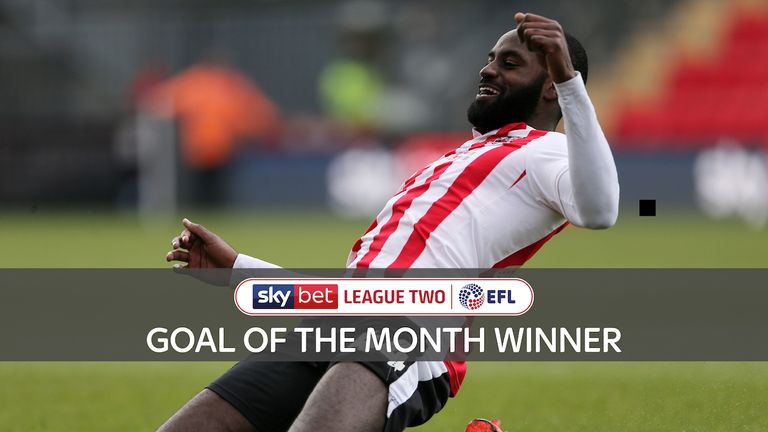 Exeter City midfielder Hiram Boateng is the Sky Bet League Two Goal of the Month winner for April, receiving 59 per cent of the public vote.
There were shades of Dennis Bergkamp, as three exquisite pieces of skill rolled into one movement. A sweet chest control as he arched his back, delicate control on the turn and a rasping volley.
Boateng said: "It is nice to win the award for Sky Bet League Two goal of the month, especially as it is a fan-voted award.
"I have seen the goal back a couple of times from my mentions on Twitter. It is hard to miss it because of that, but I think the novelty is starting to wear off now.
"It was a good ball from Woody (Craig Woodman) though and I have controlled it well and stuck in the top corner."
Goodman said: "What an incredibly inventive piece of skill from the Exeter midfielder, three touches to take him from a long, hopeful ball forward to the ball nestling in the net.
"Every single touch was executed to absolute perfection - it's a once in a lifetime goal."
Boateng beat off competition from Crawley Town's Dannie Bulman and Newport County's Mickey Demetriou.