Neil Warnock says Cardiff 'need a lot to go in our favour' in Premier League relegation battle
Cardiff host Liverpool on Super Sunday from 3.30pm on Sky Sports Premier League; Kick-off is 4pm
Last Updated: 21/04/19 7:02am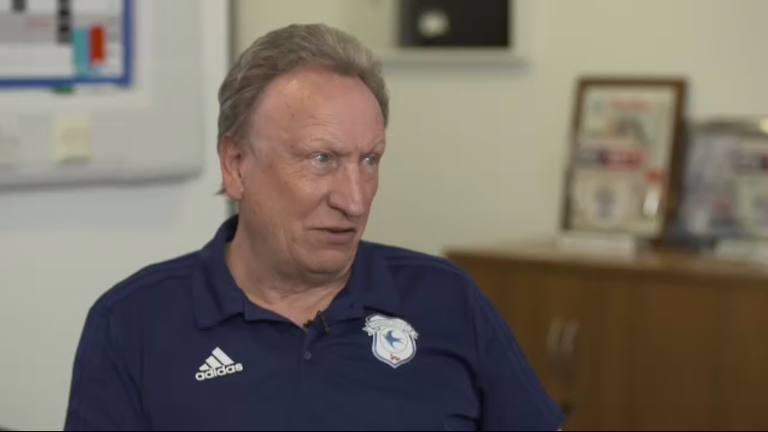 Neil Warnock says Cardiff "need a lot to go in our favour" in the Premier League relegation battle, but believes survival is possible.
Cardiff host Liverpool on Sunday, live on Sky Sports, aiming for another vital three points after they beat relegation rivals Brighton in midweek.
While a visit from the title contenders may seem like a daunting prospect, Warnock was confident when asked about Cardiff's chances of staying up.
He exclusively told Sky Sports: "I think it's possible, but we need a lot to go in our favour. Teams that Brighton are playing probably don't have much to play for now, it's picking them at the right time and we've got to win games.
"We go to Fulham next week and Scotty [Parker] will be wanting to get the job, so he'll be desperate. Crystal Palace are as good as anyone away from home, and then Old Trafford at the end of the season.
"You look at the games and it's going to be difficult but when you've got a squad of players like I've got, and you've got that 'never say die' attitude, it's a great feeling for a manager. With all the knockbacks that we've had, to keep bouncing and proving people wrong again."
With his team's fate uncertain, Warnock, 70, is unsure whether he will still be at Cardiff next season.
"You don't know in football - they might ask me to leave, you just don't know what's around the corner," he said.
"Whatever division we're in, I'd like to stabilise the club. I've only got one year left on my contract, but then they have to be looking for a new manager.
Premier League bottom six
| Position | Team | Played | GD | Points |
| --- | --- | --- | --- | --- |
| 15 | Burnley | 34 | -18 | 39 |
| 16 | Southampton | 34 | -17 | 36 |
| 17 | Brighton | 34 | -21 | 34 |
| 18 | Cardiff | 34 | -33 | 31 |
| 19 | Fulham | 35 | -43 | 23 |
| 20 | Huddersfield | 35 | -49 | 14 |
"It's their prerogative, if they want to change manager, they can change manager but it would be nice to go into my last season and help the club, because the club has really got to change a lot in the next 12 months.
"The structure has got to change, like Burnley when they went down the last time with Sean Dyche, their whole structure changed. Their academy was sorted out, then the structure inside the club, and we've got to do a similar job here.
"Whatever division we're in, there's a lot of work behind the scenes that needs to go ahead, then hopefully I can help them choose the manager because I'm not going to keep going much longer at this age."
'VAR will help smaller clubs'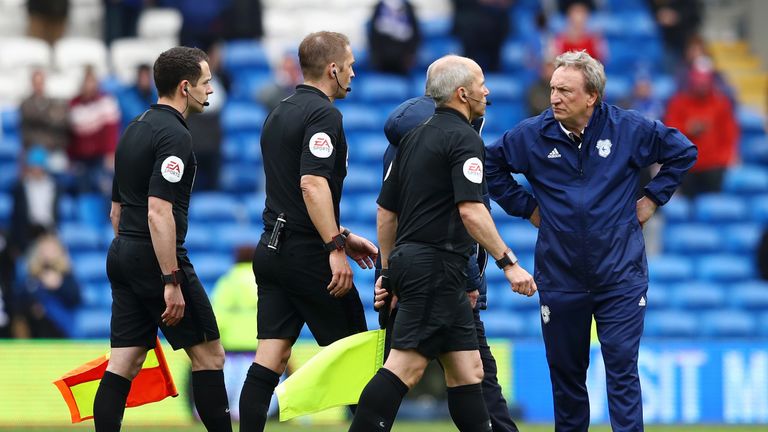 VAR does not arrive in the Premier League until next season, but it has already sparked debate and controversy in the League Cup, FA Cup and Champions League.
Warnock agrees that Cardiff would have benefitted from the technology at times during the current campaign, and says it will help smaller clubs when it is introduced.
"Absolutely [VAR would have helped Cardiff], but everyone says that though," he added.
"The only two decent decisions we've had this season have both been against Brighton - at home, we had a controversial goal late on, and on Tuesday, they said they thought they should have had a penalty but we thought we could have had a handball from a long throw, so it evens out.
"Overall, the decisions have been really poor against us and some of them would have taken 10 seconds.
"It is going to help the smaller clubs, not making it biased or anything for referees, it's just that the big clubs have 75 to 80 per cent possession so they are going to have more decisions that are going to be reviewed, so more decisions are going to be overturned and it will help the smaller clubs. That's always been my thought on this matter."
'Nobody has mentioned Cardiff'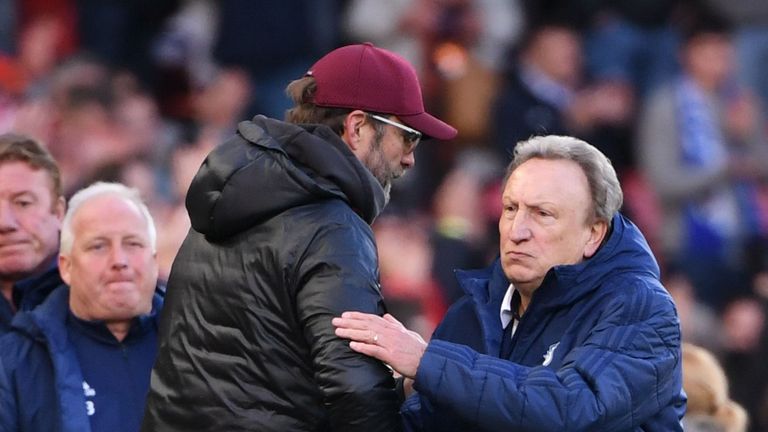 Liverpool travel to the Cardiff City Stadium still very much in the hunt for the Premier League title, and Warnock hopes his players can challenge Jurgen Klopp's talented side.
He said: "If you look at the Liverpool team too much, you wouldn't end up turning up would you? Their front three is as good as anyone in the world, the two young full-backs will be playing for England and Scotland for years to come, they've got the best centre-half in the world, and one of the best goalkeepers - so it is formidable.
"He has built a fabulous side but we are so looking forward to it. Nobody has really mentioned Cardiff. They have looked at all the fixtures coming up for Liverpool and we haven't really got a mention, but we just hope we can give them a good game.
"The whole place is buzzing and it's going to be an amazing atmosphere. I don't think anyone will be late on Sunday. I think they'll all come about 2pm and when the Welsh get going with the national anthem and everything, it is an amazing atmosphere."